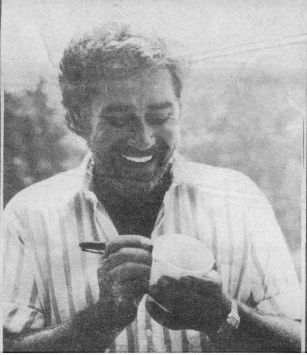 A new line of designer tableware? Country singer Earl Thomas Conley autographs a foam drinking cup for a fan, following his performance at WAMZ's Concert in the Park at the Louisville Motor Speedway on July 9. See story, Page 10. Photo by Sandy Daugherty
Back-to-Back Rhody
ALAN RHODY OPENS FOR E.T.C.
At WAMZ Concert on July 9
By Karen Le Van
WAMZ's Concert in the Park (at Louisville Motor Speedway) was a HOT concert and I don't mean just the music. It must have been 95o in the shade, if there had been any.
Scheduled to start at 2:00 p.m. on Sunday, July 9, sound problems with the electronic drums delayed the concert about an hour and a half. But when the concert started, Alan Rhody, Louisville native now living in Nashville, got the 5,000 or so people going with "Baby You Burned Me So Bad." The song could have had a double meaning for those fans who had been sitting in the hot sun waiting for the show to begin.
Alan was up from Nashville to plug his new Evergreen release "She Dreams," which has had some very good reviews and should be receiving local airplay, so you can start calling your favorite station to request it now.
Alan did his usual great job of entertaining the audience. He had them up dancing, clapping and singing along by this third song, the Ricky Van Shelton hit "Wild-Eyed Dream."
The audience, many not familiar with the songwriter behind so many great songs, really seemed to enjoy Alan's version of "I'll Be True to You," an Oaks hit, and the recent Lorrie Morgan hit "Train Wreck of Emotion."
Alan's latest single, "She Dreams," was very well received, along with "Eugenia Ray," "Trouble in Love Town," and one of his latest -- a real tongue twister -- "Change Your Mind." Consider this chorus: "Won't you consider,
Thinking about the conceivable possibilities,
Of the reasonable likelihood that may exist,
From the plausible proof of a thread of hope,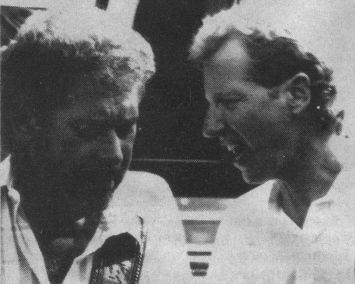 Earl Thomas Conley and Alan Rhody, performers at WAMZ's Concert in the Park. Photo by Sandy Daughterty
That there's still a chance,
You might give it just one more thought,
And somehow find it in your heart,
To see your way clear,
And change your mind."
(And they tell me I'm a wordy songwriter!)
Alan tells me that Asleep at the Wheel is interested in the song.
Alan was joined by his Nashville band The Road Hogs (is this their real name?): Roger McVay on bass, Alex Torrez on drums and Eugene Moles on lead guitar. Together they put on a 45-minute set that I felt was the most entertaining of the day.
The Broken Arrow Band was up next before headliner Earl Thomas Conley took the stage.
A combination of sound problems and a bad throat hampered E.T.C.'s performance, but the crowd didn't seem to mind.
Earl Thomas Conley has a very enthusiastic following, not to mention such great songs as "Love Is On the Line," "Somewhere Between Right and Wrong," "The Price of Loving You," "A Woman In Love" and "Nobody Falls Like A Fool." One of my personal favorites, "Holding Her and Loving You," really had the audience going wild.
After a standing ovation, E.T.C. gave his many fans just what they wanted -- another hit song, "Love Out Loud."
Between the sun and the songs, we were all a little "Too Hot to Handle."
Thanks to WAMZ for another entertaining FREE Sunday concert. I look forward to the next one, scheduled for Sunday, July 23, from 4:00 to 6:00 p.m. at the Louisville Motor Speedway. That hot new group Shenandoah ("Church On Cumberland Road") will be the headliner!
Rhody at the Rud
By Jean Metcalfe
"If that ain't country I'll kiss your grits." So said Alan Rhody from the stage at The Rudyard Kipling on the evening of July 8. Alan interjected that commentary mid-song, referring to lines from the song he and Bill Caswell had written for George Jones.
Just when I learned how to dance, they changed the music,
Just when I learned how to sing, they changed the song,
Just when I learned how to love, you changed your mind, babe,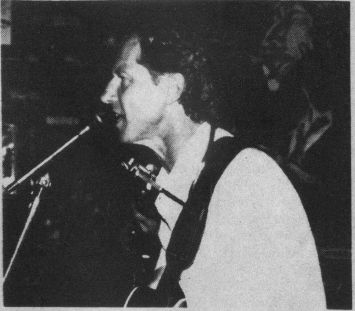 Alan Rhody in concert at The Rudyard Kipling. Photo by Jean Metcalfe
Just when I thought I'd found everything, my everything was gone.
Alan performed several Rhody fan favorites, including the clever "One of Two Thousand," co-written with John Hadley, who is currently writing for the Smothers brothers. Upon meeting some time ago and discovering that they shared the distinction of having had a song cut by George Jones, Alan and John got together and wrote a song that dealt with that fact. They figured that with 170 albums to his credit, it took about 2,000 songwriters, including George himself, to write the songs. In the lyric of their song they allowed as how "it's nice being part of the crowd," and went on to say:
If I die tomorrow and it don't make the paper,
If I go down alone,
You'll still find my name under the title,
Of a song that got cut by George Jones.
There is a clever ending to the song. The scene is set in which someone asks if the songwriter has ever written a song for someone famous, and he replies, "Have you ever heard of George 'The Possum, No-Show' Jones?" (There have been other versions of that reply in the past, but the foregoing seems to be the current ending of choice.)
Bass player Roger McVay, a member of The Road Hogs, with whom Alan has been playing for a very short time, joined him on stage for quite a few numbers. The other members of the band were "out (performing) with Marty Haggard."
Notwithstanding the fact that when Roger's bass was plugged in the sound system buzzed "like a low-flying airplane," they sounded very good together. Their first number was the Don Henry c/w tune "All of the Above," which enumerates the many things that happen to a person that would "qualify you for love."
They really cooked on "Train Wreck of Emotion." Jon Vezner co-wrote the song with Alan, and it was a hit for Lorrie Morgan, who did a great video of it as well.
In a review of Ms. Morgan's current album, Leave the Light On, in the July 10 issue of People magazine, Ralph Novak said: "On his liner acknowledgment, producer Barry Beckett thanks 'the pluggers who found the songs that we recorded,' and well he should, since those pluggers (songwriters' and music publishers' salespeople) came up with nine fresh variations on the theme of which way did he/she go? The Jon Vezner-Alan Rhody tune 'Trainwreck of Emotion' brings in another familiar country theme -- railroads -- in an uptempo of emotionally downbeat way ..."
Other favorites included "Eugenia Rae," a rock 'n' roll number which Alan wrote for his mother, and "Somebody to Care," which I believe Tanya Tucker had some success with a while back.
After mentioning that he has available a 14-song album (Border Crossings, 1986), Alan treated the audience to his recently-released single "She Dreams," (c/w Pat Alger and performed by Alan, on Evergreen) which Music Row columnist Robert Oerman pronounced "Well sung and well produced."
Cash Box magazine said of "She Dreams," "A refreshing change from 'down and out' lyrics, this is an upbeat tribute to Elvis. It tells of how he brought inspiration to a woman as she progressed through life. The instrumentation is simple but effective."
Before taking a break, Alan performed a fun number -- "Change Your Mind" -- that was new to me and which must have used up every cliche about possibilities, maybes, and perhapses that is in the most comprehensive book of cliches available at any bookstore anywhere ... maybe, perhaps..
After a rousing rendition of "Wild-Eyed Dream," a Rhody song that was the album title cut and a hit for Ricky Van Shelton, Alan brought visiting L.A. vocalist Robin Taft on stage. Alan and Roger provided accompaniment for Ms. Taft's powerful performance of three favorite cover tunes, "Tonight the Bottle Let Me Down," "I Can't Help It If I'm Still In Love With You," and "House of the Rising Sun." She was very well received.
Following nice performances of "Mother Road" (c/w Kevin Welch) and "You Burned Me So Bad," Alan introduced "a tune that helped me move to Nashville" -- "I'll Be True to You" -- which was a number one hit for the Oak Ridge Boys (now called the Oaks).
After "Pony Rider" and Dylan's "Leopard-Skin-Pill-Box Hat," Alan put in a plug for his next-day performance with the Broken Arrow Band and Earl Thomas Conley, then did solo performances of "White Roofs" and his oft-used closer "Kiss Kathy Goodnight." By popular demand, Alan came back with an encore of "Train Wreck of Emotion."