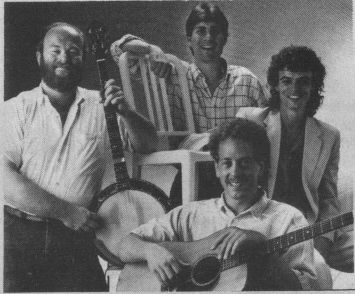 New Horizon. Photo by Phil Wakeman
Days Of Our New Horizon
By Paul Moffett
New Horizon, voted the "Best New Bluegrass Band" at the 1980 KYC Bluegrass Festival, has reassembled itself as a quartet and is preparing to start a recording project. The ";new"; New Horizon features two of the original members from the 1980 configuration, mandolinist Mike Schroeder and bassist Larry Raley, plus Steve Cooley on banjo and Kenny White, guitar.
Schroeder is the only member with an uninterrupted tenure in the group. The original 1980 sextet was composed of Merle Thixton, Doug Huff, Kent Houchin, Kevin McAdams, Schroeder and Raley, with Cooley mixing sound. Raley left the group for a while, then returned. Cooley, the sound man, moved to Branson, Mo. to play guitar with the Dillards, longtime bluegrass performers and recording artists.
Over the years, a number of other players have joined and left. Former New Horizon members include fiddler Jeff Guernsey, now with Steve Wariner's band; vocalist Lauren White, who left the group to marry dobro player Ivan Guernsey, also a New Horizon alumnus and brother of Jeff; Steve Cooley's brother Phil, who was bassist for a year and a half; banjo player Larry Burba, and vocalist Lea Bulloch of Tactix.
It was Cooley's return to Louisville from Branson that was in part the spark that led to the current assembly. For nearly seven years, the Dillards were the host band at the amphitheater of the Silver Dollar City theme park at Branson, a town of some five thousand people located sixty miles south of Springfield, Missouri. The area has five large lakes and is the location of twenty-five plus country music ";Opry"; houses, which attract several hundred thousand visitors a year. Performing with the Dillards meant that Cooley played before an estimated six hundred thousand people a year.
Unfortunately, when the host band job ended, the Dillards reassembled their original group to do a reunion tour, and Cooley was left without a steady job, only occasional jobs with the Dillards. He is currently scheduled to travel with them for ten days to Europe, where rocker Elvis Costello, a strong Dillards fan, has re-released all of their albums on his Warlock label. They will play first at the Cambridge, England, Folk Festival, then go on to jobs in Leeds and London, winding up the trip in Dublin, Ireland.
Cooley rejoined New Horizon as a banjo player upon his return to Louisville, bringing with him his years of experience in the industry, including work on three of the Dillards albums, sessions with Roy Clark, Pat Boone, and well-known screamer Jerry Falwell. The last project involved cutting tracks in Branson for a project of Falwell's, with the vocals done in Virginia. Cooley also played on numerous jingles will in Branson.
Because he always thought that New Horizon was an exceptional band in each of its incarnations, Cooley has set about getting the group to begin work on a album, in order to have a product to promote. Because he has some connections in the Nashville area, it was clear to Cooley and the other members of the band that the selection of material was crucial, so they have begun by listening to tunes by Nashville writers, including songs by former Louisvillian Alan Rhody.
Once the songs are picked, arranging for financing becomes possible, followed by the selection of a studio. Cooley already has a couple of engineers in mind and the group plans to collectively produce the album. Once completed in about a year, the album will be shopped to the larger bluegrass-oriented labels, such as Rounder Records and Flying Fish. Cooley is confident that the group has the potential to be a larger regional or even national act.
Schroeder said that he is excited about the new directions that the band is taking and hopes that the group can repeat its 1980 success, only on a much larger scale. Cooley just laughed and said that he was going to make Schroeder a country music star.