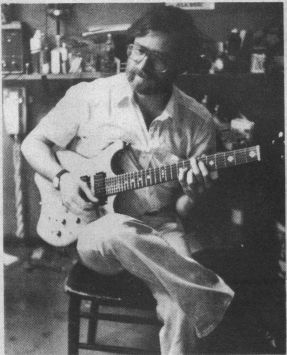 Jimmy Steilberg and his hand-crafted instrument. Front and back view below. Photos by Paul Moffett
Jimmy Steilberg: Luthier
By Paul Moffett
Following Jimmy Steilberg into the former fur vault that serves as his workshop, it's difficult to avoid thinking about gnomes and elves. Once into the cool interior, surrounded by stacks of lumber quietly ageing and instruments in various states of repair and construction, it is even more difficult not to find similarity with elfdom. It is also clear that these elfin-like traits also are why Steilberg is one of the best, if not the best, guitar builder and repairman in the city.
The interior of the workshop looks remarkably like drawings of one Santa's workshops; tools and projects neatly arranged, with just enough disarray to indicate that this is a shop where someone really works. Steilberg goes to some length to make certain that it is clear that this is, indeed, his own shop. Before moving into his current location, he was simultaneously associated with ten different Louisville-area music stores, picking up and delivering instruments for repair.
Steilberg has been in the converted fur vault for seven years. Prior to that, he ran his repair business out of his house. The repair of commercially made instruments let him see the pluses and minuses of the various instruments and the reasons for their failure, if any. When he finally decided to design and build his own instrument, he knew a great deal about what he did and didn't want to do.
The desire to be a luthier began when his father took him to buy him his first guitar. They went to the basement of a guitar maker in St. Matthews, who built with plywood, and that trip set Steilberg on his vocational path. He does not build instruments with plywood, however.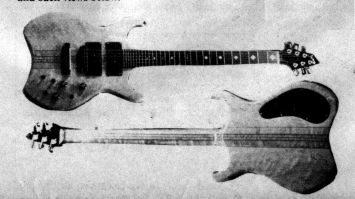 "Wood does what it wants," he laughs, "so it's best to get wood that has already done its thing." Steilberg has lumber of various ages stacked around his shop, including some that was cut in 1939. Buying such lumber from other guitar makers who are quitting business allowed him to begin building the kind of instrument he wanted early in his career. Still, selecting and assembling the wood for his multi-piece necks takes more time yet, as the glues must set for a very long while. Book matching the main pieces ensures that the neck will have the grain in equal opposition, and the careful selection has aesthetic value as well, resulting in a beautiful instrument.
The electric guitar which he built for himself features the through-the-body neck. The neck is an eleven-piece laminate, of bookmatched maple and ebony. The body is made of bird's-eye maple, natural finished, with an extra cutaway to accommodate the extended, twenty-nine fret fingerboard. This cutaway, together with a similar cutaway on the underside of the headstock, allows him to slide smoothly from the nut to the last fret without cramping his hand. The ebony fingerboard has multi-radius arching, to allow for the lowest possible action and string bending without rattle or buzz.
The machines are made by Gotoh, a Japanese company. Steilberg says he used to use Schallers and Grovers, but that both are now made overseas and are not as good a machine as previously. The active electronics are Bartolini and the nut is mother-of-pearl.
"Music is hard enough to play without having to fight the instrument," says Steilberg. "I want to try to get the guitar out of the way as much as possible." His guitar has the added benefit of perfect balance, so that it will sit unheld on his lap.
Trying to reconstruct instruments to suit the personal taste of the player was really the beginning of his design and build business. A player would bring in some old, favorite instrument and ask for a modification: a new or altered neck, or perhaps a change in the body shape. Steilberg says that he does a lot of work for traveling musicians, who call and say they're coming through, drop off an instrument for repair or adjustment, then pick it up on the way back.
In addition to guitars, Steilberg repairs other stringed instruments as well, particularly mandolins, dulcimers and banjos. He also teaches at Bizianes Music and plays with the Sam Harris Big Band, as well as with a union pickup band called Concerted Effort, which plays only casual gigs.
His custom-built instrument business includes both electric and acoustic guitars. Steilberg comments that his instruments, while hardly cheap, are a bargain compared to comparable instruments available in high-end music stores.
"I went to the NAMM (National Association of Music Merchants) Show in Chicago and looked at a lot of guitars," he commented, "and some of the most expensive ones had only one-piece necks, for nearly twice what I charge." The extra cost he attributed to the fact that the manufacturer sold to retailers, with all the extra associated expenses.
Customers wanting a custom guitar can have their choice of woods, active or passive electronics, and hardware. A whammy bar is available and the fingerboard can be arched or scalloped with multi-radius arching. Neck and body shape, finish and inlays are also up to the customer. His instruments start in the range of $1500 and go up, depending on what the customer wants in the way of electronics, if any, and other design factors.
Steilberg can be reached at James A. Steilberg String Instruments, (502) 454-5767 for an appointment. Business by appointment is somewhat awkward, but he finds it hard to hear a knock on the upstairs door and, anyway, interruptions have to be kept down in order to do the very exacting work required to build the best instruments he can. It is just that attitude that makes him such a superior craftsman.