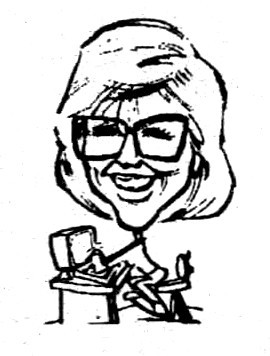 Newsical Notes
On Monday, July 10, Karen Le Van and I stopped by Yogi's after a Board of Trustees meeting to check out their open stage. Londa Crenshaw was performing there, and we had an opportunity to do a bit of catching up on her recent activities. She had been out of town a lot lately, working at Hilton Head, S.C. for six-and-a-half weeks. In one 35-day stretch, she played 30 days!
Londa said that she has also been writing some songs; she'd written two songs in the last two weeks -- on stage!
She's certainly a busy lady, playing regularly in Louisville and doing a lot of out-of-town gigs. No wonder she didn't get around to filling us in on her U.S.O. tour some time back.
Last month I related that Becky Bennett and Kelly Wilkinson were heading for Nashville and a recording session, and they did just that. But, they didn't record just a demo tape for Joann Hatcher as I said they were going to do -- they did a two-song cassette of Joann's originals.
They recorded at the studio of Joann's co-writer, and the finished product has a nice insert that includes a photograph of Becky and Kelly. The name of the album is "The Rays" -- the duo's performing name -- and the songs on it are "Last Goodbye Kiss" and "When You Think Nobody Loves You."
Although only a few tapes were duplicated, you might be able to get a copy -- at a reasonable price -- from either Becky, Kelly or Joann. Wayne Hatcher, husband of Joann, might just happen to have a copy also.
Thanks for mentioning the L.A.S.C. on the tape insert, ladies.
As we were about to go to press we heard that Becky and Kelly would be competing in a talent contest at the Sahara Club on Bardstown Road on Thursday, July 27. We hope they were victorious in their attempt to win the $75 first prize and a shot in ten weeks at the $l,000 grand prize.
According to the information we have received, the contest starts at midnight, with sign-ups beginning at 10:00 p.m. If you get a chance (and can sleep in on Friday morning), you might want to check the contest out.
We are sorry to say that Kelly will be moving to Lexington (Ky.) at the end of July (her husband has a new job there), but we hope she'll be back to see us often. I am happy to hear that she plans to continue as one of The Rays, and we wish the Wilkinsons well in their new home.
Jak Son Renfro and Serpent Wisdom declared their mid-June trip to Zurich, Switzerland a success. (We had heard they were headed for Sweden and reported that fact in our July issue.) We're hoping for more details, but the group seems to be mighty busy lately, appearing at open stages around town, as well as having quite a number of gigs to fill. Jak Son also duos with talented performer Alex Kelly, and that doesn't leave much time for writing, I'm sure.
Saw Terry Boggs at Butchertown Pub's Open Stage on July 11 and he proudly related that he is engaged to be married to Glenda Ferguson on September 2. Terry does sound for E.A.R.S. and doesn't have much time to do gigs. He did sit in with a friend at Carter Caves recently, however, he said.
Honorary L.A.S.C. member Alan Rhody has received quite a bit of ink recently. Not only did he and Jon Vezner get a mention in People magazine (in a review of Lorrie Morgan's album Leave the Light On they were credited as the writers of the album cut -- "Train Wreck of Emotion"), Alan also received a favorable review of his single "She Dreams" in Music Row magazine a while back, as well as a nice one in Cash Box magazine.
And ... a very comprehensive article that included a photograph of Alan was included in the July issue of the Canadian Country Music News.
Bruce Rinehart called me back in early July and told me that a song he had written two years ago, "Changing Mountain Tops," has been cut by the Blevins Family of Indianapolis, Ind., and will be released on Heart & Soul Records. Bruce also related that Carl & Pearl Butler's new album on Star Day is now out and that his "There's A White Dove Flying Overhead," is a cut on that album. And, as if that isn't enough, another of his songs is being considered by the McKaneys. A church friend of Bruce's, Bobby Derieck, has helped with some of Bruce's melodies.
Bruce was also scheduled to take part in this year's Kentucky Music Weekend, appearing with Jean Ritchie on Sunday morning, July 30, and with Anne Macfie and Dick Albin during that weekend.
Bruce is a pretty busy gentlemen, especially considering his weekend performances at the Dixie Jamboree in Park City, Ky.
Dallas Embry received a nice write-up in a recent Scene magazine article. The article was about Uncle Pleasant's Wednesday-night open stage, which Dallas has recently taken charge of, and Dallas and his activities were prominently featured in the article. (You deserve the recognition, Dallas, and much, much more for all the work you do for the many groups you are associated with, not the least of which is the L.A.S.C.)
Another of Dallas' activities got him on the air (WFPL) in mid-July, with a promo for Homefront's "Woodstock Revisited." For those of you who don't know, Dallas is an LHP board member, and he also books their concerts. (Since LHP concerts are on hiatus, I guess Dallas has plenty of spare time, so I'd better call him up and get him to help with a few tasks that I haven't been able to accomplish!)
Rich Lober is scheduled to be a performer on the Sunday, August 27 Writer's Night at the Bluebird Cafe in Nashville, Tenn. Thought we'd mention it in this column since the Louisville Music News centerfold calendar is pretty crowded on that day.
Busy Loretta Sadler, L.A.S.C.er from Harrodsburg, Ky., dropped me a note a few weeks ago and related that she has been busy writing and pitching songs. She said, "I've cut my 5-day working week to 2 days and I still don't have enough time for my writing. (I noticed a big difference in my paycheck, too!)" Well, Loretta, I don't know too many songwriters who are giving Sam Walton a run for his money from royalties, but we still keep trying, don't we? I suppose it's like the DiPiero/Sherrill song says, "Some Fools Never Learn." Right?
And, by the way, thanks for the lunch invitation. A trip to Harrodsburg would be nice, but a certain newspaper keeps me close to home most of the time.