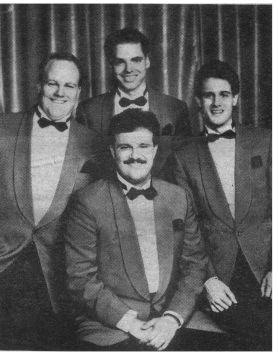 Second Edition Is First!
Local Quartet Wins International Barbershop Championship
By Jean Metcalfe
The margin of victory by which The Second Edition won the Society for the Preservation and Encouragement of Barber Shop Quartet Singing In America's international competition on July 8 was 230 points -- one of the largest in the history of the quartet contest.
The champs, all members of Louisville's famous mega-award-winning Thoroughbred Chorus, took the top spot by defeating 49 other quartets from North America and one from Sweden. Fred Farrell, David Harrington, Doug Harrington and Jamie Meyer comprise The Second Edition, and all are from Louisville.
The quartet placed second in the competition in l987 and 1988, and with the 1989 win in Kansas City, Mo. they join the Bluegrass Student Union and the Interstate Rivals as Thoroughbred quartets which have won the international championship.

'The Thoroughbreds,' Louisville's Seven-Time International Championship Barbershop Chorus.
The Thoroughbred Chorus, seven time international champions, placed second in the choral competition that took place that same weekend. Under the direction of Allen Hatton, the 105-man chorus performed spectacular renditions of "Happy Feet" and "Irish Lullaby."
The competition was well matched and, when the last note was sung, only 36 points separated the top four finishers. The Thoroughbreds scored highest in two of the four categories in which choruses are judged, but the Harmonizers from Alexandria, Va. garnered the most total points and were awarded the gold medals. There were 16 choruses in this year's competition.
Although they did not take top honors this year, The Thoroughbred Chorus has seven wins to its credit and remains the only chorus in the history of SQEBSQSA to have won as many championships. I don't believe the race is even close.