Studio Review
Music Man Productions
P. O. Box 303
Springfield, KY 40069
606-336-9839
Mars Productions
913 Raywick Dr.
Lexington, KY 40504
(606) 278-3956
The increasing availability of MIDI-based recording equipment has led many a player to convert his hard-earned musician's road knowledge into a recording business, often beginning with the equipment stuck in a corner of the house, spreading out as the business grows. This month, we review two such studios, one in Lexington and one in Springfield.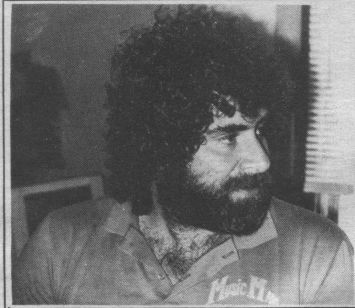 Charlie Walls of Music Man Production. Photo by Paul Moffett
Charlie Walls, owner of Music Man Productions and a native of Springfield, Ky, has been a guitarist in country and country-rock bands since 1964. He played steadily until the late seventies, when the demands of raising a family caused him to quit music and get a real job. In 1981, he decided to get back into music regularly and in 1985 began buying MIDI equipment, until he was able to convert to a completely MIDI-based one-man show. At the same time, he set up a small recorder in the corner of a bedroom, in order to tape the songs he was writing. By combining his working musician's equipment with the recording equipment, he was able to begin handling recording projects for friends.
Like many small businessmen, Walls has had to stretch equipment to meet changing demands, acquiring new units as the need arose. This method allows time to learn to use the equipment, which, according to Walls, is the single most time-consuming aspect of setting up the business.
Because of his regular performing, Walls has developed a catalog of cover tunes, such as "Rocky Top" and "Lady" which allow a customer to add only the vocals to get a complete song. Covering such musical niches stretches the ways a small studio can make money.
Walls also uses the studio extensively for his songwriting, which he does with a collaborator, Sammy Reed, of Brooks, Ky. The two have formed a publishing company to handle their songs while they are pitching them to artists and larger publishers. Walls and Reid make the trek to Nashville every two to three weeks and sometimes more frequently, making contacts and pitching tapes.
As a member of the Board of Trustees of the Louisville Area Songwriters' Cooperative, Walls has occasion to meet lots of writers; as a member of NSAI, he gets to play his finished tunes for other writers to critique or admire, as it may be. Because of this exposure, he spends a lot of his time recording songwriter demos for other writers, many of whom make the sixty-mile trip out Bardstown Road from Louisville. He prefers to have the writer come in and aid the process at the beginning. Utilizing the skills of the writer is best, since it helps keep the costs down, Walls notes, and keeping costs down is the name of the game for songwriters. At $20 per hour, he can keep the costs reasonably low.
Main Mixing Board
Peavey XR-800 Eight-channel
Primary Multi-channel Recorder
Tascam 388 Recording Console
Primary Two-Track Master
Teac 35-2
Amplification
Peavey CS-800 Power Amp.
Peavey KB-300 Keyboard Amp.
Peavey Special 135 Guitar Amp
Speakers
Yamaha Model 52115H Stage Monitor
Peavey 1510 Stage Speakers
Outboard Effects
Yamaha 1010 Digital Delay
Peavey 4000 Digital Delay
dbx 160x compressor/limiter
A.R.T. Digital Reverb
Roland GP-8 Guitar Effects
Processor
Microphones
Sennheiser MD-421 U-5
Electrovoice PL-76
Shure SM-58
Keyboards
Ensoniq Mirage Sampler
Sequential Circuits Split-8
Korg EX-800 Synthesizer
MIDI
Roland MC-500 Sequencer
Korg KMY-60 MIDI thru
360 Systems MIDI Bass
Sequential Circuits Drum Tracs
Available Instruments
Gibson ES-335 Guitar
Madeira Flattop Guitar
Peavey T-60 Electric Guitar
Steve Lyon admits to having had only two jobs that did not involve music since receiving a B.A. in music from Centre College -- working in a burger joint, and a very brief stint in a chicken slaughterhouse. The last job resulted in the black-humorous "Killing Chickens Is Lots Of Fun" from his first album There's No Place Like Mars, on the Flying Fish label.
The desire to be able to produce his own material, spending time rather than money, moved Lyon into the MIDI world. The slow, steady acquisition of equipment over the years of playing solo piano gigs in hotels and lounges as far away as Europe enabled him to set up his studio, without a large initial outlay. The music software enables him to write all the parts to disc, modify them and then go directly to tape for the master, with only the vocals recorded analog to tape.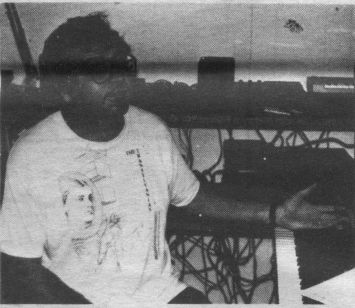 Mars Production Owner Steve Lyon. Photo by Jean Metcalfe
Pre-production, songwriter demos, and commercial work, often on spec, are the main areas in which Lyon finds work. He produces piano / bass / drums songwriter demos from the roughest of tapes, including some who simply sing their songs into a Mic.
Noting that it is easier to produce a demo when the writer can describe what he or she wants it to sound like, Lyon begins his work with as close a questioning as is possible with the writer, then composes the tracks until he has what he thinks the writer wants. At that point the writer is asked to listen and point out what's wrong, and the tune is reworked. Lyon stresses that the writer pays nothing until he/she is happy with the results. At $60 per song, $200 for four, and assuming that the writer will sing the song or provide a vocalist, Lyon believes that it's possible to get very satisfactory results for not much money.
In addition to his paying customers, Lyon is also working on an eight-song cassette album with his playing partner, John Ireson, under the "Zero Budget Recording" concept. One of the tunes on the album, "Sweet Evening Breeze," was written by Louisville songwriter Sheila Joyce, owner of the Rudyard Kipling Restaurant. The song is about a Lexington personality and was included in part for its local appeal.
Lyon is also in the middle of completing the music for a music theater / performance piece created by his wife, George Ella Lyon, poet and Centre College faculty member, and Barbara Hall, a singer and voice teacher at Centre. The piece, entitled "Looking Back For Words," is based on a family story from the Civil War and was funded by the Louisville-based Foundation For Women. The work is scheduled for initial presentation on September 23 at Appalshop in Whitesburg, Ky.
Lyon has also recently bought music-scoring software and is offering lead sheet service for as little as fifteen dollars, for a straightforward popular song.
Primary MIDI Equipment
Leading Edge Model D IBM-Compatible
Voyetra OP-4001 MIDI Interface
Software
Voyetra Technologies Sequencer Plus MX III
D. T.'s - The Copyist Professional (Scoring software)
Instruments
Korg P3 Digital Piano
Korg Poly-800 Synthesizer
Casio CZ-1 Synthesizer
Casio CZ-101 Synthesizer
Yamaha TX 817 Synthesizer / Tone Generator
Roland TR 707 Drummer
Roland R-8 Human Rhythm Composer
Primary Mix
Yamaha KM 802 mixer
Recording
Fostex X-15 Four-track
Sharp RTW 8000 2-track cassette
Outboard Effects
Alesis Microverb
Fostex MN-50 Compressor / limiter
Microphone
Shure PE-66
Speakers
Studio Monitors - Minimus 7