November Showcase Spanky Lee
By Paul Moffett
The first all-rock Songwriter Showcase, featuring Spanky Lee, went off crisply at the Rudyard on Saturday, November 4.
Despite a light crowd, Spanky Lee put on their usual professional, high-energy show, playing only tunes written by members of the band. Opening with "I'm Bad" (not to be confused with the familiar Michael Jackson tune "Bad"), they bounced straight into "She's Gone Away," "Trying To Find My Way Home," then staked out their personal territory with "Proud To Be Young," before presenting some of the new tunes off their recently released cassette, It's Time.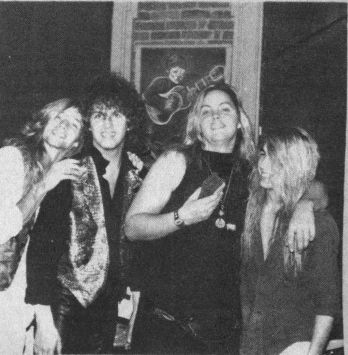 Members of the band Spanky Lee mugged for the camera following their appearance on the L.A.S.C. Songwriter Showcase on November 4 at the Rudyard Kipling Restaurant. Band members, from left to right, are Chip Adams, brothers Mark and Max Maxwell and Chuck Mingis. Photo By Jean Metcalfe
Spanky is composed of brothers Max and Mark Maxwell on drums and guitar, respectively; Chip Adams on bass; and Chuck Mingis on guitar.
The group has set their sights for a recording contract with a major label and are working every day to attain that goal. After polishing their act for some time, including a stretch in the studio, they have begun to play out more. The Songwriter Showcase was a natural for them, Mark Maxwell said, to play before other writers.
They wrapped up a two-set show on schedule, leaving 'em dancin' and leading TRK owner Ken Pyle to comment that they were "damn good." Look for them to be making a bigger splash in the future.