LARNELLE HARRIS ... "AN ORDINARY PERSON"
By Jean Metcalfe
Larnelle Harris was "on a tight schedule" on June 3 and would probably not have time for an interview, according to Len Fisk at Family Book Stores in Jefferson Mall. So, even though I had spoken earlier by phone with Harris' people in Nashville and they had given me encouragement, I was prepared to settle for just taking photos of him signing his new album I Can Begin Again at the Jefferson Mall book store.
I did have several questions prepared for him, however, should the opportunity for him to talk with me present itself. The first question would be, "What would you like for our readers to know about you if we could write only one thing?" I did get to ask that question and Larnelle replied: "That I am an ordinary person who has the same wants and needs that anyone else has and that I choose to satisfy that need by a life with Jesus Christ." (Explaining that he would make his answer encompass many points -- was I overjoyed? You betcha -- he went on to say that "that includes family (and) the devotion there. My struggle is like any dad. I have a 14-year-old son and a nine-year-old daughter, neither of which I've ever had before. My prayer is not to win another Grammy, although that would be nice, but to be a better daddy and a better husband."
When Larnelle arrived at the book store, I was waiting to say hello. He smiled and shook my hand. When I explained my purpose for being there, he asked me to stick around as he thought that he would have time to answer my questions. I couldn't help but be impressed that a few minutes later he insisted that I sit in his chair at the autograph table while another chair was being brought for him. (That seemed fair enough -- am I being glib, or what? -- and I was very impressed with his generous gesture.)
The Grammy- and Dove-award winner, a tall, pleasant and handsome gentleman, was jacketless and wore dark slacks and a light-blue-and-white striped dress shirt. He greeted each person who stopped by, and made easy conversation with them. He signed albums, pieces of paper, and even took the time to write a note for one young lady to take home to her roommate.
I was already familiar with Harris' music, having recently listened to his new album. Additionally, I had previously heard him perform live at a local church, and I enjoyed it a lot. What a voice!
My favorite song on the nine-song cassette (also available on CD) is "Friends in High Places." You should just hear Harris hit that beautiful note on the word "high." Another favorite is "You're My Child." Archie Jordan and Austin Roberts co-wrote the former, and Harris co-wrote the latter with Dave Clark and Don Koch. I kinda got the impression that the album's title cut, "I Can Begin Again," is Harris' personal favorite, as he quoted a good bit of the lyrics later in our conversation.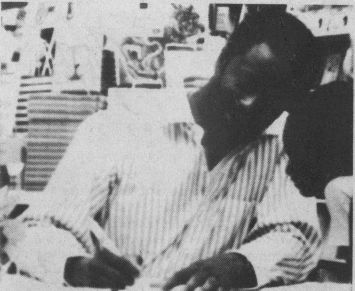 Larnelle Harris autographs his latest album for a young fan.PHOTO BY LEN FISK
In answer to my question about which aspect of his career he enjoyed the most -- writing, performing or recording -- Larnelle said, "That's real tough. I enjoy all three. I like to be in on the ground floor." And speaking of writing, he said, "I can't put it down on paper until I believe in it. I'm not into writing ditties and rhyme, but things about life. I find it hard to be concerned about anything else when I have kids and understand only too well that there are things out there like drugs that are real. I want to write about things that don't say 'die,' but give hope and encourage them. We wrote 'You're My Child' and World Vision will use that as their theme for the next two years. I want my kids to know that the real things in life are not the temporary things that give us a temporary high."
Harris was scheduled to perform on the Crusade for Children that evening, his second year to do so. He was so impressed with the Crusade last year that he agreed to do it again this year.
"It's good to see that side of people," Harris said. "I have a lot of respect for the organization as a whole," he continued, citing the impressive amount of money raised over the years and the very high percentage of the total amount that goes directly to the needs of the children.
When I asked how winning numerous awards had changed his life, he described it in this way: "The first time I was nominated for a Grammy I took that little record and got into a corner. It scared me to death. I said, 'Somebody's listening to this.'"
"I began to grow at that point," he said, "not because of the Grammy, but because people were actually looking to the product to receive something that was lasting in their own life. To be in touch. That's what lyric does. It says something to you. I want all of those things that give people hope." At this point he quoted these lines from "I Can Begin Again":
I can begin again,
With the passion of a child,
My heart has caught a vision,
Of a life that's still worthwhile,
I can reach out again,
Far beyond what I have done,
Like a dreamer who's awakened,
To a life that's yet to come,
For new beginnings are not just for the young.
He elaborated on the above by saying that no one ever says to a 40-year-old, "You've got your whole life ahead of you," as they often say to children.
After I left my seat at the autograph table, I took several more photos and spoke with a gentleman who was also photographing Harris. He told me that Harris and he attend the same church. "He's just one of us," he said.
Harris had earlier taken time out to pose with the employees of Family Book Stores and to meet each one of them.
It had been a real pleasure to talk with Larnelle, and I left feeling very elated.
Although he has won five Grammies and eight Dove awards, Larnelle Harris still thinks of himself as "an ordinary person."