Nashville Summer Lights
By Karen Le Van
Attention, music lovers! Mark your calendar today for the first weekend in June so you won't miss next year's Summer Lights Music Festival in Nashville, Tenn.
It all started seven years ago when Maggie Cavender and the NSAI put on a small festival showcasing up-and-coming songwriters/artists. There was only one stage for talent then; today there are seven stages over a seven-by-three-block area in downtown Nashville. Summer Lights is now a four-day event with not only music, but arts and crafts, merchandise booths, exhibits, street performers, etc. Over 100,000 people turn out to hear the best in the music industry and see the show.
I arrived at about 8:00 p.m. on Friday, June 2, entering the festival area at Third Avenue and Deadrick. Ahead of me were about four or five solid blocks of people, and at the end of the strip a high-rise building announced, ARTS-MUSIC-DANCE, with windows spelling out the words. The only missing word was PARTY! And party it was.
Everyone was in a festive mood, some more than others, naturally, but all were having a good time exploring all 134 booths that displayed a wide variety of food and merchandise.
As we entered, on the Kroger-sponsored stage in front of the courthouse Jimmy Hall & the Prisoners of Love were playing to a packed crowd.
After checking out the schedule, I realized the stage I was looking for was at the opposite end of the crowd of 100,000-plus people. My friends, Charlene and Mike Corregan and daughter Tashia, and I started in that direction, catching glimpses of what was happening in between.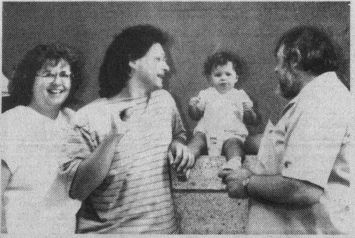 Oh, Henrys! ... Little Jessie Rose Henry stole the show, at least temporarily from her songwriter/performer father Don Henry at Nashville's Summer Lights festival. Don's wife Betsy and father Hoyte were justifiably proud of both stars. Photo by Karen M. Le Van.
The Viacom TPAC stage was featuring Hot Pop from WLAC, with John Hall, Tom Kimmel, Wendy Waldman and Janis Ian.
The Bud Light stage was having a tribute to bluegrass great Ralph Stanley featuring Peter Rowan, Ralph Stanley and the Clinch Boys.
At the stage at the Downtown Presbyterian Church, WPLN showcased classical performers from Belmont College.
When we finally made it to the Coors Light stage (it took only about 15 to 20 minutes), New Grass Revival was thrilling the audience -- packed into the Legislative Plaza -- with their special brand of bluegrass. According to my schedule, they were to be the last group on -- but the night was still young and there was lots of talent coming up.
I had my camera and wondered how I might get near the stage to get a picture when Charlene spotted the center aisle -- it was clear all the way to the stage -- so I headed all the way down and got my pictures. No hassle -- it was amazing -- considering all those people. No one said "Get out of my way," they just let you come down and get your picture. The crowd was very well behaved and enjoying the show.
Since New Grass Revival's Sam Bush had played on L.A.S.C.'s Almost Famous tape (on John Goodin's "Fool's Paradise") I had to get a picture of that gorgeous hunk (just for the L.A.S.C., don't you know)!
The guys played "Friday Night In America" from their new album of the same name (which I rushed out and bought on Monday), as well as "Let's Make A Baby King," "Anywhere the Wind Blows" and their new single "Baton Rouge." The crowd loved them.
After New Grass Revival's performance, some of the fans left and we were able to work our way down to the seats -- still about 20 rows back from the stage.
Up next was Jerry Jeff Walker. He opened with -- what else -- "Mr. Bojangles." Next he sang about his favorite thing -- "Trashy Women" -- and followed up with "Red Neck Mother." He ended his segment with "I Feel Like Hank Would Have Wanted It This Way."
After Jerry Jeff's set, a buzz could be heard throughout the audience as a Silver Eagle with a waving American flag emblazoned across it pulled up behind the stage. A surprise guest, not listed on the program, took the stage. Miss Tammy Wynette looked smashing in an off-white pants outfit with her back-up singers wearing white sequined dresses. I had never seen her in person before, and must admit I had never really been a big Tammy fan, but she won me over with a very impressive show.
Tammy's first hit came in the '60s with "Your Good Girl's Gonna Go Bad." She sang many of her big hits, "D-I-V-O-R-C-E," "Stand By Your Man," and her personal favorite "Till I Can Make It On My Own," which she explained she wrote when she was going through a difficult time in her life. She has just released her 51st album.
Earlier that evening on the Coors stage I missed seeing Townes Van Zandt, Bill Miller, Clint Black, John Hartford, Dean Dillon, Mel McDaniel and The Shooters -- to name just a few of the stars that were shining at Summer Lights.
For me, Saturday was Songwriter Day. After checking out the program, I knew I'd be spending all day at the Bud Light stage. Starting at 12:30 p.m., the Bluebird Cafe presented some of Music Row's hottest singing songwriters.
David Wilcox opened with a song called "Daddy's Money," then one of my favorites called "She Shines." It was a good story song that told of a girl who cleaned her car -- "A vehicle that she shines" -- and later in the song (if I'm interpreting it right) she becomes the vehicle that shines. David has a smooth, mellow voice and really nice songs. I sure enjoyed watching the way he supported all of his fellow writers as they took their turn on stage. When Mary Chapin Carpenter was doing her set, David pulled up his own little piece of the pavement in front of the stage and listened intently.
Up next was L.A.S.C. favorite, Don Henry. I had a chance to talk to Don and his wife Betsy before the concert. He wouldn't say exactly what exciting thing is about to happen in his career, but keep watching for the announcement. We're keeping our fingers crossed and can't wait to find out the details. Don and Betsy were joined by Don's dad, Hoyte Henry, and they also had their darling little daughter, Jessie Rose, with them.
Don sang all of those songs we have come to know and love on his visits to Louisville -- "Company Car," "It's Mr. God to You," "Cheap Ticket," "Harley," L. Alien," and "4353 Cadillac Avenue." Don also introduced a couple of new songs, "Just Another Dream" and a new one he co-wrote with Jon Vezner and dedicated to his dad, called "A Father's Son." He had his dad, as well as the rest of us, misty-eyed.
One thing I noticed as Don sang was how quickly everyone picked up the lyrics to his songs and sang along -- a note of a good song and a great songwriter!
They call themselves Women in the Round and they put on an excellent show. Composed of Ashley Cleveland, Karen Staley, Tricia Walker and Pam Tillis, they are four very talented up-and-coming ladies of Music Row. Ashley is a Warner/Chappell writer and Karen is an artist with MCA Records and a writer for AMR, who has had several artists cut her songs and has just released "Wildest Dreams." She recently hit the Top 5 with "A Face in the Crowd," recorded by Holly Dunn and Michael Martin Murphey. Tricia is a Polygram writer and Pam is with Tree International.
All four of the women have successful individual careers, and together they have a combined talent, singing, playing and writing, with a great gift of spontaneous humor that makes their show run smoothly even when a string breaks or someone forgets the words.
They were a hard act to follow, but Kevin Welch did an admirable job. I had the opportunity to see Welch at the Bluebird Cafe last summer in the round with Thom Schuyler, Craig Bickert and a lady whose name I can't remember (she was really good) -- she wrote "Strong Enough to Bend." Anyway, this day Kevin was performing with a band. Songs he sang included "True, True Love Never Dies," "Billy the Kid," "What's Wrong With You?" and "Till I See You Again."
Kevin is one of Alan Rhody's co-writers, and Alan refers to him often. I believe one of the songs they co-wrote is "Mother Road." Kevin has a new album on Warner Brothers. Watch for him; he's a definite star on the rise.
Mary Chapin Carpenter was the next artist. What a lovely voice she has. She opened with her latest release, "This Shirt." She also did a new song she had just completed the video for -- "Never Had It So Good."
After the Bluebird showcase and in between acts I strolled the area seeing what Summer Lights had to offer on other stages, as well as other activities.
The Nashville Network was sponsoring a free session in a recording booth. The line was real long so I didn't get a chance to become a star!
One really good idea I would like to see put to use at other similar events was an area for children to do arts and crafts while their parents explore.
Another neat idea was instant creativity. Containers of chalk were lined up and down the street so people could leave their mark on the streets of Nashville.
There were magicians, jugglers and unicyclists on every corner putting on their own show.
One hundred and thirty-four vendors were there selling everything from second-hand clothes to perfume, jewelry and food -- all kinds of food. The girls from Hooter's were also there, attracting customers to their booth.
Show time once again on the Bud Light stage ... this time New Country discoveries were presented by the Nashville Banner.
Karen Staley made another appearance, this time solo. She bears watching also. A beautiful girl with lots of charisma and a lot of talent to boot -- that spells "star" to me!
Debby Hupp told me to be sure to watch for Tim Mensy, a new CBS find. Debby and Tim have been co-writing, and one of their songs, "The Wrong Way to Find Mr. Right," is on Tim's new album. He has a real good voice and some clever songs. My favorites were "I Wish His Future Was Ahead of Me," "Can't Throw Dirt Without Losin' Ground" and "You Still Love Me In My Dreams." Tim co-wrote "Mama Knows" with Tony Hazelton, and it was recently a hit for Shenandoah.
During the break between performers I discovered a new group called "Billy Hill," and they had a super country-rock sound. Band members Bob DiPiero and John Scott Sherrill (who came to Louisville for an NSAI Symposium several years ago) were very entertaining.
My pick for Star of the Future was up next. Garth Brooks puts on an energetic show. His songs are really good. He has a sound similar to George Strait's, but so much more personality on stage.
One song Garth sang, "I've Got A Good Thing Going," has a real clever twist to it -- "I've got a good thing going/And it's killing me/Cause she's as good as gone." "Victim of the Game" and "I'm Too Young to Feel This Damned Old" were also good songs.
I was so impressed with Garth Brooks that I went out and bought his new tape on Monday. I'm enjoying it, too.
Nightfall brought the NSAI salute to Maggie Cavender -- the lady who started it all. Maggie was presented with a plaque thanking her for her involvement over the years in the music industry.
Artists on hand to play a special thank-you concert for Maggie were: Jay Patten and his band, who also backed all of the artists that night; Daniele Alexander sang a neat song scheduled to be released on June 19 called "She's There." "She's been on your mind/You've been on my heart/Feels like together is coming apart." Nice lyric -- why didn't I write that?
Michael Woody, a Colorado songwriter who wrote "I'm Back And She's Blue" also performed "If A Stranger Comes" and "Out Of My Livin' Mind."
Fred Knobloch -- one of my faves -- was up next, singing "Rhythm and Roll," "Comfort Of One Woman's Love" and the hit he co-wrote with Dan Tyler, "Turn Of the Century," recorded by Nitty Gritty Dirt Band.
Bob DiPiero was joined by Pam Tillis and sang "I Need Your Lovin' Every Day" and his latest hit (co-written with John Scott Sherrill), "Church On Cumberland Road."
Bob and Pam had the audience going crazy, but the show was on a tight schedule, so ... no encores. Boo ...
Randy Van Warmer was the next artist up -- he performed some of his hits, "It Never Hurts to Hurt Sometime," "Bridges and Walls" and his biggest hit, "Just When I Needed You Most."
By now the crowd was dancing in the street and having a great time when Bruce Channel hit the stage. After "Hey Baby" and "Stand Up and Testify," I don't think anyone was sitting.
It was a full 12 hours of music and fun for me.
I thought about going to see Shaking Family at the Ace of Clubs, but fatigue set in on my walk back to the car.
I was sorry I couldn't stay for the Sunday concerts. The highlight for Sunday was Emmylou Harris in concert with the Nashville Symphony.
Yes, Summer Lights were shining brightly all weekend.
So, again, mark your calendar now for next year. First weekend in June -- Nashville, Tenn. Be there!