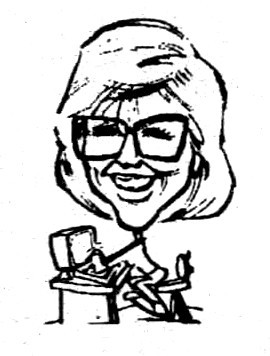 Newsical Notes
Tom Flood recently told us that his publishing company, Rising Waters Publishing, an ASCAP affiliate, is now official. Congratulations, Tom. Clever name.
Fred Spencer and Andy Hardesty were fortunate to be in the right spot at the right time when they played a gig at the Strawberry Festival over in Indiana recently. Seems a local (Louisville) television station came along with their cameras as Fred and Andy were performing and shot a few feet for their evening news. Love that publicity!
If you were tuned in to "Today In WAVE Country" bright and early Monday morning, June 12, you lucked in to seeing L.A.S.C.ers Alan Morris and Valerie Yeiser as guests on Channel 3's local television show. They were there to publicize the West Point (Ky.) River Days Festival, and they sang "River Town," Alan's original tune written especially for his town's bicentennial celebration.
Alan and Valerie will be performing as part of the festivities on Saturday, June 24, and Co-oper Mary Aho will be providing entertainment that evening. Alan invites everyone to join in the celebration, and maybe even join him on stage on Saturday. The festival starts on Friday, June 23.
Happy Anniversary, West Point, Ky. You're a nice little town, and I am proud to say that I have roots there.
Heard that honorary member Prince Phillip Mitchell is back in the studio cutting an album for Ichiban Records. Don't know the planned release date, but we'll look forward to hearing it. Phillip's most recent album, also on the Ichiban label, is entitled "Devastation."
Marie Augustine was speaking Spanish and wearing a lovely Mexican dress at The Rud on June 12 following her return from a week-long pleasure trip to Mexico. She sure did look relaxed and happy. The following Monday night she "had pictures."
Honorary L.A.S.C. member and Nashville resident Alan Rhody will be in town for a performance at The Rud on Saturday evening, July 8.
And then ... and then ... when Earl Thomas Conley comes to headline WAMZ's "Concert in the Park" at Louisville Motor Speedway on Sunday, July 9, Alan will open. How about them apples!
Heard that Serpent Wisdom (composed of L.A.S.C.ers Jak Son Renfro and Ken Lucchese plus Musa Uthman) is in Europe to do a tour there. Don't have many details. I had heard the rumors and, next thing I knew, heard that they had already left Louisville. Don't know when they'll be back. Understand they had a gig scheduled for June 17 in Sweden.
Sorry to hear from Lucille Wills that her good friend and fellow L.A.S.C.er Dorothy Vessels has been ill recently. Glad to know that she is doing some better now. Our best to you, Dorothy.
We understand that member Bill Riddle has returned to Louisville after living at his farm home for several months.
Our best wishes are extended to Bill's daughter Stephani on her recent marriage. Many of our members will recall that Stephani has accompanied Bill on his several appearances on our Songwriter Showcases. So why haven't you been down to The Rud yet, Bill?
Bill Ede received a little ink in the Summertime 1989 issue of Zassafras Music News. He had written to sing the praises of Gene Thomas' Encore '89 album, his first commercial recording in 20 years.
Sorry that Bill had to cancel his June 11 appearance at The Bluebird Cafe in Nashville because of a bad throat. Bill had just recently returned from an appearance at the Kerrville (Texas) Folk Festival. (See story elsewhere.)
Congratulations to Amy Kurland and the folks at The Bluebird Cafe (Nashville, Tenn.) on the occasion of their Seventh Anniversary. Amy is a strong supporter of original music, and quite a few L.A.S.C. members have appeared on her Sunday Writers Night. The entertainment for the anniversary party that was listed in their newsletter sounded great! Wish we could have been there.
Hugh Hill stopped in at the Open Stage at TRK on June 12 and decided at the last minute to play a late set of tunes for the hangers-on. Hugh reports that he has made a lot of friends and contacts in Nashville, and that he will be going into a studio there to do the vocals for a songwriter who is putting out an album of his original songs on Rich-R-Tone Records.
Hugh is also in the process of setting up his own publishing company. Hmmm ... is there something in the air??
Becky Bennett & and Kelly Wilkinson ("Becky & Kelly") called just prior to heading to Nashville with Joann and Wayne Hatcher to do a demo of one of Joann's songs. They enjoy studio work and I'm sure they would welcome the opportunity to do demos for other songwriters. In fact, I'm quite certain of it.
Rich Lober called from Dayton, Ohio on June 4 and we chatted for quite a long time. He said that he had done a video for Dayton's Channel 32 and that it would be aired twice on a program called "Bob Stanley's Music Hour."
Rich also mentioned that he had signed a contract a while back to perform on WNKU Kentucky Folk Radio 89.7 fm.
He is looking forward to his August 27 performance at The Bluebird Cafe in Nashville, and he told me that he has recently written several new songs.
Hope that phone bill won't be too high, Rich.