NoZmo King's (Maybe) Annual Reunion
By Jean Metcalfe
There's only one thing wrong with NoZmo King reunions -- you never know when they're going to occur.
Tom Flood and Rusty May, who comprise NoZmo, were a bright, shining Louisville duo for just under one year before Rusty accepted an offer to perform with a group in Branson, Mo. and later in Canada. Tom subsequently moved to Nashville to further his songwriting career.
For the lucky few who found out about the May 25 reunion before it happened, it was a fantastic evening. My husband and I were among that group and we were able to get to Mr. G's in time for the 11:25 p.m. starting time.
Occasionally I found myself feeling sorry for NoZmo fans who couldn't be there. Honest! I managed not to let it spoil my enjoyment of the evening, however. (And, I had made a couple of phone calls to spread the word, but quit after waking up the folks at one residence. Shouldn't have quit until I had called inveterate music lover Dallas Embry, though.)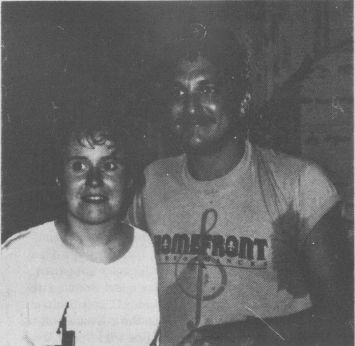 Rusty May and Tom Flood put on a real hot performance in a last-minute NoZmo King reunion on May 25 at Mr. G's. Photo by Tom Metcalfe
Beginning with "Boil Them Cabbage Down," and continuing through two sets until they concluded with a dynamite performance of "Orange Blossom Special," the duo of Tom Flood and Rusty May definitely held the audience's attention.
Rusty and Tom, along with Rusty's brother Steve May, had earlier entertained at a Jefferson County Teachers Association dinner in the Crystal Ballroom at the Brown Hotel, a gig they have done for several years. This one was special, however, as Rusty's dad was celebrating his retirement from the school system after spending quite a few years there as a math teacher. (June May, Rusty's mother, told me that a teacher came up to Tom at the dinner and said, "I used to be your third grade teacher.")
At one point rather early in the performance, Rusty's mother shouted out to Rusty, "It's time." Translation: It's time to play "Sweet Georgia Brown." Before obliging her mother, Rusty had to tease her a bit. "Do you know the difference between mothers and puppies?" she asked. "Puppies stop whining after six months." With that, the petite, red-haired fiddle player and her guitarist/vocalist partner Tom served up a fantastic version of the requested number.
The duo then graciously granted a patron's request for "Country Roads," with Rusty providing an achingly sweet instrumental break.
Tom and Rusty played quite a few original tunes, including Tom's "You're Still My Flame" and an instrumental version of Rusty's "How Could It Be."
During the performance of "Gamblin' Man," a Flood original which Tom dedicated to "Johnny" about whom the song was written, Johnny came up from the audience and did a most astounding solo dance. "Johnny's cable only gets ESPN," Tom's song declares.
NoZmo's "Georgia" was just downright wonderful! I really enjoyed Tom's great bass runs on this one. And the way Rusty made her Zeta fiddle cry had me halfway expecting to see tears fall from it.
Tom and Rusty thoroughly entertained with their versions of Dylan's "You Ain't Goin' Nowhere," (currently a hit for Nitty Gritty Dirt Band), "Poke Sallet Annie," Fats Waller's "Ain't Misbehavin'," Grappelly's "Minor Swing," "Amie," "Something's Burning" (great!) and an excellent rendition of "The Devil Went Down to Georgia"
Before calling it an evening more than a couple of hours into the next day, Tom sandwiched in several more of his original tunes -- he's been doing some good writing since moving to Nashville -- and Rusty played right along with all of them. I was touched -- or was I? -- by the fact that Tom dedicated his last original -- "Fat Boy Blues" -- to me, saying "She's the only one who would come up and call me fat to my face." (Actually, Tom, I don't believe I used the word "fat"; seems as if I mentioned that you were getting a little bit of a tummy.) At any rate, thanks, Tom. I think it is a very clever song, and I especially like the line about your being used as a float in the Macy's Thanksgiving Day parade, which is overstatement in the extreme.
Of course, we stayed out much too late, but even the next day I was glad that I had gone. Ditto for my husband who had to be at work at his usual time. As for Tom and Rusty, they were still talking with friends at Mr. G's when we departed, and Tom had to drive back to Nashville that night (morning) and work two shifts -- one starting at 11:00 a.m. -- at the restaurant where he works. No wonder he recently wrote a very good song called "Workin' Man Blues."
(Watch out -- editorial comment coming: Musicians, who enrich the lives of just about everyone on the planet, usually have to work day jobs just to make a meager living, unless they have hit the big time, and only a very small percentage of them attain that status. Such a shame.)
The NoZmo performance was priceless, and I was pleased to overhear a patron of Mr. G's say to Tom and Rusty at the end of the evening that he had heard "Orange Blossom Special" many times in many places and that theirs was the best he had heard.
Thanks, Rusty and Tom, for bringing some magic to the evening.
The next reunion is tentatively scheduled for Christmas time. Let me know if you want me to call you up, and also tell me how late is too late to call, okay?