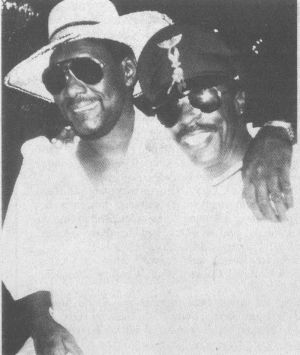 Prince Phillip Mitchell and 'Temptations' lead singer Ali Ollie Woodson. PHOTO BY SANDY DAUGHERTY
PRINCE PHILLIP MITCHELL --The Tempting One
By Karen Le Van
With 40,000 to 50,000 people packed onto the Belvedere, enjoying the Temptations at this year's "CityFair," who to my wondering eyes should appear??? Our own Prince Phillip Mitchell
Actually it was no surprise, since Phillip has worked with the Temps over the years at Mussel Shoals, Ala., filling in for missing Temps from time to time. So it was a natural for them to ask him to join them on stage once they spotted him in the audience.
The concert is one this reporter and her photographer won't soon forget. I called Phillip earlier in the day to see if he was planning to go to the concert; he really wanted to, but didn't want to fight the crowds, so I suggested he go with photographer Sandy Daugherty and me, thinking we would have press passes to get backstage.
However, we missed our connections and had to use our cunning and wit to get a good spot backstage (actually it was back and above stage, on the balcony overlooking the stage -- but I won't divulge any secrets as to how we got there).
As the Temptations were singing they would turn and look up from time to time, and Phillip spotted his old buddy Ali Ollie Woodson, lead singer, and hollered down to him. When Woodson spotted Phillip he pointed and shouted in amazement, "Prince Phillip, you (expletive deleted), get down here!" Well that was easier said than done, as Phillip soon found out. On his journey down he was stopped by a police officer. Phillip came back upstairs and we explained to the officer that he was with us and that the Temps wanted him on stage to sing.
After considerable difficulty, Phillip finally got to the immediate backstage area and visited with his longtime friends. They were about to start a segment of their show where they pick several people from the audience to help them sing "My Girl" and do a little dance. They saved Phillip for last and the audience went wild as he hit all of those high notes and squealed as he so often does. Many of the fans recognized him, but there were others who stopped him on the way back to the car after the concert to tell him what a great job he did, etc.
After the concert Phillip arranged for Sandy and me to get to meet the Temptations before they left via limo for the airport.
But the night was far from over. We went to Zena's Cafe at Third and Market where Phillip is currently playing with Herman Anderson of the Derby City Blues Review.
As traffic headed down Market, people passing by in cars and on foot recognized Phillip. (The Panama hat might have to become a new trademark.) They were coming in all night, asking, "Hey, aren't you the guy singing with The Temptations tonight?" Phillip's reply, "Yes, I'm the tempting one!"
Catch Phillip and Herman at Zena's on Thursdays, Fridays and Saturdays. I can almost guarantee you'll have a ball -- we sure did.