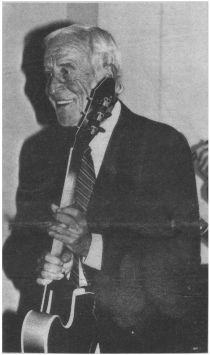 Renowned Jazz Guitarist Jimmy Raney. Photo by Bob Ernst
"Just Jazzy" … Just Once
Sandy, Jimmy and Phil at the Hyatt Regency
By Jean Metcalfe
I'm glad Sandy Neumann took a minute to call me to let me know that she and two friends would be filling in for Walker & Kays in Pepper's Bar & Grille at the Hyatt Regency Hotel on June 17. I have known Sandy for a number of years and have enjoyed her performances on each occasion that I have been in her audience. It was a special treat to be able to hear her sing jazzy versions of so many old favorites on this recent evening.
And her two accompanists weren't too shabby, either. Renowned jazz guitarist Jimmy Raney (Playboy magazine's choice for jazz guitarist of the year back in the fifties) and WFPK/WFPL Music Director Phil Bailey played guitar and bass, respectively, from Ms. Neumann's charts, and they did a fine job. It did seem quite unusual to see Raney wearing reading glasses and closely following the charts in very dim light. In previous appearances that I have had the good fortune to enjoy, he has played from memory.
It was not surprising to learn that the trio hadn't performed together, but that did not lessen my enjoyment of the evening. They had a nice, easy rapport with the audience and with each other, and that made up for the not-quite-polished performance.
Looking very attractive in a black cocktail dress that was cut low at the top and high at the hem, Ms. Neumann ably handled "Nice Work If You Can Get It," "Come Rain Or Come Shine," "That Old Devil Moon," "These Foolish Things Remind Me Of You," and other enjoyable classics, most of which were popular before Ms. Neumann was born, I'm sure.
I got a real kick out of watching Raney grin puckishly when he made a mistake (no grevious ones), and I did hope that he would do an instrumental solo at least once in the evening so that he could cast aside the infernal charts. Apparently the charts weren't exactly perfect as Raney and Bailey occasionally poked a little good-natured fun at them, prompting Ms. Neumann to ask, "Don't you love my charts?"
Pepper's is an odd combination of plush with a sports bar motif. The mirrored wall and the furniture -- as well as the entertainment -- were not quite at ease with the sports posters and pennants on the walls. A couple of video games had been placed up against the mirrored wall, between the bar and the stage. A pool table was in the back. Fortunately there were more jazz fans than sports fans at Pepper's that evening, and all of them appeared to be having a good time. They were there to listen to the music.
The trio came back with a second set that was equally enjoyable, entertaining us with "You Go to My Head," "Someone to Watch Over Me," "Lover," and "Take The A Train." A lovely rendition of "When I Fall In Love" was a nice closing number for the trio of Neumann, Raney and Bailey.
Greg Walker and Jeanette Kays returned from their earlier engagement to do the final two sets, and, as usual, they were very entertaining. When Ms. Kays sang "Lover Where Can You Be?" Raney walked to the stage and said to her, "Here I am," and gave her a goodbye hug.
Ms. Kays graciously requested that Ms. Neumann sit in for her on a couple of numbers with Walker and bass player David Crites, and she obliged with lovely versions of "What Is This Thing Called Love?" and "Angel Eyes," the latter containing a great instrumental break by Walker and Crites.
Walker & Kays were preparing to leave for the River Bend Festival in Chattanooga, Tenn. in three days. Walker said they would be doing nine performances in three days, returning to Louisville in time to finish up their run at Pepper's the following weekend.