WAMZ Concert in the Park Number Two Backstage with Highway 101 By By Kelly Render Wilkinson and Becky Rhea Bennett
We gratefully accepted Karen Le Van's offer to fill in for her at WAMZ's Free Concert in the Park 2 with J. D. Black Band and headliners Highway 101, while she was in Nashville, Tenn. for the weekend. Sunday, June 11, was the perfect day for outside activities. The sun beamed down, but there was just enough of a breeze to keep us cooled off.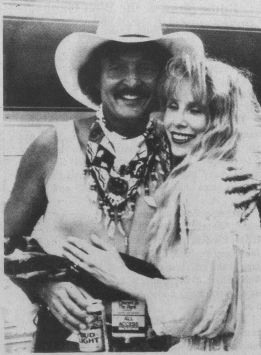 'Coyote' Calhoun & Highway 101's Paulette Carlson. Some guys have all the luck. Photo by Sandy Daughtery
Upon arriving at the Louisville Motor Speedway, we witnessed the J. D. Black Band having sound difficulties, but Rick Burris, lead singer for the group, promised that all the kinks would be worked out, and before long they were on stage and rolling. Welcomed wholeheartedly by the crowd, the J. D. Black Band proved why they have such a good local following.
Rick Burris really belts out the tunes, including the Ricky Van Shelton hit "Crimes of Passion" and "What'd I Say," an Earl Thomas Conley hit tune, stating they'd opened for E.T.C. in the past. The crowd was one that loves to hear the band sing any Hank Williams, Jr. tunes, which they perform quite well. The bass player, Carl Alvey, who sings most of the Bochepus tunes, even looks like Hank, Jr. He sang "Born to Boogie," all the while slappin' out the bass lines. Rumor has it that he was a 1976 surfing champion; no wonder he was introduced as "The Big Kahuna."
J. D. Black cut a single, "Man With A Woman On My Mind," a great tune which received local as well as national airplay. The other members of the J. D. Black Band, including lead guitarist Mark "Slick" Ware, playing keyboards and harp, Matt Lowe; and their drummer, Craig Nunnelley, all proved to be talented musicians. Rick invited the crowd to join them at Mike Linnig's, a popular riverside restaurant for frog legs. (We decided to pass!)
The two of us anxiously awaited Highway 101's set. We both agree that they're our favorite group! They strolled on stage, one at a time. Cactus Mosier, the drummer, looked great, but more like he should be "hanging ten" on a big wave in Maui. Wearing surfer shorts, he started a nice beat while the other members came on stage: Curtis Stone, bass player; steel/dobro man, a Louisville, Ky. native, who waved to a specific someone sitting behind us; and on lead guitar, Jack Daniels. The "sweetheart of the group," Paulette Carlson, lead singer and rhythm guitar player, sported a beautiful old-fashioned style lavender and white lacy dress with cowboy boots, of course! Becky commented, "She's so cute!" They started off the set with "(Do You Love Me) Just Say Yes," and another hit "Cry, Cry, Cry," which was a real crowd pleaser. They have a new single, with a video to boot -- "Honky Tonk Heart" -- which warns, "I won't play second fiddle to the beat of your honky tonk heart."
Paulette and Curtis Stone, bass player, sang their duet of "Settin' Me Up." She flirted with him on this song, and throughout their set enough for Kelly to think they have "a thing," but Becky assures Kelly it's only an act! They performed several more tunes off their new album, including "Desperate Road," their first number one hit, and "Somewhere Tonight," written by the great songwriter Harlan Howard.
Paulette told a story which inspired the hit tune she wrote, "The Bed You Made for Me." It seems an old flame found a piece of wood in an abandoned farm house and used it for "The Bed He Made For Her." The chorus asks, "Did you tell her she was sleeping in the bed you made for me?" Looks like he was caught!! After the tune, Paulette stated, "I'm still mad about that!" Next she sang a Coyote Calhoun favorite just for him, "There Goes My Love." They continued with one hit after another and surprised us with their remake of the James Taylor classic "Sweet Baby James." Paulette gave an energetic performance on all the tunes, and, oh what a voice to have been blessed with!
Highway 101 left the stage but couldn't refuse the standing ovation and chants of "10l ... 101 ... 101."
The group's drummer and bass player had played roles in the Rodney Dangerfield movie "Back to School," in which they had jammed to the old Beatles hit "Twist and Shout," and the group played it for the fans. They had no problem persuading the crowd to join in on the chorus. We all sang along, clapping our hands in surprisingly good time!
Highway 101 seemed appreciative of the overwhelming response from their Louisville fans. After a cooling off period in their bus, they came out to mingle and sign autographs for everyone desiring them.
This is definitely a group of sincere folks! Thanks to WAMZ for another great "Free Concert in the Park!" Looking forward to Number Three!