WFPL: Your Jazz and Information Station And How it Got That Way3> By Gladys Marr
According to Gerry Weston, General Manager of WFPK / WFPL, we caught him at a "very interesting time" when we visited him on June 5 at his office in the old portion of the Louisville Free Public Library at Fourth and York Streets.
"We have just made two changes that I've been wanting to make for a long time," he said. The two changes refer to two new programs on WFPL -- "Marketplace" and "Sunday Bluegrass."
"Marketplace," a "quality business news program," will air at 6:30 p.m. Monday through Friday, and "Sunday Bluegrass" can be heard on Sunday evenings from 8:00 to 9:00. Berk Bryant, who calls himself "the country gentlemen," will delve into his extensive bluegrass and "real" country music collection for the Sunday evening program. (Weston indicated that Bryant needs letters of support from bluegrass fans.)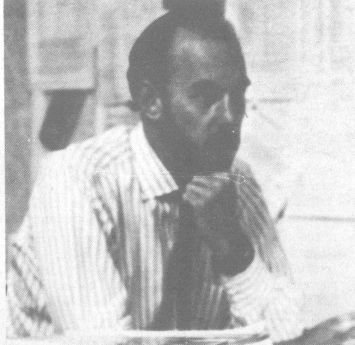 WFK/WFPL General Manager Gerry Weston. Photo by Jean Metcalfe
According to Weston, no major format changes are planned. "WFPL is 'hot' right now," he said.
Although Weston indicated that "we don't want to become uniform," he did say that "our purpose is to serve a substantial number of the audience out there. It (WFPL) is not just for the most eclectic. We have to serve a significant amount of people (but we) don't want to give the impression that we want to go for the largest audience."
Weston began his broadcasting career in 1975 at a commercial station on Cape Cod. Somewhere along the road to Louisville, Weston was a sports director, jazz director and program director of an AM station, among other things. He was willing to do anything they asked him to do to "get his foot in the door."
He worked in sales and news reporting, but knew deep in his heart he wasn't going to be a news reporter. He wanted to do radio -- not television. He always thought it would be nice to work for public radio where he was committed to the kind of music he was playing. "I had a very romantic view of non-profit organizations. I'm still committed, but now it's more reality."
On August 4, 1980 Weston started working in Louisville as Associate Producer - Jazz, a title he requested be changed to Jazz Director, and it was done. At that time they were doing only an hour or two of jazz per week. They didn't "go live" until the first week in October.
One of his first challenges was to organize the jazz library, which took a long time -- "longer than two months." Fortunately for Weston (and WFPL) he had a pretty good jazz collection (between 900 and 1000 recordings) which he moved to Louisville in his VW squareback.
Weston knew nothing of Louisville other than the Derby when he came to town for his employment interview. When he discovered that there was no regular jazz show in Louisville, he took the job. He couldn't believe that a market of Louisville's size didn't have a jazz show. He may not have known much about the city, but he did know that Lionel Hampton, Helen Humes and Jimmy Raney came from Louisville.
Weston credits his then boss, Tom Donoho with giving WFPL its "jazz and information" identity, moving the jazz show to night and Saturday, going to weekday afternoons in about 1982.
Realizing that their mishmash talk format was not holding an audience -- "just the people who wanted talk and would listen to anything" -- they set about to get more news and public affairs "that meant something." Since then their audience has "boomed."
Weston says that their present audience is 45-50 thousand listeners -- up at least 20-30 thousand from 3-4 years ago. Speaking of the money that the combined stations raise, Weston said, "We hope we haven't reached the limit -- costs keep going up." Noting that three years ago NPR almost went "belly up," Weston happily reported that "now they are doing very well."
Prior to Weston's becoming General Manager, WFPL's folk music format "was spread all over the map." Weston felt that it was important to make it a block, if they were to stick with folk, so that people could count on it." One change involved replacing Front Porch with Homefront.
Weston, originally from Hingham, Massachusetts (20 miles south of Boston), is married to Mary O'Doherty, who works at the city desk at The Courier-Journal. On the day that we met with Weston, he mentioned that it was his wife's first day back at work, and I sensed just a bit of concern on Weston's part at having left their then 15-week-old son Joe at a day care facility.
Weston has been playing drums since the age of 11, and although he does not play in a group, he calls himself a "serious amateur drummer." The Westons bought their first house last summer after years of apartment dwelling, and the "serious amateur drummer" can now feel comfortable enough to play. He now has his own music studio set-up -- "a dream come true." In answer to my question, Weston said that he "wouldn't mind playing with a jazz group out there."
Weston was quick to compliment his staff, saying, "I am surrounded by some very, very good people, and we have a staff here that really should be working for one station (as opposed to two). We have 17 full-time staff members -- any success I have accomplished as manager is because these people work very hard. I am very serious about that."
"I really love this town," Weston told us. "I am just really pleased with the way WFPL is going right now. I couldn't be happier."