All That Jazz: Walker & Kays
By Jean Metcalfe
Whether in the spiffy setting of Charley's on the evening of Derby Day or out in the noonday sun at Theater Square, Walker & Kays are just plain wonderful! They make such beautiful music that you want them to go on and on.
Jeanette Kays and Greg Walker, looking very elegant (Walker had on a tux) for the May 6 Derby gig, kept me enthralled from the first number until I had to take my leave after their second set.
They performed such old favorites as "I'll Always Be In Love with You," "The Lady's In Love with You," "Sophisticated Lady," "Someone to Watch Over Me," "Night And Day" and "The Shadow of Your Smile." Every number was nice, and this goes double for the latter song.
There was an especially impressive instrumental break provided by Walker on the song "Down St. Thomas Way."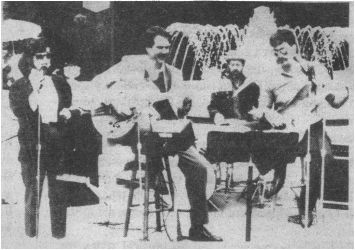 Jeanette Kays, Greg Walker, Sam Harris and David Crites jazz up Theater Square. Photo by Paul Moffett
Walker and Kays, accompanied on bass by David Crites, displayed their new album Walker & Kays -- Live! that was "just out this week." Walker said that "tonight, in honor of the Derby, we're offering a 90% discount on our normal price of $100. We'll autograph it or damn near anything to get rid of these albums."
The group had a comfortable and informal rapport with their audience. When someone requested "Moonlight In Vermont," Kays allowed as how she couldn't sing it as she couldn't remember the words. Walker took a minute to look it up in their repertoire of music and he and Crites played a better than passable version of the song for the requester, Walker at one point feeding Crites a G chord cue. I like their style. Once while taking a minute to tune his guitar, Walker explained, "This is a Chinese number -- 'Tu-ning.'" When it was time for a break, Walker led into it with a bit of Stephen Foster's appropriate "Camptown Races."
I enjoyed very much the Rick Bartlett original "Take Me Back to Louisville." The song was scheduled to be used on an upcoming segment of the television program 57th Street that featured a spot about the Derby. I thought to myself how homesick the song would make a transplanted Louisvillian feel if they were to hear it on that show. Kays' melancholy singing of it made me feel very happy to be in Louisville.
Jack Fitzwater was in the audience that evening, and W&K brought him on stage to sing a couple of songs -- "I'm Old Fashioned" and "It Might As Well Be Spring." "I don't even sing in the shower anymore, but I'm a good sport," Fitzwater said between songs. Perhaps the part about not singing anymore was true, but his enjoyable performance belied that fact. And, during the instrumental break of his second song he told the audience, "You can applaud," then added in a tongue-in-cheek stage whisper, "I know when I'm good." And he was.
Kays is a very talented singer (she has a three-octave range) and Walker is an excellent jazz guitarist who does a fine job of singing as well. He's also a wonderfully creative arranger. It's no wonder that they have appeared at concerts featuring the likes of the Les Brown Orchestra, Lionel Hampton's Big Band, the Maynard Ferguson Band and Woody Herman's Orchestra. Their performances have taken them to The Kool Jazz Festival, the Cumberland Fall Festival, and the Chattanooga Riverbend Festival, to mention but a few. Locally they have appeared in a wide variety of venues, from the Phoenix Hill Tavern to the St. James Art Festival and numerous major hotels.
Although Kays' musician father discovered that she could sing and carry a tune at the age of two, he waited until she was five to add her to his band, her debut performance being at the old Armory.
Kays doesn't like to put a label on her style of singing. She doesn't mind it being called jazz; however, she does say that she doesn't change the structure of a song, but rather takes the music and embellishes it with her own personality. It works well for her.
Derby week was a hectic one for Walker & Kays. And as if the abundance of gigs wasn't enough, Walker took on a short-notice arranging/performing/producing assignment in his "free time," and spent a full day in a local recording studio before dashing off to an evening gig. I was fortunate to be able to see him in action in that capacity, and he earned for himself high marks (and surely an ulcer) as he dashed from one venue to another.
I caught up with Walker & Kays the following week in Theater Square. Crites was again playing bass and Sam Harris had been added on drums. This was quite a contrast to the Derby performance at Charley's. It was a beautiful day to be outdoors, and the several interesting happenings helped create a great ambiance. A clown strolled by, a juggler juggled, and a lovely, colorfully-dressed lady danced to promote the Kentucky Opera Association's upcoming performance of "Carmen." The Redbird mascot (or was it the U of L Cardinal?) attempted to steal the show a couple of times, and a large cut-out of a dragon's head was labeled "Floss the Dragon." Just about all of Theater Square was a stage that day.
Walker & Kays shone as brightly as the sun, despite continuing difficulties with the sound system. They started with "I Get By With A Little Help From My Friends" and kept the songs coming, including "My Foolish Heart," "Jump For Joy," "Mood Indigo" (very nice) and a great upbeat version of "Night and Day."
They plugged the new album and offered the same special Derby discount they had offered at Charley's several days earlier. I didn't need the second pitch -- I had succumbed at Charley's, and I am glad. And, yes, they autographed my copy. I have listened to the album many times and I find it most enjoyable.