All's Quiet On the Homefront: LHP Takes A Summer Vacation Closing show was outstanding By Gladys, Marr Staff Writer
If the entertainers on Louisville Homefront Performances' May 14 show had gotten any hotter, entertainment-wise, than they did on the intimate stage at Sixth and Magnolia, the applause of the audience would have disturbed the neighbors. It is that kind of entertainment that makes one wish that the auditorium were air-conditioned so that the performances could continue through the summer. Memories of the May 14 show should, however, be sufficient to cause the house to be SRO when the performances resume in September.
Bob Lucas and Lotus Dickey, The Bald Knob String Band and Pen Bogert presented as fine a show as this writer has enjoyed there – and there have been many fine shows.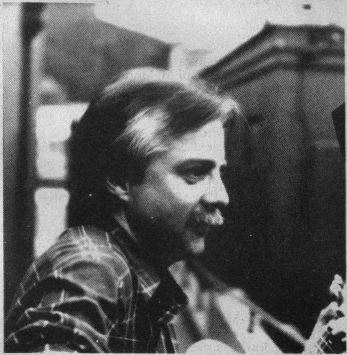 Pen Bogert. Photo by Paul M. Moffett
It is difficult to try to single out individual instances of quality entertainment – there were no losers – but l will have to exclaim a bit about Bob Lucas' original "My Brother, Jim" and his performance of it. I have tried my hand at lyric writing for several years and was completely taken with Bob's line that said of his brother, "He made me laugh and he let me cry." Now that's a line. Simple, yes, but there's something beautiful about simplicity and it was especially true in this instance.
And what a treat it was to hear Lucas sing "His Eye Is On the Sparrow," a song I remember from my childhood and especially as sung by the late Ethel Waters on her many appearances on the Billy Graham Crusades. Dickey provided vocal harmony on the song. Lucas introduced the number as his father's favorite and Dickey declared it his own personal favorite as well. Dickey, a veteran of 60 years of performing, had an adoring audience for his interesting originals and his fiddle playing.
Another Lucas/Dickey duet which evoked memories of my childhood had this chorus: "Got someone I'm wild about, couldn't love her better, got someone I'm wild about, guess I'll go and get her." I'm sure I've heard my mother sing that chorus many times. The song was a real crowd pleaser and earned thunderous applause.
The audience was invited to sing along on the chorus of "Kicking Up Dust" ("What Is Lust?"), a song Lucas described as a "country song for 'dincs"' (government nomenclature for "double income, no children").
The Bald Knob String Band, from Frankfort, Ky., are favorites on the Homefront stage and on this show, they demonstrated how that is. John Wilson, who is the main writer in this group, has a fine touch with humorous material specific to the Kentucky area, in particular, songs about growing (and losing) tobacco and the dirt in which it grows.
"I've got land in Kentucky, I've got land in Indiana, I've got land in Missouri and way down in Louisiana," describes the results of plowing too deep and in the wrong direction on a hillside and a new tune (to this writer) describes the quintessential Bluegrass State dinner – "a baloney sandwich and green Kool-Aid."
They also did "Mail Order Catalogs," a refrain about the excesses possible when armed with a selection of brightly-colored catalogs and a MasterCard: "I've got me a rear tine tiller and I've got me a big wheel cart, I got me a genuine, airtight, woodburning stove made up in Vermont. I got me some solar panels and a wedge to split my logs and I got 'em all by calling my mail order catalogs." The tag, of course, is the delivery of the Master Card and Visa bills.
The trout "bite best on government cheese" according to the Bald Knob tune "Trout Truck Is A 'Comin," and there are numerous other humorous lines in that fun number.
"We lost a friend this week," said Ray Bowman, referring to the untimely death of top country singer Keith Whitley. As a tribute to Whitley, the group sang the Whitley/Koller tune "Double Wide Trailer and Satellite Dish," a humorous number which would set the tone for "the way we want to remember him."
Philadelphia's loss was Louisville's gain when Pen Bogert moved here with the Presbyterian folks to manage their book store. Pen is an excellent guitar player, particularly when equipped with a bottleneck slide. His bottleneck style is derived in equal parts from Leadbelly and Leo Kottke.
Bogert is a quality songwriter and he interprets his originals well. One just sat back and felt sheer enjoyment while listening to his "Ramapo Sunshine," his going to the country song "Going to the Country," and a well-crafted number for his daughter Karen who "just turned l6."
"Now don't get excited if we say your neighborhood's blighted" are the calming words offered up to the residents near Standiford field whose homes had the misfortune of being "in the way of Runway No. 2." Bogert's social comment titled "The Ballad of Cleo Henry," ends with the chilling truth that "for 33 long years Cleo felt secure. Everything he worked for is gone." A mournful instrumental tag puts a finish to the ballad.
Each member of LHP who had a hand in contributing to the success of the evening's performance deserves a great big pat on the back for their smooth handling of the evening's events. It takes a lot of cooperation and effort to make those kinds of events possible and especially when a radio program is being taped in the midst of it all. Kudos, LHP!