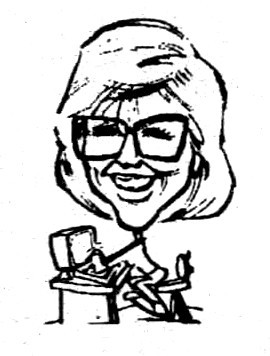 Newsical Notes
West Point, Ky. resident Alan Morris called me on a recent evening to say that he had just finished the last number for his ten-song album of originals. That represents a lot of studio time for Alan, and especially since he just recently released a single, done especially for his town's bicentennial celebration. ( All proceeds for the single, which sells for $2, are earmarked for West Point's River Days Festival.)
Alan is in charge of lining up music for this year's festival, and relates that L.A.S.C. member Mary Aho and the Midnighters will be performing on Saturday evening, June 24. Rock 'n roll music is on tap for the evening of June 23.
Along with Valerie Yeiser, Alan will be performing during the day on Saturday, and he invites performing Co-opers to come out and perhaps play a bit on the program.
Alan says that his new album, Old Friends, should be out about the third week in June. He's selling it for $5 a copy to help recoup some of his expenses. The album was recorded at Fultz Recording.
A call from Janet Rae brought word that she will be singing at the Opryland Hotel for the Bariatric Surgeons' Annual Convention on June 1. She sang for the same group last year in Iowa City.
Congratulations to Serpent Wisdom on winning the band contest at Uncle Pleasant's on April 27. The group's personnel are Jackson Renfro, Ken Lucchese (both LASC members) and Musa Uthman. Reggae is their style, with emphasis on originals by vocalist Renfro. (See story elsewhere in this issue.)
As you read this, Co-oper Debbie Tuggle will be well into her Alaskan tour. We wish her a safe and enjoyable visit to our largest state. Debbie, hope your tour is a productive one and that you sell many copies of your new album, Ever' Time My Heart Goes Home.
Co-op Prez Paul Moffett had a nice letter from LASCer Barbara Zimmerman just after we went to press last month. Barbara has moved to Madison, Tenn. (10 minutes from Nashville) and invites our members to contact her should they need assistance when they are in the area.
She told about a seminar that she had attended in March, and it sounded great. Lots of well-known music-industry folks were in attendance, including Kathy Mattea, Ronnie Milsap, Don Schlitz, and Tom Schuyler. The price of the seminar included a performance at the Roy Acuff Dinner Theatre by The Judds, and Barbara was on the third row. Charlie Daniels and Exile were artists that Barbara had the good fortune to meet at the seminar.
A recent letter from Rusty May up in Canada tells us that her band has been keeping so busy that she's had to really put her foot down in order to get some time off. She also related that the group has some "neat recording possibilities opening up. Not with any major labels yet, but it's a start," says Rusty. She also says that she hopes to be seeing us soon.
The very evening I finished typing up the above Rusty info, I received a phone call from her (she was in Louisville) while I was at the open stage on May 22. She couldn't come down to The Rud that night, but was hoping to be able to get to see some of her Co-op friends before she had to fly back to Canada six days later.
Rusty's former NoZmo King partner Tom Flood, now living in Nashville, sent us an article for last month's paper. We printed it, but failed to include Tom's latest news items. Seems he had just received a call from the Tennessee Flyers saying they had played one of Tom's songs on a television show in East Germany that "airs in every Communist country except China." Tom also said that the group made an album while overseas and that they included his song "Renegade" on it. "Hopefully another step up the ladder," says Tom. He also mentioned that he is looking forward to seeing us when he appears on our June 3 Songwriter Showcase.
Karen Le Van relates that Prince Phillip Mitchell had the audience rocking on Derby Day evening at Legends at The Hurstbourne Hotel. Although he was just out of the hospital, Phillip was in good form and the audience didn't want him to stop when quitting time rolled around.
Had a nice note and a phone call from itinerant Co-oper Rich Lober who has moved back home to Dayton, but was at the time visiting in the Lexington area. Rich is actively pursuing his music career and looking forward to an upcoming performance at the Bluebird Cafe in Nashville, Tenn. on August 27 (not the 28th as we listed in our May news).
Rich also sent along a copy of the January 1989 issue of the Bluebird Cafe's newsletter which had his picture on the front page. (Apparently Rich had pasted the picture there himself, as I recognized the background as that of the Rud's stage, and it didn't match my copy of the same newsletter. You're a funny guy, Rich Lober.)
Sure sounds as if Honorary Member Alan Rhody is staying very busy in "the business." Several months ago he sang a demo for two Nashville writers, Curtis Green and Jeff Crossan, titled "New Traditions," and it ended up being the theme song for a news special in Nashville about how family life has changed over the years. The program aired the same day that Alan was the guest on the Nashville radio show "Words & Music," hosted by Glenn Warren, formerly with NSAI. During the hour and a half show, several of Alan's songs were played.
On May 31, Alan is scheduled to do a live radio show from 10:00 p.m. until midnight (one hour later Louisville time) on Russellville, Ky. WBVR 101 FM The program, "New From Nashville," is hosted by Lisa Roberts.
Alan's single "She Dreams" has just been shipped to the major country stations in the U.S. and Canada. At last word, it was at No. 70 in Cashbox magazine.
Alan played a recent gig on May 24 at Douglas Corner in Nashville with "an all-new band of excellent guys -- three guys who have been working with Marty Haggard (son of Merle)." The group has no name as yet, but they're going to try to keep it together for future performances.
Watch for Alan's next performance at The Rud on July 8.