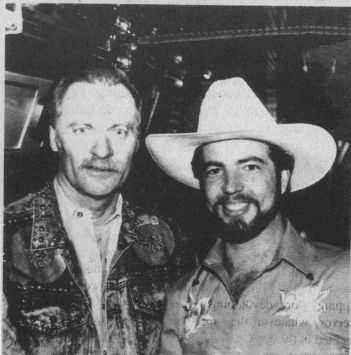 Vern Gosdin and Ron Peake on the Gosdin tour bus. Photo by Paul M. Moffett
Ron Peake and Open Country
Opens for Vern Gosdin at LaBo's
By Jean Metcalfe
The large sign on the front wall said "LaBo's Nightclub WELCOMES Vern Gosdin," but many were there early to hear Ron Peake and his Open Country band open the show. Dressed nattily in a new green western shirt, with contrasting white slacks and cowboy hat, Ron presented a varied selection of country hits, and did a fine job on them all.
WKMO 21 (E'town, Ky.) deejay dedicated the evening to hit country singer and Kentucky native Keith Whitley, who had passed away just three days earlier.
"Let Her Roll" got the evening off to a good start, and Ron and company continued with current hit cover tunes "Maybe My Baby's Gotten Good At Good-bye" and "The Church On Cumberland Road," with Ron handling most of the lead vocals. One of the guys in the group did a touching original called "Thanks A Lot." ("It's my letter to the Lord and I hope he gets it.")
Ron handled the Dwight Yoakam hit "Baby Come Back Home" admirably, and I must admit that I think it would take a lot of courage to sing hit songs that are so closely identified with a particular "hot" artist. Of course, that's what the audience wanted, and when they got it, they showed their appreciation with rousing applause.
I especially enjoyed "Don't Close Your Eyes," a current hit song for Whitley, which Ron did as a tribute to the late singer.
When Ron and Open Country finished their first set, the E'town deejay introduced Gosdin -- "CBS recording artist, 'The Voice,' Vern Gosdin."
Gosdin wasted no time getting into his hit songs, and there are a good many that fall into that category. He started with "I Can Tell By the Way You Dance That You're Gonna Love Me Tonight," and followed up with "Dream of Me," before singing his award-winning biggie, "Chiseled in Stone," the title cut from his current album.
Along about the third or fourth number a member of our party made the curious observation that Gosdin's drummer kept one rhythm with his head and another with his drumsticks. Fortunately the band was in synch with the sticks and not with the nodding of the head. At one point in the evening one of Gosdin's band members did a little bit of shtick, playing his guitar behind his head.
Gosdin sang several tunes that he had co-written with Hank Cochran, telling the audience, "He's here tonight, you know." It was Hank's birthday and he was brought on stage and presented a birthday cake, while Gosdin sang "Happy Birthday" to him.
"Is It Raining At Your House," a Gosdin/Cochran collaboration and a cut on the Chiseled In Stone album, was a real crowd pleaser. Gosdin excels at singing ballads and he proved it on this and other numbers. He has a very listenable voice, and as the evening wore on I began to realize that he would be better appreciated in an atmosphere where the folks were just listening instead of dancing and socializing. That is not to say the audience wasn't an appreciative one -- they were -- and it was only on Gosdin's second set that dancing was allowed. As the evening progressed, Gosdin asked for requests, and got them. He graciously sang the hit songs again in the second set, in addition to quite a few up-tempo numbers.
Other Gosdin offerings that evening included "Who Are You Gonna Blame It On This Time" and the "biggie" from several years back, "If You're Gonna Do Me Wrong Do It Right." He followed up with "Set 'Em Up Joe" and "Do You Believe Me Now." I especially enjoyed "Blessed Jesus Hold My Hand," which he sang in response to a request from the audience for a gospel song. There was also a really rousing up-tempo instrumental number that was my husband's favorite of the evening.
It was a treat for this writer to meet and be photographed with Gosdin on his bus between sets. It's a tough job, but somebody's gotta do it! Our bus-visiting contingent also included Ron Peake, LaBo's manager Pam Holly, and Paul Moffett, who photographed the proceedings.
It was a very nice evening.