WAMZ Concert in the Park
By Karen Le Van Photos by Sandy Daugherty
It's almost become a tradition. Just as the Kentucky Derby is the first Saturday in May -- the third Sunday in May is when WAMZ Radio kicks off summer with the first in its series of free Concerts in the Park, the "park" being Louisville Motor Speedway.
This year's opening concert with Ricky Van Shelton broke all attendance records with over 15,000 merrymakers enjoying the almost-perfect weather.
Traffic was backed up to Grade Lane waiting to turn into the Speedway when I got there, so I went on around past the entrance and found the line much shorter coming from the National Turnpike side. The parking lot was packed -- but, believe me, the hike from my car to the track was well worth the walk.
Fortune, a band from Campbellsville, Ky., was just finishing their set as I arrived, so about all I can tell you about them is that the crowd seemed to be having a great time -- so they must have been pretty good.
The opening act for Ricky Van Shelton was Steven Lee Cook, a WAKY Radio DJ turned rock 'n' roller turned WHAS Radio ad exec turned country music singer, got the crowd to their feet with his first number -- "Take Me to the River" -- and he had them jumpin' through his entire set, right up to "Super Love."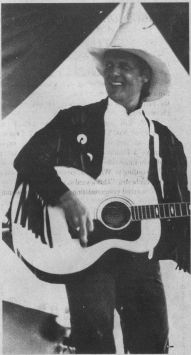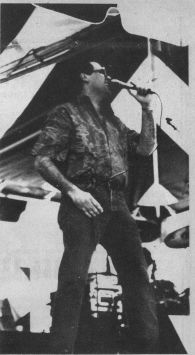 Ricky Van Shelton (left photo) and Steven Lee Cook (right photo) entertained at WAMZ Radio's first free "Concert in the Park" of the summer.
Steven Lee did an original number, which I believe he said he had just cut, written by Morris Tucker and Terry Woosley of Radcliff, called "Blow Your Memory Away." It was a real nice tune and I wish him luck with its release.
Steven Lee told me he is always looking for a good song, so if you have something that you feel he would like -- a good country rocker or a soft ballad -- send it to me, your LASC Song Plugger, and I'll see that he gets it.
With the help of the sun and Steven Lee Cook's energetic performance, the crowd was well warmed up -- ready for Ricky Van Shelton.
Shelton opened with "Crime of Passion" and then sang the song that launched him to where he is today -- "Wild Eyed Dream" -- written by Louisville native and LASC member Alan Rhody. It was the title cut and first single released by Shelton, and its fast rise up the charts got him national attention immediately.
Rhody songs seem to do the trick for new artists. Lorrie Morgan's first release made it to the Top 20 with "Train Wreck of Emotion," which Rhody co-wrote with Jon Vezner.
When the Oak Ridge Boys were making their move from gospel to country, they chose "I'll Be True to You," which was Alan's first song cut. Not bad for starters!
As Shelton sang one great hit after another it was easy to see why he has climbed to the top so fast.
His clean-cut, Pat Boone look-alike image (am I showing my age?) has an almost sensual innocence appeal. His singing is effortless, and in no time at all he had the fans -- especially the ladies -- hanging on every note.
One fan managed to get next to the stage and started to touch his boot. Shelton seemed almost embarassed that someone would make such a big fuss over him.
He really had the fans screaming as he smoothly went from "Somebody Lied" to "Crazy Over You," "Life Turned Her That Way" and "Don't We All Have the Right to be Wrong."
Shelton's band included Tommy Hannum on steel and dobro, Bill Goodness on drums, Mike Blasucci on guitar and mandolin and Drake Leonard on bass.
After a standing ovation, Shelton returned and sang "I've Got Your Picture, He's Got You," giving his fans one more chance to show their appreciation for a great performance.
The only disappointment of the day was the fact that he wouldn't get off the bus and meet the fans after the concert. He did sign autographs, but had his security men deliver them.
In the past, most of the artists I've seen at the WAMZ Concerts in the Park have come out to meet with the fans who waited around after the show. My favorite such memory is when Michael Martin Murphy asked a young mother if he might hold her tiny baby, since he hadn't had that pleasure in a long time. Needles to say, that mom will have an exciting story to share with her daughter when she is older.
Artists I've enjoyed at WAMZ concerts over the last few years have been M.M. Murphy, Eddie Raven, Earl Thomas Conley, Restless Heart, Nitty Gritty Dirt Band, and Troy Seals, to name just a few.
I'm sure this summer's WAMZ concerts will bring the best in country music to Louisville for many super Sunday Concerts in the Park.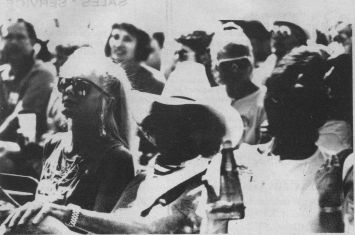 Coyote Calhoun (at left), WAMZ's Program Director and award-winning deejay, is surrounded by country music fans at the Louisville Motor Speedway concert.
WAMZ Program Director Coyote Calhoun told me that the next concert will be on June 11 at 2:00 p.m. featuring the award-winning group Highway 101. Details regarding this and the other three concerts scheduled for this summer can be had by tuning in to WAMZ Radio.
What better way to spend a sunny Sunday than listening to great country music, catching some rays and having a cold one with your friends. Oh ... and the price is right, too!
Thank you WAMZ -- what more could we ask for?