April Showcase
By Dallas Embry
The April 1 Songwriter Showcase featured a variety of styles from the musical spectrum, including country, folk/rock, blues, Cajun, and rockabilly.
The country soul of "Papa" Gene Adams was bared as he kicked off the evening with his "Love On The Line," wherein "I've been a loser/This time I'll win/Gonna put my love/On the line again." With "The Hills of Kentucky" he evoked memories of childhood when he "ran wild and free," and no matter what has happened since, "the hills of Kentucky are still callin' me."
"Side By Side All the Way," which he dedicated to his wife, dealt with the longevity of their relationship, while "One Night In Paradise" was based on the true story of a mercenary in Southeast Asia who "Would cross bridges marked with danger/And sleep where thieves roam at night/And swim where the waters were raging/To spend one night with her in paradise."
"Boots and Old Blue Jeans," a wishful song about achieving fame as a performer/songwriter who, no matter how famous he gets, will still be wearing boots and old blue jeans and will "still be the same old Papa Gene," was followed by "One Red Rose." "Papa" also performed his "Strawberry Hill" in addition to "Call Me If You Have A Mind To," a tale of a lonely man who laments that "the only friend that sits here before me/A glass of bourbon with two cubes of ice."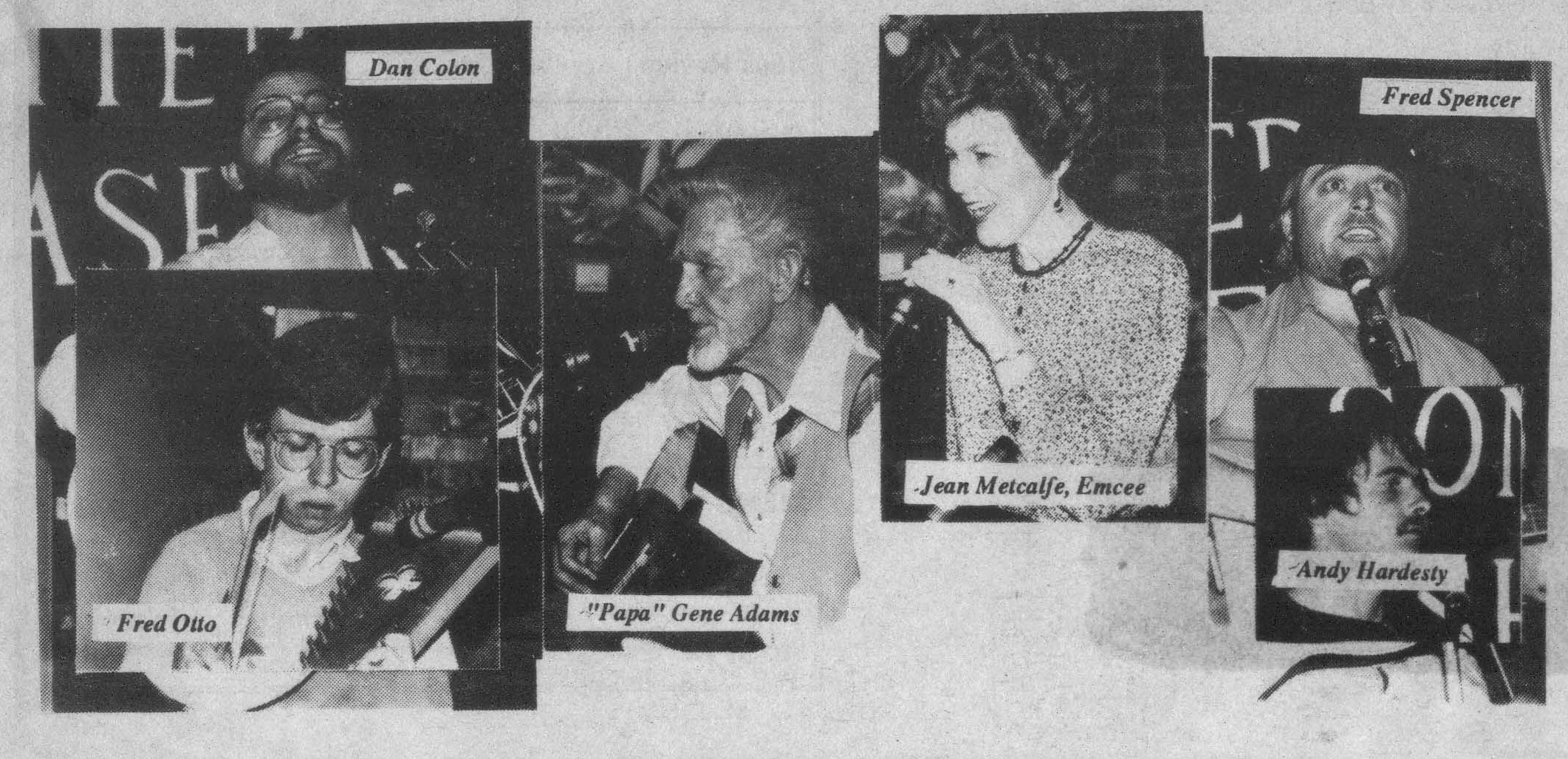 Showcase Photos
Dan Colon, accompanied by Fred Otto on the squeezebox, began his set with "I'll Eat the Tail, But I Won't Suck the Body," a rousing bit of Cajun hokum about eating crawfish, in which his date emphatically states "I sucks no crustaceans."
After the laughter died down and Fred switched to harmonica, they played "Lay, Lucy, Lay," in which an adolescent country boy goes to town and is introduced to carnal pleasures, then changed tempo and theme with "Flying," a dream-song in which the writer is passing clouds while being weightless, until "All too soon you're descending/The lovely world within your dream is awakening." Fred's pennywhistle complimented Dan's guitar and gave a dream-like feel to this song. The ancient zither-like psaltry also helped give a nice feel to the pretty "I'm Song" in which love and music seem to be one and the same, and the whistle added to the contemporary folk/rock reel of "Don't Let Me Down."
Singing "I'm damn near broke/And I'm out of smoke," Fred Spencer and Andy Hardesty (playing his brand new guitar) began their set with the musicians lament "There Ain't No Easy Way," then slid into a ballad, "It's Your Love That Gets Me Through." After following that with the 1950s rockabilly tune "Flat On Ready," they played their own "Million Miles From Memphis," which has become their theme song; "I don't know if we'll ever sell our music/Or get that fateful call from RCA/We'll keep playin' one-night stands and honky-tonks/And hope to find a break along the way." They concluded their set with Steve Goodman's "City Of New Orleans," after doing a ballad "She's Not Mine," which they "co-writ."
Pen Bogert, one of the newer members of the Co-op, took us on a train ride with "Southern Crescent Blues," first commenting that with his bout of laryngitis, he would probably sound like a cross between the Reverend Gary Davis and Elizabeth Cotton. As he played guitar and harmonica, I could see the headlight shine on the locomotive as it rolled through the night and hear and feel the air brakes as the train pulled into the station.
"The Story Of Joe Paretti" was the tale of a man who snatched up the money when the door accidentally opened on a Brink's truck which was in front of him on the road. Deciding that he had to leave the country, he picked Ecuador to run away to, but to his dismay discovered that there were no flights to there and wound up getting arrested in the airport.
Having finger-picked his way through his first two songs, he picked up his slide and proceeded to play some nice bottle-neck guitar as he sang "Goin' to the Country," an old Taj Mahal favorite of mine. "The Ballad Of Cleo Henry," Pen's most recently-written song, dealt with a man who has lived in the same house for thirty-three years, but now has to move because of the expansion of Standiford Field. "Don't build it on the east-side/Don't build it near downtown/God, don't put it near the river/Or the mayor's side of town" is all he can say in his frustration and helplessness.
Pen's laryngitis made him sound like Tom Waits at times, which was an interesting contrast with the Leo Kottke/Mississippi John Hurt styles of guitar playing.