Studio Review
Falk Recording Services
7914 Fegenbush Lane
Louisville, KY 40228
Phone: (502) 239-1010
In a business where participants dream of "overnight hits" and constantly struggle for that "big break" in the music capitals, Gary Falk seems to be an anachronism. He is a musician / businessman who has built a successful music industry business by staying at home in Louisville and putting one foot carefully in front of the other to get to where he is in the business.
Falk is the owner and operator of Falk Recording Services, which encompasses a sixteen-track recording studio, tape-duplication services, bulk audio and video tape loading and marketing, on-location recording, as well as the occasional odd job, such as the cleanup, remix and transfer of old sound recordings onto a current format. Taken together, Falk' svarious capabilities make it the only studio in Louisville where it's possible to start with only a musical concept and some songs for a project and walk out with ready-to-sell cassettes, complete with labels and shrink-wrapped.
This diversity of products and services is the key to Falk's success. Almost every musician or would-be musician in town has, at one time or another, had a reason to make the trip out to the converted garage on Fegenbush Lane, either to record a demo, buy blank cassettes, or get a master tape duplicated for distribution and sale. Falk notes that this has made his business more stable his revenue is generated about equally from the studio, tape duplication and tape bulk loading, with a fair segment also coming from on-site sound reinforcement and recording work.
It was not always like that. When Falk began his recording business in a basement in St. Matthews in 1971, he only had a two-track Revox recorder, which mixed down to monaural. As his business grew, he added more sophisticated equipment, first moving up to a four-track Ampex running half-inch tape, then to an eight-track Ampex running one-inch tape, followed by yet another Ampex machine, this one able to handle sixteen tracks on two-inch tape. As a musician with an interest in electronics (or an electronics technician interested in music), Falk was able to build mostof the remaining devices- he needed and his studio reflects those garage beginnings, with concrete block walls supporting hand-built effects racks and shelving and components that are without slick exteriors and a fancy manufacturer's name-plate. Since he saves almost everything, he has a collection of old equipment that includes spring-type reverbs and tube-driven effects, which are useful to get certain kinds of sounds in a recording, as well as a room full of mixing boards.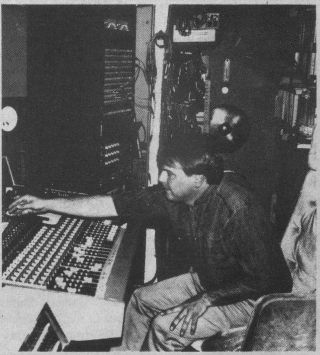 Falk engineer David Blythe
Only the newly installed Wheatstone mixing board belies this iron-slinger image. A twenty-four channel board with parametric equalization, it was installed as the centerpiece of a main studio rewiring job. The rewiring, completed late in the summer of l988, was done by Falk and his staff, including studio engineer David Blythe, who has four years of electrical engineering school, and audio technician Tim Haertel, who has been in the audio field for eight years. The narrow control room is slated for additional expansion to allow more "people room, " as well as more equipment.
The bulk of the main studio is devoted to the various isolation sections: a drum kit sits behind movable walls, a Kawai grand piano dominates the main section and a heavy old Rhodes electric piano awaits use. Headphones, mic stands and patch cords are scattered about.
While the studio has the requisite keyboard racks, with MIDI-compatible synthesizers and sequencers available to patch into the main board, Falk remains a strong defender of acoustic instrumentation and for good reason. His background is as a saxophone player, and he has performing credits that range from playing with Gayle King and Indigo and George Dawson's horn band, Pendulum, to fronting his own group, the Gary Falk Combo, as well as the occasional "casual" sit-in gig. He has no plans to move into the electronic generation of music, preferring to leave that to others.
The studio's client list is itself diversity in miniature. From local church choirs and choral groups to the Louisville Opera and the Redbirds stadium band, to solo performers, Falk's client list is aWho's Who in Louisville musical circles.
He has developed a particularly solid base of church and gospel groups, helped by his ability to get that precise "sound" that is so important for gospel material. Falk notes that it will be alittle bit easier to do that since keyboardist Simeon Amburgey has just moved to town from Florida. Amburgey' s gospel piano work is of the quality that groups would often pay to have him flown in for sessions.
The tape duplication area threatens to overwhelm the available space. "Real-time" duplication requires lots and lots of individual cassette machines and at Falk's, the wall is covered with them. A major maintenance task is the routine calibration of the machines' speed, using a special calibration tape. Falk points out that tape drives vary considerably in their speed, even between apparently identical machines. Long ago, he decided to make certain that all his machines were regularly adjusted to industry standard speed and to tell those with complaints to try their tape on two or three different machines before asking him for an adjustment.
His tape loading business is also keeping him busy. A basement room in the front house holds the two tape loaders, as well as a tape loader for video tapes. While the video tape loader is in its own clean room, the rest of the basement is a combination of work space, tool benches and storage facilities, leading Falk to comment that his most chronic problem is fmding the room for all his activities. Because his current location had the appropriate zoning when he bought it, however, he has not had the problems associated with building a recording studio in an area where the zoning had to be changed. This difficulty most likely means that Falk Recording Services will remain right where it is, at the intersection of Fegenbush Lane, the Outer Loop and Watterson Trail, building on a little here and a little there, just like it has been doing since 1979.
Studio rates are $35 per hour, plus tape. On location work is also $35 per hour, plus twenty cents per mile travel. Hourly rates for on-location are from time of arrival todeparture.
Technical Data
Main Mixing Board
Wheatstone 3224, 24 by 24, onboard EQ, 3-band parametric
Primary Multi-Track
Ampex MM1000 l6-track, 2 inch
Secondary Multi-tracks
Ampex AG-44-OB 8-track, l inch
Mixdown Masters
Studer Revox PR 99, 2-track, (2); TEAC 2300S, 2-track, 1/4 inch; Ampex 350, 2-track
Noise Reduction
4 channel dbx Professional Series
Monitors
Yamaha NS-10m Studio Monitors
Sentry 500 Studio Monitors
Outboard Effects
Compressors Symetrix Comp/Lim/Defisser; Yamaha GC2020;
Graphic EQ - DOD 2/3 Octave Stereo; MXR l/3 Octave;
Delay - Deltalab Digital (1024 ms); Phoenix Analog (l00ms)
Reverb - AKG BXZOE; Yamaha R1000; Sound Workshtop;
Mics - assortment of AKG, Audio-technica, Beyer, ElectroVoice and others
Available Studio Instruments
Kawai Grand Piano
Fender Rhodes Electric Piano
Yamaha DX11
Casio 101 Polyphonic Synthesizer
Slingerland drum Set, Zildjian Cymbals, Assorted Percussion
Available Studio Effects
Ibanez Gtorus, Ross Phase Shifier, Digital Drum Machine Baldwin Guitar Amp ---
Engineer David Blythe PHOTO COURTESY FALK RECORDING SERVICES