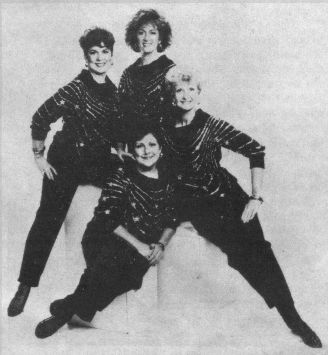 Harmony Highlights
Local Quartet Wins Regional Barbershop Contest
"Harmony Highlights" to Compete for International Crowns in Miami Beach
By Madonna Cecil
Pride of Kentucky Chorus
The Harmony Highlights quartet took first place on Saturday, April 14, in the quartet division of a regional Sweet Adelines singing competition held in Louisville.
The quartet, all members of the Louisville-based Pride of Kentucky chapter, won over 36 other quartets from Kentucky, West Virginia, the southern halves of Indiana and Ohio, and the southwestern corner of Pennsylvania. It will now represent the region in world-wide competition in Miami Beach in October. Pride of Kentucky Chorus will do the same in the chorus division.
Members of the quartet are Debbie Hite, tenor; Betty Lou Coleman, lead; Melva Carter, baritone; and Carey Coleson, bass. Ms. Hite is also the director of Pride of Kentucky Chorus, and Ms. Coleman is the choreographer.
Changing Times quartet of Cincinnati placed second; Classic Example of Muncie, Indiana, was third.
Sweet Adelines, Inc. is an international, educational organization of women who sing four-part harmony, barbershop style.
The Harmony Highlights first won the regional competition in 1978 with Dodie Florence (now a member of Masquerade quartet) singing bass. That group competed at the international level for ten years, ranking as high as sixth. Now the new group will once again try for the title "Queens of Harmony," the highest quartet award in the Sweet Adelines world.
Pride of Kentucky Chorus boasts six other quartets besides the Harmony Highlights. All of them (and the rest of the chorus, too, of course!) will be there in Miami cheering for the H.H. in October.
The quartet has not chosen the songs they will perform there. At the Louisville contest they sang "For the Sake of Auld Lang Syne," and a medley of "There'll Be Some Changes Made," and "Who's Sorry Now?"