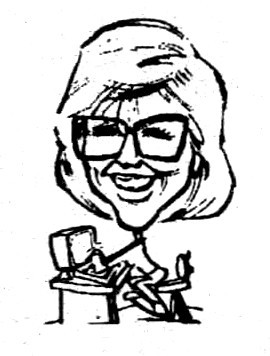 Newsical Notes
Serpent Wisdom, a group composed of L.A.S.C.ers Jackson Renfro and Ken Lucchese, with Musa Uthman, won the band contest at Uncle Pleasant's on April 20. As we go to press, the trio are scheduled to try their luck again on April 27, competing against three others finalist bands for the championship. Good luck, guys.
Add "Music Man" Charlie Walls to the list of names of our members who have cut an album of their original songs. Spurred into action by fans who wanted copies, Charlie made quick work of the task of getting Think Again completed. He gave himself a five-day "window of time" in which to get the job done, and brought it in a day and a half ahead of schedule.
With his own studio "at the house" and masters of the songs already completed, Charlie said that the eight-song album went from "editing the master to shrink wrap in three and a half days." All eight songs were produced and recorded by Charlie at his Music Man Studio in Springfield (KY) and he also did the artwork for the tape insert.
Charlie had help from co-writer and business partner Sammy Reid on the lyrics for two of the album songs, and Gardner Barger provided lyrical assistance for one of the two.
Charlie is not apt to force his cassette album on you, but if you'd like a copy of Think Again, just ask, and I'm sure he'll manage to locate one for you. The price is reasonable.
Let's add Jeff Burgess to the members-with-albums list as well. Jeff has just recently completed a nine-song LP titled The Seed, and it is available from a couple of area stores or from Jeff himself. All music and voices on the album are by Jeff, with the exception of Greg Walker providing lead guitar on the title cut. Jeff recorded the LP at his B R A M C O studio, and designed the jacket with Charles Dobbs, who provided the art work.
We're happy to hear that Alan Rhody's "She Dreams" (c/w Pat Alger) was at 89 with a bullet when it made its appearance in Cashbox recently. A phone call on April 21 brought additional news that after climbing to 81, the single kept on heading in the right direction and will be listed at 74 with a bullet in the next issue of Cashbox. Hope it's still climbing as you read this.
Robert K. Oermann, in his March 23 Music Row column "Disc-Claimer," said of "She Dreams": "Sorta sweet and sentimental. A grown woman still dreams of her teen dream youth....and, (dare I say it?) of Elvis. Well sung and well produced."
That's a very nice compliment, especially coming from a man who followed the "She Dreams" review with one about another guy's single, stating: "This one's a dreamer, too. But somebody should have woke him for the recording session. In fact, everyone audible here sounds like they're sleep walking." Ouch!
Congratulations, Alan! And, thanks, Bill Ede, for furnishing the copy of the Oermann review.
Mike Ballard, Becky Bennett and Kelly Wilkinson (appearing as BMK Ray) were very pleased with their three-day gig at a local automobile dealership on April 14-l6. They said they enjoyed performing on the outdoor stage, and were happy that the dealer sold a lot of automobiles that weekend.
Grammer Evans (consisting of John Grammer and David Evans) also entertained the prospective customers at the weekend auto sales promotion event. Looks as if Jim Boklage isn't the only L.A.S.C.'er who's selling cars.
Becky and Kelly are interested in doing studio work, demos, jingles, commercials, etc., and are looking not only for those opportunities, but for a new name. The duo is currently known simply as Becky & Kelly, but they want a new name to use for that facet of their career. Here's where our members come in. Dallas Embry will accept name suggestions for Becky & Kelly, who have said that they will buy a drink for the person who submits the winning entry. Hint: They're looking for a name that is "them." So, if you know them, you just might know a name that will win you that drink. Dallas can be reached at (502) 776-6136 (not too early in the morning, please) or by mail at 216 N. 30th, Louisville, KY 40212.
Becky & Kelly will soon be heading south to Nashville to do a two-song cassette for member Joann Hatcher in a studio in Music City.
Just received a phone call from Dot Elpers who related that her son Pete Ramsey is part of a new band called Insufficient Funds. (I like that name, and I'll bet that a good many band members will chuckle empathically upon hearing it.) The group plays college rock and just recently had an engagement at Phoenix Hill in the Roof Garden.
Dot is still going to school in pursuit of a degree in interior design. She has recently been giving talks about oriental rugs, and as a result she received a write-up in the Lebanon (KY) newspaper.
Effective May 1, 1989, Maggie Cavender will become the NSAI Director Emeritus, a new position created especially for her. In honor of her new position, the annual President's Award will be renamed the Maggie Cavender Award of Service. Pat Huber will replace Maggie as Executive Director of NSAI. Our congratulations to both of you.
L.A.S.C. member Geraldine Ann Snyder has written a song entitled "If You Love Me Read Me A Story," for The Louisville Free Public Library's Lap Learners Program. The program encourages parents to read to their children. Geraldine Ann's song will also be distributed to all area schools. (Nice to hear from you, Geraldine. Seems like a long time since we've heard from you.)
Debbie Tuggle dropped us a note to fill us in on her recent activities. Here are a few:
Debbie recently premiered her children's environmental show at Eisenhower Elementary, and her "Follow the Light" show at Valley Christian Church.
Two of her songs, "I Am A Beam" and "Follow the Light" will be featured on "The Protestant Hour" radio show in July.
While trying to decide on a time and place for "this year's D.T. show and album premiere," Debbie is quite busy with appearances at Theater Square and commercial jingle work for "Sound Images" in Cincinnati. Whew!
Martha Davis writes to say that she has auditioned a Hee Haw comedy routine and also taped it for Nashville Revue, a talent showcase segment. Martha is hoping to be one of the winners so that she can appear on the Opryland Hotel stage live this summer. Good luck to you, Martha.
Dallas Embry recently had a nice surprise visit from Nashville resident Jan Marra, a folk singer and guitar player. Jan has previously appeared on the Louisville Homefront Performances stage, and stopped by to drop off a copy of her These Crazy Years album. A friend of Bill Ede as well (both Bill and Jan have appeared at the Kerrville Folk Festival), she told Dallas that she appeared on a recent writer's night at Nashville's Bluebird Cafe with Tom Flood.
Mark your calendar for upcoming appearances at the Bluebird by members Bill Ede and Rich Lober (June 11 and August 28, respectively.)