Bill Edwards Music
A Review by Paul M. Moffett
Bill Edwards likes to describe himself as a "journeyman musician" who happens to have taught more students in the twenty five years he has been teaching than anyone in the city. That constant teaching and an habitual attentiveness to the basics of doing "the business" are the reasons that Edwards has never had to fall back on his mechanical engineering training from Speed School to earn his living.
Now entering his fifth year as a music store owner, Edwards can look back on a lengthy musical career in which he has played and worked with many of the important players and institutions in Louisville.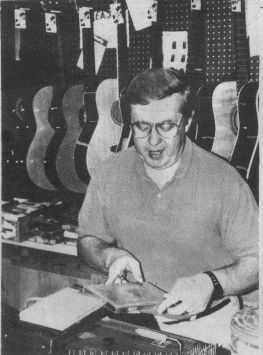 Bill Edwards
"I played the very first session that Ray Allen and Hardy Martin (of Allen-Martin Productions) ever did. They had a four-track set up on the kitchen table, back before four-tracks were a common item for musicians," Edwards remarked.
A steady Union musician, Edwards has worked a very wide variety of jobs. He played string bass with the Louisville Orchestra, worked hundreds of "casuals" and stayed with the basics. For a time during the early years of his store, he stopped playing out in order to devote more time to the business but has since begun to take the occasional gig again.
Like many musicians, he has worked day jobs, almost entirely in music stores. Sixteen years were spent working for Larry Biziannes of Biziannes Music Mart on Bardstown Road. He worked in John Roy's drum shop in St. Matthews for five years, until Roy decided to get out of the retail business to spend more time with the Musician's Union.
It was then that Edwards decided to open his own store. Looking to the growing East End, he found a two room shop in the Plantation Shopping Center off Westport Road and opened up his business at 8710 Bayberry Place in 1984.
The small front room of the store is filled with instruments, display cases and equipment, so much so that it seems there is hardly room for customers. Nonetheless, a visitor will usually find two or three customers in front room looking over the merchandise and a steady stream of students into and out of the back teaching area.
There are two guiding principles that Edwards has followed since opening the store. The first is based on his belief that a music store must have a large base of students in order to stay in business and to have regular students, it's necessary to have good teachers. Accordingly, Edwards goes to a lot of effort to make his store a place where teachers and students alike are comfortable. This also means that the store is a very friendly place.
The second principle is one that is not specific to music - mind the pennies and the dollars will take care of themselves. Noting that many musicians open music stores as a late second career, Edwards has observed that they often run their stores like they did their musical careers - out of their hip pocket. This lack of solid business practices has doomed not only many such music stores but the owner's earlier musical careers as well. Edwards is determined not to have that happen to him.
If the store's growth is any indication, he can rest a little easier. From the original two rooms, he has expanded the store to 3,000 square feet, adding and removing partitions himself when necessary. He has built up a large student population and now has twelve teachers, including his former boss, Musicians Union President John Roy, who teaches drums. The most recent addition to the staff is local jazz player Ron Jones, who instructs in alto and tenor saxophone.
Other instructors include pianists Judy Palsmeier, Sue Krause and Valerie Yeiser, guitarists John Grammer, Tom Lee and Greg Pullen, and drummer Mark Tate. Edwards also has in-house guitar repair by Dan Jones and Tom Lee, plus amplifier technician Jim Winger.