Garvin Gate Blues Festival
You Done Me Right, Baby...
By Jean Metcalfe
What a difference a year makes! The Second Annual Garvin Gate Blues Festival in Old Louisville was a huge success, thanks to lots of advance planning and hard work by members of the Kyana Blues Society and others. The two-day event started on Friday the thirteenth of October but there didn't appear to be anything unlucky about it.
The first version in 1988 was a one-day event, and was plagued by cold, rainy weather. Even so, about four hundred diehard blues fans braved the inclement weather; probably indication enough that there was an audience for an annual event.
The beautiful weekend of Indian Summer weather with temperatures in the high 80s brought out throngs of folk for the second festival, even though it came only one week after the city's Oktoberfest and St. James Art Fair. Louisville -- Festival City! Has that been used? If not, then by all means it should be.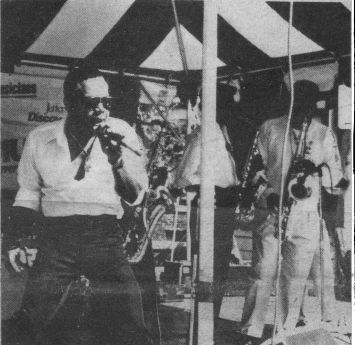 Richard Smith and the Tornadoes touched down in Old Louisville. Photo by Jean Metcalfe.
(I still chuckle when I think that after many years of hearing that there is nothing happening in Louisville, I read a recent letter to the editor of our city's major newspaper in which the writer complained that we had too many festivals going on. Holy hard decisions, Batman, we had to make a choice; or perhaps we had to go to two different festivals in the same weekend!)
There was plenty of singing the blues on both days, but only in the literal sense. Reports by my husband indicated that the Friday night crowd was about 1,000 strong and that the entertainment was great. Pen Bogert started off the evening and got his picture in Sunday's edition of The Courier-Journal for his efforts. Other performers on Friday included Sonny Love Blues Band, Doug Wright and the Nomads, Foree Wells and the Walnut Street Blues Band and Henry and the Noisemakers.
On Saturday, this reporter loaded up on more than six hours of blues music, blue skies, colas, a corn dog and an egg roll. The Rocky Amaretto Band, lead-off group for the October 14 line-up, finished up just minutes before I arrived. My informants said that Amaretto and his group were great, and I believe them; too bad I had to miss their performance.
Under the cloudless azure sky, Richard Smith and the Tornadoes touched down and blew the audience away -- we're talking figuratively now -- with their eight-member group that included three talented saxophonists and a fine young slide trombone player. The gifted musicians were individually featured in the opening number, and the ever-increasing crowd knew they were in for a treat.
"Nobody loves me, nobody seems to care," Smith lamented in "Every Day I Have the Blues." But it was hard to feel sorry for the enthusiastic vocalist on such a beautiful day. And, besides, he recovered quickly with a feisty bit of bragging -- "If you see me coming, baby, raise your window high / If you see me passing, baby, hang your head and cry." Bye, bye blues. Willie Little helped with a nice sax solo.
I especially enjoyed their next two numbers -- Lloyd Price's rock classic "Lawdy Miss Clawdy" and Hoagy Carmichael's fantastic "Georgia On My Mind." Bennett Higgins' sax solo on the latter was exceptionally good.
Willie Little changed shirts for his appearance with John Dawson and the Blues Unit. Formerly the Hord House Blues Band, the group (which included a semi-horde of Hord brothers) had been renamed for John Hord's son, John Dawson, whom the elder Hord referred to as "the apple of my eye." The Unit performed an energetic, upbeat set and I just basked in the sun and enjoyed, while chatting with friends. (Hord told me later that he is "this close" to a recording contract with Alligator Records. Since he didn't say that it was off the record, I'm passing the good word along to our some 15,000 or so readers, and hoping it indeed happens.)
Emcee Scott Mullins called them "the band that they wouldn't let leave," and allowed Mark Stein and the Steamrollers to do several encore numbers before they left the stage some 40 minutes behind schedule. Stein is quite a guitar player, and I thoroughly enjoyed his version of "Sonny Boy." Stein introduced the number by lamenting the passing of blues guitarist Roy Buchanan and saying "I'm going to do something with some of his little 'isms' in it." He did the 'isms' exceptionally well. During Stein's set I strolled among the food and crafts booths, running into several friends who appreciate, support and/or play music: Earl Meyers, Dave and Ann Self (with their cute seven-month-old tyke Sam), Docrates, Amy Turner, potter Jim Griley and poet Umar Aki Williams, who creates lovely hand-painted wearing apparel. Also saw Marie Augustine, Wally and Jody Hill and daughters, and Mike Campbell, who seems to turn up wherever good music is happening. Then there was Old Louisville's beloved Ken Pyle scurrying down the street carrying a covered tray of what most certainly contained some of wife Sheila Joyce's gastronomic goodies.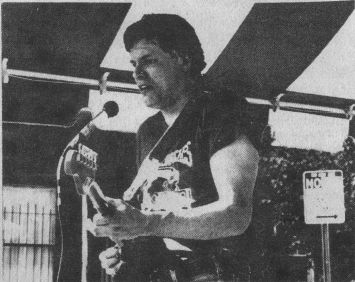 Mark Stein: Front man for 'the band they wouldn't let leave' at the Garvin Gate Blues Festival stage. Photo by Jean Metcalfe
Stein and his Steamrollers (John Thornberry on electric bass and drummer Gene Wickliffe) kept the audience wanting more as I continued scouting the area and enjoying their music from a distance. I returned to the stage area in time to hear Stein introduce his "last number" as "low-down, slimy, greasy blues." But it wasn't his last number -- even though he prefaced it by saying, "Thanks to some people's request, Curtis (Marlatt) has allowed me to play one more, but this is it." "I'm gonna do a thing by Mister Bo Diddley, he said, and commenced to wail "I know you don't love me no more." (Alas, when it comes to the title of the song, I don't know diddley.) When Stein's audience insisted on yet another encore, Stein laughingly said, "You're getting me warmed up. Well, let's see here, I don't know what to do now."
"Stevie Ray Vaughn," several audience members shouted out, and Stein lit into his last "last number." While I can't say for sure that it was a SRV tune, I can say that he did a great set and that he certainly wowed his audience.
After plugging the Kyana Blues Society's upcoming compilation album, emcee Mullins had to inform the audience that the Metropolitan Blues All Stars from Lexington had not arrived; H-Bomb Ferguson and the Bluesmen from Cincinnati had, however, and they were ready to play!
After a quick rearranging of the stage by the Kyana Blues Society folk -- I saw Rocky Adcock-Amaretto moving drums and mikes off the stage -- the entertainment was underway once again.
After several dynamite numbers by the Bluesmen, H-Bomb himself exploded right on target. He hit the stage wearing a synthetic silver wig that was constantly entangled with his beard because he never kept his head still. (I understand he has more wigs than Tammy Faye, and he's a lot better looking.)
"I like sexy people," Ferguson said, then added, "If you're not sexy, do what I do -- think about it." With that introduction he started in to wail, "I woke up this morning, my baby was gone ... I ain't had no love ever since she's been gone."
Continuing in the same vein, Ferguson introduced "My Spaghetti and Your Meatballs," inviting the audience to "put them together -- you'll get sexy." Ah, yes, those blues folk make generous use of hokum, and it's a lot more fun than the current trend in some kinds of music to be more graphic and less imaginative.
Ferguson and his group kept the dance area busy with their unharnessed energy for some time and I just sat back and listened, unhampered by note taking. I do recall, however, the names of a couple of fine numbers -- "Shake A Hand" (a favorite of mine) and "Long Gone."
The last act that I caught was Henry and the Noisemakers. Henry Woodruff, whom Mullins said had come to Louisville in 1939 and has been playing the blues ever since -- about 40 years -- was presented the first Sylvester Weaver Award by The Kyana Blues Society. Woodruff, in a brief acceptance, said, "Heck, I don't know what to say." He quietly thanked everyone, and then turned back to his performance.
"This is an old blues man," Woodruff said, before sending out his nice tunes to the receptive audience. I went off duty as a reporter during their set, just soaking up their fine brand of blues, along with the sun, and catching a "Baby, you did me wrong, you took my love and now you're gone" here and a "Darling, please don't go, I love you so" there.
During his set Woodruff brought onstage Ms. Annie Mae Ophelia, "an original song singer," and she began with the promise, "If you want my love, if you really do, don't be afraid baby ... I'm gonna give it to you." Nice.
My watch told me that it was time to take my leave and return to the real world of mounds of dirty laundry (sounds to me like a good title for a song!) and other domestic chores. Alas, I had to miss Lamont Gillespie and the Homewreckers, the Unknown Blues Band from Nashville, and Curtis and the Kicks. (Curtis Marlatt was captured on tape by the WHAS-TV cameras, and they aired a good bit of the footage of his group on their newscast.)
Uunfortunately I wouldn't be able to get back to The Rudyard Kipling that evening to hear the Mudcats and Eddy "The Chief" Clearwater from Chicago, who were to wind up the event.
As I got into my car to leave, Ms. Ophelia's musically assuring words "It's all right" drifted to my ears and I said to myself -- in a summation of the Garvin Gate Blues Festival -- "Yes, it truly is."