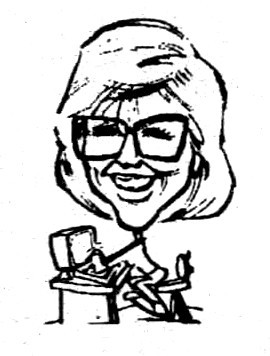 Newsical Notes
It was good to talk with L.A.S.C. Secretary Diana Black a few days after she underwent successful surgery at Baptist Hospital East. She had put the surgery off for a while, then decided to go ahead and have it done on a date that would allow her to get well enough to attend the November 18 "Run for the Royalties" Seminar. Done like a true songwriter, Diana. Hurry back to us.
Almost immediately after we went to press with our last issue, word reached us that Larry H. Easton had taken top honors in Scottsburg, Ind. radio station WMPI's Kentucky Fried Chicken songwriting contest. The song? One of Larry's own personal favorites, "Homemade Feelings." The prize? A small, brand-name keyboard. Congratulations, Larry. You did okay in the Co-op's recent contest, too. (Larry placed in the top thirteen finalists in the country category.)
And at our membership meeting on October 16 we learned from Vicki Easterly, President of the Central City Songwriters Association and resident of Frankfort, Ky., that our Tim Lynch had placed fourth and seventh in Frankfort radio station WKED's KFC contest. Vicki didn't catch the title of Tim's seventh-place song, but I'm guessing it was "Move Over Rover," since he placed it in the top thirteen in L.A.S.C.'s recent contest. It was Tim's "Terrible Two's" that earned him the fourth-place spot in Frankfort's contest. And, incidentally, the news was news to Tim, too, since he hadn't heard about it until Vicki told us all.
Last-minute update: Tim told me on Monday, October 23, that he had called the WKED people who thought the songs were cute and that airplay on their station had brought requests from their listeners to play them again. All right!
Thanks, Vicki, for passing along the good news, and also for your follow-up confirmation note. And, yes, let's get together again soon and try to finish up the song that you, Jake Jacobs, Steve Russell and I almost got a first verse written for.
Congratulations to "Music Man" Charlie Walls! Seems his "Two Story House" -- get this -- placed in the top ten songs in the Kentucky Fried Chicken songwriting contest. We're talking nationally, here, folks -- and in a contest that took in 45,000 entries! Charlie's instructions from the "finger-lickin'good" folks are to sit by his telephone on the evening of November 1 to find out if his is one of the two songs that will earn the top prize of a cut by The Bellamy Brothers.
Now the Music Man, who makes his living in the music business, intends to do his regular gig on that Wednesday evening, because sitting at home by the phone doesn't pay the bills for all the latest "goodies" he likes to add to his home studio. (When we suggested an awards party, Charlie declined, saying "I don't want you all to see a fat man cry.") So, if the Music Man wins and the folks at Nashville Now try to reach him, they'll have to call The Golden Horseshoe in Lebanon, Ky. and stop the show. We understand that Charlie's employer would be happy to have that happen. We'll be pulling for you, Charlie.
Claude Wayne got quite a pleasant surprise when he opened up his copy of the September/October 1989 edition of Country Music magazine. He hadn't known that the magazine would contain his picture. Well, actually, someone told him that they had seen it there, and he hunted up his own personal copy to see if they might be just kiddin' him. He had only glanced at the magazine -- perhaps he couldn't get past the cover picture of Dolly Parton. (I must confess, Claude, that I missed it also, but I did take a couple of seconds to glance at the centerfold of George Strait -- professional reasons, you understand.)
The picture of Claude and "friends" dominated the first page of the "People" section of the magazine. Titled "Mini Minnie Meets Minnie," the photo contained the caption, "Puppeteer Claude Wayne surprised Minnie Pearl and many in the world at large with his puppet of Miss Minnie. A laughing Ralph Emery and a startled Minnie Pearl met Mini Minnie and the dummy's daddy recently on Ralph's show." Good show, Claude! Many of us saw you when you appeared on Nashville Now a while back.
Sure enjoyed my Sunday, October 15, Courier-Journal. After swiftly scanning the usually grim front section, I came to a screeching halt at the front page of the Metro section. There he was -- L.A.S.C. Treasurer Pen Bogert in a great photo by staff photographer Keith Williams. For those of you who might have missed it, the caption read: "SINGING INTO THE NIGHT: Pen Bogert played his guitar during the Garvin Gate Blues Festival. The festival was sponsored by the Garvin Gate Neighborhood Association and the Kentuckiana Blues Society. The showcase of 16 bands from five cities ended yesterday."
Hedy Hilburn has been in the studio again. This time she teamed up with Dan Welling, labor song singer, to do a two-song tape at Falk Recording Service. "We have sung them both (the two songs) at rallies in Virginia and Kentucky and have gotten good response," says Hedy.
I noticed that Hedy served as the editor of the October 1989 edition of On Line, a publication of Local 862 of the UAW. She wrote several of the articles as well.
It was good to hear from you, Hedy, and we look forward to seeing you at our meetings now that you are back on the graveyard shift.
Congratulations and best wishes to Mike Stites and his new bride, the former Ruth Ann Young, who were married on Saturday, October 14. Mr. & Mrs. Stites honeymooned in Puerto Vallerta, and returned home in time for Mike to go back into the studio to work on one of the category-winning songs in our recent contest. Mike is one of the owners of the studio, Artec, in Salem, Ind.
Have talked with Honorary L.A.S.C. member Alan Rhody on the phone a couple of times recently, and he shared some of his news with me. First of all, his "She Dreams" single on Evergreen is receiving heavy airplay in Canada, and they are "hoping it will chart in the next few weeks." (Alan emphasized the word "hoping.")
Alan's "Wild-Eyed Dream" has now "gone platinum" (over a million sold), and CBS has bought up space on several billboards in the Nashville area that have a large picture of Ricky Van Shelton's face in the middle of each of them and the words "Thanks a million, "Wild-Eyed Dream." On the other side it says "Thanks another million, 'Loving Proof.'" Well, Alan, I guess we could say both literally and figuratively that you're "way on up there."
As of press time, Alan plans to be a participant in our "Run for the Royalties" Seminar on November 18, and perhaps he'll participate in the informal guitar pull the night before.
Alan also passed along the word that he and CBS recording artist Don Henry (who has appeared on several L.A.S.C. events, and is a heckuva good writer and performer) have been working on a demo that they're really excited about. In fact they had been working on it until 3:00 a.m. in Don's eight-track home studio the day I spoke with Alan.
Also, acting on a tip from Alan via Karen Le Van, we phoned up Don to see if he had any news for us. He said, well, yes he did. On Tuesday, October 10, he had signed the contract with CBS Records that they were negotiating when we last spoke some weeks ago.
Don will be working with Bob Montgomery, who has produced Vern Gosdin and other "heavyweights," and they are in the process of selecting songs. It will be approximately nine months to a year before the album is ready for release, but Don is very excited (how could he not be?) about going into the studio and doing all the other things involved in making a new album.
According to Don, the album will probably be a ten-song one comprised entirely of Don Henry originals. L.A.S.C. favorites "L.Aliens" and "Mr. God" will most likely be on the album, he said. (Don't forget "Harley," Don.) He certainly won't have to waste any p.r. on me -- I'll stand in line to get an early copy and then hope to get it autographed. We're very excited for you, Don! And CONGRATULATIONS!!
Don added that we should be watching for Kathy Mattea's new single and video of "Where Have You Been?" which he co-wrote with Kathy's husband, Jon Vezner, and which is due out in November. (Jon was a panelist and performer at our 1988 Songwriter Seminar/Showcase.)
A phone call from Becky Bennett brought the news that she and Kelly Wilkinson were pleased that they were asked to play at the breaks on a benefit show with the J.D. Black, Lone Wolf and Broken Arrow bands recently in Meade County, Ky. Despite rain that fell during one number, they continued to sing while the audience took cover. No canopy over the stage either.
Becky & Kelly managed to get a copy of their Last Goodbye Kiss tape (which contains the title cut and "When You Think Nobody Loves You," both written by L.A.S.C. member Joann Hatcher and writing partner Keith Bradford) to Chris O'Neal of Lone Wolf, and they would like to thank him for the opportunity to play the benefit performance.
At a recent WAMZ Concert in the Park, Becky also managed to get a tape to Clint Black's manager and one to Foster & Lloyd. Both of these acts are "hot" right now, and Becky was very happy that she got to meet and talk with Black for about five minutes at the concert. She described him as "really nice." As for the concert, she said Black ("Leaving Here A Better Man") was excellent and that Foster & Lloyd were fabulous. Becky is currently taking guitar lessons from talented John Grammer (of Grammer Evans) and commuting to Lexington, Ky. to rehearse with Kelly, whose husband's new job brought about their move to Wildcat country.
A nice, long letter from former member Barbara Ann (Zimmerman) brings word that her move to Nashville in April was "definitely the best move" for her. She also says that she has met a lot of good people in the music industry this summer, and has been fine-tuning her writing. Barbara Ann has been working part time at the Nashville Palace and hopes to get to sing there this fall. Besides taking piano and voice lessons, she is practicing for her performance in the semi-finals of a vocal contest. Winning the contest would take her to Las Vegas to do a television show.
Barbara Ann encourages L.A.S.C. members to contact her for help or information. Her phone number at home is (615) 860-0760 and at work is (615) 255-3150, Ext. 6228.
Our sympathy is extended to the family of former L.A.S.C. member Mark W. Davis who passed away on Saturday, October 14, in Clarksville, Ind., at the age of 31.