OCTOBER SHOWCASE
By Jean Metcalfe
"Papa" Gene Adams started off the October 7 Songwriter Showcase with his pure country originals, starting with a number that was appropriate for the fall-like weather, "The Hills Of Kentucky," a nostalgic and melancholy reminiscence of such boyhood pleasures as trying to catch leaves as they fell from the trees.
"Lonesome Pine Tree," based on a true story, was of the same mood as the opening song. In it Gene sang of when "We would sit back in the booths in the corner (of the local cafe) and see who was stepping out on who." Remember "the old corner cafe and the jukebox that we played," he wonders "if they ever think of me." It was a backward look reminiscent of "Class of '57" and other Statler Brothers songs.
Gene changed the mood for a while with his "Professional Bass Man Blues," an appropriate song for an avid fisherman to write.
Following the gospel-flavored "Ship Soon to Sail," (one of my favorites, even though it's quite sad), Gene ended with his familiar "Strawberry Hill," a true account of a place where he and his friends used to "drink strawberry wine" in leisure moments during his stint with the Army while stationed in Germany.
Earl Meyers put aside his guitar in favor of pre-recorded studio tracks for his set so that he could concentrate on his singing. He started right off with the song he placed in the top thirteen (of some 91 entries) in the country category of our recent Songwriting Competition '89 -- "I Don't Understand All I Know About You." Earl asked Andy Broughton, who gave Earl the idea for the song, to stand up and be acknowledged.
"I Might Give Myself Away Tonight," Earl warned in his second number, "If I look into your eyes," and then went on to sing about a woman of whom he makes the diagnosis, "She Needs to Feel Love Tonight."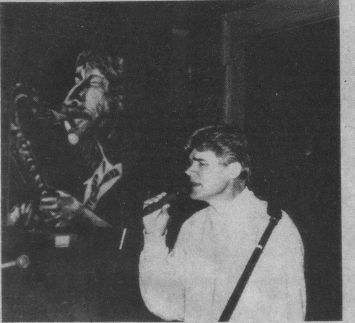 Earl Meyers and an unidentified side man held forth at the L.A.S.C. Songwriter Showcase. Photo by Jean Metcalfe
Following an optimistic number in which he advises to "Look On the Bright Side Of A Bad Situation" and a clever tune about two people looking each other over ("Sneakin' a peek, checkin' me out"), Earl offered up the song that he had entered in the aforementioned songwriting contest and which had placed in the top ten (another of his originals placed in the rock category top ten also) -- "Breaking In A Broken Heart." He followed up with a song that placed in the top ten in the "Other" portion of one of the song categories, "Santa's Little Workshop." He introduced it by saying that, although October 7 might be a bit early for a Christmas song, he supposed it might be all right since the department stores were already displaying Christmas items. The song makes one feel very cheerful and desirous of whistling along on the whistling parts.
Earl finished on a positive note with his "(You're Doing What You Do Best) You're Looking Good."
(Earl, I'm glad you liked 90% of what I said when I introduced you. Sorry about my reference to an infamous rhyme you used in the first song of yours I remember hearing. You're a good sport! And CONGRATULATIONS on placing six -- yes six -- songs in the L.A.S.C.'s recent contest.)
Pianist/vocalist Jude Kupper started out her set with a number that is very familiar to the Monday-night open stage crowd -- "Crickets Only Cry." She followed it with "Shadow Of An Eagle," the title cut from her album. During the latter number, Docrates leaned over and whispered that he really liked the line "Today I saw peace in the eyes of the geese who travel from land to land." Jude is quite a poet.
Other Jude Kupper originals on her song list included "Maserati Moonlight," which for me defies a literal translation, but I like several of the lines just the same, most especially the paints-a-picture "Now I'm lonely as the lightning." Other favorite lines are "I don't know no fancy talk, I'm no ringer for a queen, but I remember when chewing gum was two for one and then you got one for free."
Jude continued with "I've Got Too Much to Lose," which contained a line I especially liked, "But I know where I stand when I get up and fall." (At this point I wrote in my notebook, "Too bad Jude has to be hidden behind the piano -- she's such an attractive woman.")
After another number or two, Jude concluded with a song whose title I believe is "Make Me An Angel." I like the tune and the feel of it.
The "Music Man" Charlie Walls brought along his one-man-band (he uses computerized "stuff") which I have taken the liberty of dubbing "The Silicon Valley Boys," and they really put on a good show.
After trying to get rid of a buzz in the sound system that started when he plugged into it, Charlie apologized for the fact that he would be playing quite a few cover songs instead of originals. Seems he had recently bought some new light-weight equipment that had replaced "about 700 pounds" of his old equipment, and he had programmed the cover tunes first since that is what he plays on most of his gigs.
Charlie started off with originals, however, and the first words he sang were "Well, my blood pressure's up and my stocks are going down," which were just two of the reasons why "I'm Moving to the Country." Another reason was the bean-sprouts-versus-a-plate-of-fried-chicken situation he was in.
"She's Got A New Number One" is a somewhat esoteric song that utilizes music business terms to describe a failed love, e.g. "And he's climbed to the top of the (her) charts." The publishers in Nashville keep insisting that the song is good, but too esoteric, and Charlie keeps on trying to find someone there who will agree with him and his co-writers (Gardner Barger and Sammy Reid, who wrote it "somewhere in Nashville") that it's a commercial idea, just waiting to become a hit. Hang in there, Charlie. (I've been listening to your album of originals -- Think Again -- and I like the song. I like the rest of the tape, too.
A rockin' version of "Rockin' Robin" was the first cover tune that the Music Man resorted to, before returning to a Barger/Reid/Walls original, "Empty Bottle," that contains the line, "I'm talking to my whiskey, a poor man's shrink."
Other tunes Charlie and the "boys" performed included "She Makes Me Feel Right At Home" (c/w with Sammy), "Heard It Through the Grapevine," "I Can't Take Any More" and a cover of "The South Is Gonna Do It Again," during which Charlie played a great piano instrumental. When Charlie said that he wished he had written the Charlie Daniels hit, Papa Gene Adams piped up with "Don't we all, Charlie!"
The reprise set brought Gene back to sing "Gonna Put My Love On the Line Again," which he is hoping will soon be done up by a bluegrass group (I am too, Gene). "Boots And Old Blue Jeans" brought the assurance that if per chance the writer/singer should become rich and famous and ride in a big limousine he would still "be the same old 'Papa' Gene." And he means it, too. Gene finished up with a touching song titled "Side By Side All the Way," which he dedicated to his wife Jeannie, who was in the audience.
Earl Meyers came back with his guitar for accompaniment, and sat on a stool, discarding his earlier lounge singer image for a folkie one. He did his "Take Me Back to Kentucky" and "Riding On A Hayride," a tune he wrote some time ago while on -- guess what -- a hayride.
Jude's reprise set was very well received by the audience, and that goes double for a group of women sitting up front near her piano. They didn't want her to stop. The songs were very clever, with a decidedly women's-lib flavor.
Jude later told me that she had gotten some "bona fide requests for autographs," and that she thought it was hilarious.
Charlie came back to wind up the evening, and he wound up winding up the audience, making it difficult for some of us to unwind. "He's at the top of her most wanted list," Charlie informed us in his "Like A Thief In the Night," before covering "Run Around Sue." It was great fun to hear this old Dion favorite from the early '60s.
Thank you, Charlie, for sending your next-to-last number -- a Walls original -- out to me. "Saturday Night In Dixie" is a great country rock tune and I've liked it from the first time I remember hearing it. That was when Charlie played it as the credits rolled on the Eastern Kentucky University television program Encounters on which we both appeared, along with Susan Tomes, following Charlie's first-place win in our Co-op's Songwriting Competition '88. Loved that wild-and-crazy piano solo, Charlie.
Charlie finished up the evening with a cover of the George Strait hit song, "Nobody In His Right Mind Would Have Left Her," and it was an entertaining ending to an entertaining evening.