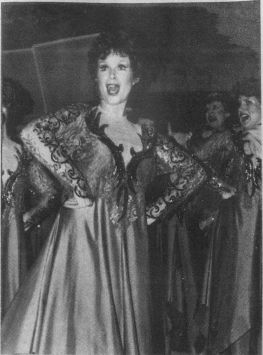 Tenor singer Nancy Heaton and fellow members of the Pride of Kentucky Chorus rehearse for the Sweet Adelines International Competition to be held in Miami Beach October 28. Photo By Jean Metcalfe
Pride of Kentucky Chorus Vies for International Championship
Harmony Highlights in Quartet Contest
By Jean Metcalfe
Sometimes you gotta make some hard choices. And the choices I have made over the past couple of years are the reason this reporter is sitting in a drab brown secretary's chair pounding her computer keyboard instead of working on a lovely brown tan and singing with the Pride of Kentucky Chorus in Miami Beach.
They were sounding and looking good at their dress rehearsal on October 17 at Atherton High School, and I'm sure they will be even better when their turn comes to sing two songs on the stage in Sun City on October 27. I'd love to be there when the curtain opens on those beautifully costumed, great four-part harmony singers.
We'll let you know in our December issue how the judges rated the POKY chorus. We'll also let you know how the "Harmony Highlights" fared in the quartet contest that takes place that same weekend.
Good luck, ladies. You deserve to win!
LATE-BREAKING NEWS: At absolutely the last minute we heard that the Pride of Kentucky Chorus finished seventeenth in the International Competition out of some 25-27 choruses. Congratulations, ladies! No word yet on the Harmony Highlights' placement.