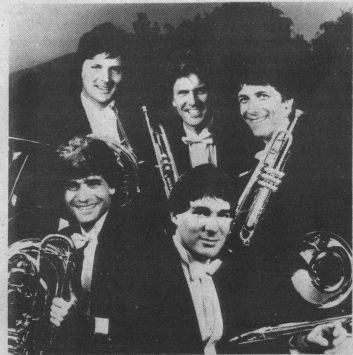 The Empire Brass
The Empire Brass
By Joyce Trammell
On Saturday, November 18, at 8:00 p.m., the Yellowstone SuperPops will feature the Empire Brass with Robert Bernhardt conducting. The concert, sponsored by Glenmore Distilleries, will be at the Louisville Gardens, Muhammed Ali Boulevard at Armory Place.
"The Empire Brass came to Frankfurt, Germany, and brought down the house. At the Amerikhaus, we had the pleasure of admiring not one but five virtuosos at once," wrote the Frankfurter Neue Presse.
These five virtuosos include: Rolf Smedvig, trumpet, who currently serves on the faculties of Boston University and the Boston University Tanglewood Institute; Jeffrey Curnow, trumpet, a member of the teaching staff of Wichita University; Martin Hackleman, french horn, teacher at several colleges, including the University of British and Tohogauken School of Music in Japan; Scott A. Hartman, trombone, featured performer in both Europe and the United States and a graduate of Eastman School of Music; J. Samuel Pilafian, tuba, who has performed and recorded with the Boston Symphony, the New York Philharmonic, the Metropolitan Opera Orchestra, the American Ballet Theatre Orchestra, composer Philip Glass, the Duke Ellington Orchestra, and the rock group, Pink Floyd.
The Empire Brass enjoys an international reputation as North America's finest brass quintet. They have given a command performance for Queen Elizabeth II, toured extensively in North and South America and the Far East.
The United States Information Agency reports on the quintet's performance at the Bolshoi Ballet of the Leningrad Philharmonic, "Hundreds in the standing-room-only crowd bent over the balconies of the hall to get a better look at the American performers. The crowd responded particularly warmly to pieces by American composers . . . Rolf Smedvig led the quintet through H. L. Clarke's Carnival In Venice with a rousing trumpet solo which brought cheers from the audience."
Tickets range in price from $5 to $24. Call 589-9070 for ticket information and reservations.