The New Christy Minstrels at Macauley Theatre
By Jean Metcalfe
Jaquie Dawn Tingey wasn't singing with The New Christy Minstrels on Friday, September 29, at Macauley Theatre. She was no doubt resting up from the Miss America contest just past, in which she represented her home state of Utah and won the talent portion of the event.
Debra Lynn Tingey, Jaquie Dawn's younger sister (by 16 months) was there, however, and she certainly did impress.
The six performers who graced the Macauley stage were a smaller ensemble than I had expected, but they kept me entertained for the entire concert. There was talent aplenty, with the hoped-for hits of the sixties plus some original material performed by the writers in the group.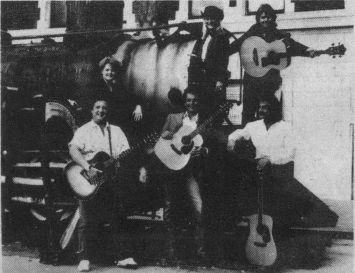 The New Christy Minstrels
Besides Ms. Tingey, on vocals and tambourine, there was talented harp player Kristen Jepperson and four guys (Michael Umphrey, Tom Ryan, Daniel Leanse and Bob Snow) who played acoustic guitars and sang. Each member had individual talents that they displayed, in addition to contributing to the nice overall sound of the group.
They were a likeable bunch -- and clever. They told the audience that they really appreciated the sign they saw as they came into town -- "Welcome New Christy Minstrels to Louisville, Kentucky, gateway to Jeffersontown."
Sponsored by the Jeffersontown (Ky.) F.O.P. Lodge 26, the proceeds are to be used to start a fund to help the families of police officers who are killed or injured in the line of duty.
The NCM did a rousing version of "Mighty Mississippi Roll Along" and an especially poignant medley entitled "Composers' Shrine." The medley was a tribute to, and contained the songs of, Harry Chapin ("Cat's In the Cradle"), Jim Croce ("Time In A Bottle"), Roy Orbison ("Pretty Woman"), Steve Goodman ("City of New Orleans") and John Lennon ("Imagine").
From the sound track of the Glenn Ford/Stella Stevens movie "Advance to the Rear," the sextet sang a lovely version of the much-lauded "Today," with Ms. Tingey providing a touching, achingly sweet solo.
Two of the male members of the group sang an original song apiece -- an environmental number called "How Will It Be At the End Of the Very Last Day?" and "Take Care Old Man," a tribute to the writer's father. Ms. Jepperson played and sang her original arrangement of "Edelweiss," which was quite lovely.
A medley of past New Christy Minstrel hits included "Singing A Happy Song," "Shenandoah," "I Gotta Be On My Way (Hi Jolly, Hey Jolly)," "I Am A Rovin' Gambler," "Chim Chim Chiree" and "Follow the Drinking Gourd."
Members of the group spoke of their concerts in Japan, Italy, Mexico, et al. where they have had much success, probably even more so than they now enjoy in this country.
There was even a beautifully done two-song tribute to Marilyn Monroe, comprised of Elton John's "Goodbye Norma Jean" and the Joe Cocker hit "You Are So Beautiful."
"TV Roulette," a collection of commercials that the group cleverly strung together, elicited many chuckles from the audience, and I heard a lot of youthful laughter.
In a departure from her usual practice of making only one costume change, Ms. Tingey donned a third costume toward show's end, explaining that she had bought it in Atlantic City while there for the Miss America Pageant. The gown was a stunning beaded turquoise creation and Ms. Tingey looked lovely in it. The light man dyed the gown to match Ms. Tingey's song as she captivated the aduience with her version of "Midnight Blue."
Some 200 men and women have been New Christy Minstrels since the group's beginnings in 1961, including Karen Black, John Denver and Kenny Rogers, and the present group offered up a nice selection of songs with which to salute them. They brought sounds of approval from the crowd with such well-known numbers as "Cherish," "Mr. Tambourine Man," "Ruby (Don't Take Your Love to Town)," "Lucille," "She Believes In Me" and "Green, Green," as well as the Grammy Award-winning "Betty Davis Eyes."
Other songs resurrected from the past included "the song that started the whole thing" -- "Far Side Of the Hill" -- and "Eve Of Destruction," former NCM Barry McGuire's world-famous five-million seller, which was written by P.F. Sloan.
The final number -- before the encore -- was "This Land Is Your Land," which they had updated to include references to our forty-ninth and fiftieth states. The audience was encouraged to sing along, and they did. A very rousing number.
After introducing all the Minstrels, they promised to come out front and meet anyone who wanted to hang around for a while, although Ms. Tingey warned, "We're pretty ugly up close." They finished up their performance with a very touching version of "Let There Be Peace On Earth." The talented and likeable Ms. Tingey, whose lovely voice was featured on the number, became quite emotional during the singing of it, but with the help of a shoulder to lean on that was offered by another member, she was able to finish the song.
It was a very fitting ending, and especially so as it was the last concert of their nine-month tour. Actually, the real ending for some of us was getting to meet several of the individual members, all of whom were very friendly and likeable.
We left the Macauley Theatre feeling very "up" after chatting with Ms. Tingey and her fiance Umphrey, and with Ryan and Leanse. It was very gratifying to see Ms. Tingey take so much time with each autograph seeker, especially the youngsters. A cute little tyke named Nicholas got a hug and a lipstick print on his program from Ms. Tingey and he seemed to fairly bounce out of the theater.