Bridge Over Noisy Water: Bridge Party '89 By Dallas Embry
The sky was threatening. Huge, ugly gray clouds were rolling across it from the west and rain was forecast by the meteorologists, but I dragged my weary carcass out of bed and headed for the Clark Memorial Bridge, where members of the L.A.S.C. were to provide six hours of street-musician entertainment for Bridge Party '89.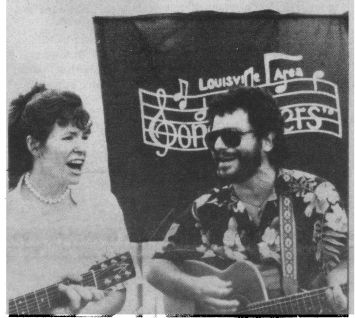 Louisville Area Songwriters Cooperative members Marie Augustine and Dan Colon shared their songs with the passersby on the Second Street Bridge at Bridge Party '89 on September 10.Photo by Paul Moffett
As I made my way across the bridge, a few drops of rain fell and I began chanting the old Woodstock favorite, "No rain..., no rain....' I spotted Larry Smothers manning the WLRS Rock 102 mobile studio and stopped to chat for a minute. The rain held off.
Continuing my trek to pole 50, I was offered a face-painting from Lee Ann and friend at the official entrance to the event, where Korfhage Landscaping once again had their island of flowers of greenery set up. Further along, I was happy to see that Quentin Sharpenstein and the Rascals of Ragtime were in place and ready to play.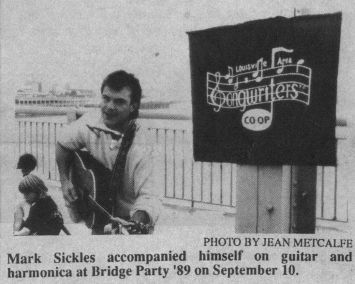 Mark Sickles accompanied himself on guitar and harmonicaat Bridge Party '89 on September 10. Photo by Jean Metcalfe
During the entire event, I saw two crowds form. One was in front of Dance Unlimited early in the day, and the other was in front of the L.A.S.C. there was, unfortunately, little original music performed because the audience dictated what was sung by their requests. Nonetheless, everyone had a good time playing country, folk, blues (accompanied by a fellow named John on harp), old rock, new rock, and an occasional original tune.
Some faces in the crowd were: Tom Metcalfe, Beth Moffett, "Doc" Halloway, Hugh Hill, a lady named Lynn who has become a Monday Night At The Rudyard convert, and Jak Son Renfro, who had planned on performing but was the only member of Serpent Wisdom to show up.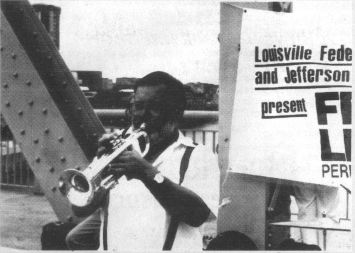 That Rascal! Dick Martin rooted his own horn as The Rascals Of Ragtyme livened up Bridge Party '89
The evening ended very appropriately with Bill Ede leading everyone in singing "Bridge Over Troubled Water," as a line of men in blue, stretching from sidewalk to sidewalk, swept the bridge clear of people from Indiana to Kentucky. The Bridge Party was over for another year.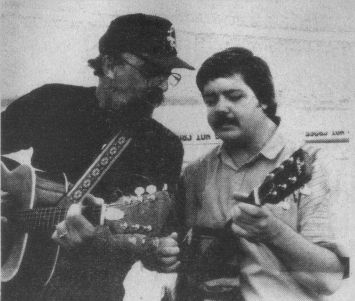 L.A.S.C. members Paul Moffett and Bill Ede harmonized at Bridge Party '89 on september 10