Chasing Butterflies In The Smoky Mountains
Songchase Nets Song Ideas
By Karen Le Van
What do you get when you take 40 would-be songwriters and four music-industry professionals, mix slowly for six days in the beautiful Smoky Mountains and add handfuls of corrective criticism and loads of tender lovin' care? MAGIC! Yes, magic is what we all felt as the week came to a tearful close at the "Great Smokies Songchase."
It all started with 40 strangers brought together on the beautiful campus of Warren Wilson College in Swannanoa, N.C., on Monday, August 7. People from all walks of life, ranging in age from 18 to retirement, checked in one by one. They had various degrees of experience and songwriting ability but they shared a common dream of putting the words and music together to write a hit song.
The GSSC was more than anyone expected it would be. Students and teachers alike agreed with Billy Edd Wheeler's summation – "We started the week criticizing and we all ended up in love." We became one big happy family.
Day One was check-in, get settled in your dorm room, meet your roommate and – what do you do when you get 40 musicians together? – JAM!
After about two hours into check-in (I worked on the staff for Billy Edd and helped Karen Hillebrand greet the new arrivals) everyone started congregating in the lobby and the jam began as the guitars came out.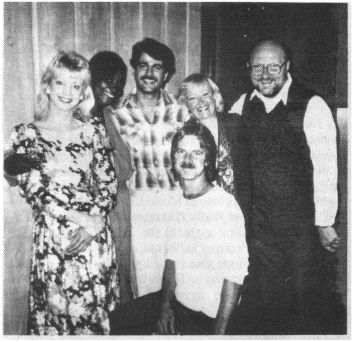 Great Smokies Songchasers (left to right): Donna Beck Michael, Daryle Ryce, Danny Arena; Karen Le Van, Jim Bennett and (kneeling) Jerry Burns. Burns and Le Van are members of the Louisville Area Songwriters' Cooperative.
After dinner there was a reception to meet and greet each other and to celebrate the birthday of Debbie Hupp. The reception was over by about 9 p.m. and we were to go back to the dorm and get a good night's rest so we would be able to kick off the first day of classes bright-eyed and bushy-tailed. Right? Wrong! It was "jam" time once again.
Some of us gathered in the lobby around the piano, but as several people wanted to share their songs with only a few, we started gathering in Jerry Burns' room. The people kept on coming until we must have had 15-20 people crammed into the room – singing, sharing and enjoying each other's music. We were really getting to know each other through songs.
Daryle Ryce, a very talented R&B singer from Charlotte, N.C., who had just signed a recording contract with Rounder Records, was introducing herseIf with one of her crazy songs "They're Gonna Put Me In the Movies," which described all the things she needed to change to become a star. In very little time we discovered Daryle's star shining brightly for all to see – no changes necessary, thank you, we love ya just the way you are – GREAT!
Add another Rounder artist, Tim Lake and his "I Was Country When Country Wasn't S---" and A&M recording artist David Wilcox singing about spilling the paint on the floor and creating a masterpiece that was "fine," and in no time at all I knew I was in good company.
As we got to know the rest of the folks we discovered many talented writers – Steve Warner from W. Va. singing his touching song about failed love; Bobby Carmichael with his song about an old country store, which we – somehow renamed "The Bubble Gum Song"; Camille Harrison with her super jazz and blues style; and bashful Ivan Smith who didn't share his songs until the end of the week and he had been hiding some really super songs.
The magic was about to begin. One of the favorites of the week was a brother-and-sister team, Jet (short for Janice since Janice was too hard to pronounce as a child) and Harvey Morris, from Hell Hole, S.C. Harvey and Jet had accents you had to hear to believe and great old traditional country songs we will all find hard to forget.
The first night's jam went on until 4 a.m. I recall Tim Lake saying, "Oh no, I thought I'd get away from late nights and parties, but I should have known better; you can't put all these musical people together and get any rest!" Seven-thirty in the morning came early, but if you wanted to eat you had to be at breakfast between 7:30 and 8. Needless to say, most of us soon found the local Hardee's, which was about 10 minutes away.
The first session was a welcome by Billy Edd Wheeler and an introduction to our teachers, Debbie Hupp, Lisa Palas and Chuck Neese. After an explanation of what we could expect during the week, we broke up into our groups with each teacher taking ten students.
Jerry, Tim and I were all in Chuck Neese's class and we adjourned to the great outdoors; since it was so beautiful in the mountains Chuck thought we should be outside. It was nice, except for the lawn mowers that decided to follow us each time we moved.
Chuck Neese is a publisher with The New Company, a division of Warner/Chappell. For three years he was with Maypop, selecting songs for Alabama.
Chuck told us what it took to write a hit and it seemed we didn't have anything good. At first he seemed extremely critical, but after a while we began to realize that what he was telling us was true. When we thought we had a good song Chuck proved to us we were wrong and showed us what the problem was and how to improve it or make it right. Structure was most important. The song must have one central theme and no branches off to the side. It must be in the same tense and be conversational and put the singer in a good light.
He thought we would all do well to go home and toss out all of our old songs and start fresh. He said, "It's a big mistake to try to make something right that's wrong in the first place.
He suggested writing a new song every week; at the end of the year we would have approximately 50 songs that were pretty good. From those 50 we could figure that only 10% would be worth pitching. He told us to let go of a mediocre song and suggested using them as practice in structure. Then when we get the really great ideas we will know how to make them perfect.
"Don't be afraid to write your feelings. In most cases, what you are feeling others have felt. You will then be able to associate with those feelings. What touches us can also reach out and touch others," said Neese.
He told us to make it fresh – not boring – and keep it simple with a good hook that will reach out and grab the listener, but not to sacrifice a verse lyric or melody just to make the chorus stand out.
Neese also suggested that those of us who only write lyrics should learn how to play something to make our writing stronger. Play with melodies, he advised.
He said one of the biggest mistakes most writers make is not sticking with the main plot all the way through. And above all, he said, "Learn what you are doing, so when it's right you can repeat it!"
According to Debbie Hupp, songwriting is a profession, just like being a doctor or a lawyer. In order to become a true professional you must learn your craft. It doesn't come overnight. It usually takes ten years to learn What you are doing and become successful.
The aim of most of the classes the rest of the week was to instill in all of us what it takes to write a great song. Just a good song won't cut it – it must be great or you will never get past that front door in Nashville, L.A. or N.Y. a second time if you take them simply good songs.
Critique sessions were important since we all learned how to recognize when we were straying from the subject. Also, Chuck would let us read our lyrics – if we had no melody or demo – and we could receive help before we ever tried to get a melody put to a bad lyric.
Most of us found the same thing to be true with all of the "hits" we brought from home to play for the pros. They were mediocre at best. They went in too many directions, did not have a melody to go with what we were trying to say, or they were just not quite ready for the big time!
On Wednesday Chuck presented a program on the business side of music, dealing with copyrighting, demos and contracts. (As the schedule read, "You may ask stupid questions or questions you feel too stupid to ask – Billy Edd will answer the really stupid ones Chuck disdains to answer!")
Chuck explained how mechanical and performance royalties are paid and where they come from and how they are distributed and approximately how much we could expect to make from a country hit ($100,000) or a pop hit ($200,000) over a three-year period. For some reason I decided to gear my songs to the pop category.
I teamed up with the ASCAP scholar, Danny Arena, from Avenel, N.J. and we became known as "Bachrach and Sager" before the week was over. Danny and I spent most of our free time and some class time the last two days writing what we hope will become our first hit so it would be ready for the closing showcase on Saturday night.
Wednesday night Billy Edd invited us to a poolside pickin' party at his lovely home. It was too cool to swim but there sure was a lot of music played that night.
Rumor had it that a very special guest from Nashville was in town and would entertain us that evening. As the opening notes of "five to Nine" started playing, who should come "busting" into the living room but … Dolly! Well, she sorta looked like Dolly!
On Thursday we were scheduled to "chase butterflies" or "court the muse." At 9:30 a.m. we were picked up in Billy Edd's RV and a college van and driven up the Blue Ridge Mountain Parkway to Craggy Gardens, with a stop at the Folk Art Center in Oteen.
At the top of the mountain an informal lecture was given by the staff members. They spoke of how they gathered song ideas and told memorable stories about hits – how to spot great ideas as they "flutter by." We were then set free to discover the beauty of the Smoky Mountains and to chase – and hopefully catch – a butterfly.
We couldn't have had a better day – it was perfect for a picnic on a mountaintop. Danny and I headed down a trail but soon ended up taking the short road back to the parking lot – it had something to do with a N.J. city boy and snakes in the woods, I think!
Anyway, we pulled up our own little slice of the grassy hillside overlooking the majesty of the Great Smoky Mountains and just lay back and watched the clouds roll by, visualizing our song ideas. We were trying to come up with a few perfect lines for our song – and it worked!
Now when my life gets a little too hectic (which it often does), I just stop a few minutes and go back to the quiet and simplicity of that day and relax, knowing that someday I'll be able to do just that when the mood hits (after a couple of hits, that is).
When we got back to the dorm that afternoon Danny and I headed for a rehearsal room instead of going to class, so we could work on our song, putting our fresh lines to work.
It was really a great experience for me to work with Danny. He would play the lines over and over again as I would write line after line searching for the perfect combination.
I hope to be able to write a lot of songs with him in the future. Danny will graduate from Rutgers this year and will be married in July, so I think we have almost talked him into moving to Nashville. (Hope so!)
Friday brought in new blood for the weekend session, so those of us who had been there all week got the morning off while the new students went through the orientation, had their songs critiqued and were thus welcomed to Songwriting 101.
After lunch we had our pick of several topics the staff was covering with the new students – or we could co-write (which is what Danny and I did).
Friday night Billy Edd had another dinner party (good food and lots of jammin'). Still too cool to swim. (Dolly couldn't make this one.)
David Wilcox was playing at McDibbs in Black Mountain (a few miles away) and had arranged for an open stage for those who wanted to perform. So after dinner several of us went to hear David and Daryle Ryce, Donna Beck Michael, Camille Harrison, Jet and Harvey Morris and Billy Edd perform. It was really a fun evening and the club's patrons really enjoyed the show.
David Wilcox was attending the GSSC on the Chet Atkins Scholarship. David is a very accomplished singer,/songwriter with a recording contract with A&M Records. I wondered why someone so established would feel the need to attend the camp, so the next day I asked David. His answer – "I'm here to learn the craft of songwriting. There is always more to learn."
I saw David Wilcox in Nashville at the Summer Lights concert and was very impressed not only with his music and talent but with his interaction with his peers. During our week together I learned a little more about this gifted songwriter.
He feels he gets his inspiration from God. Although he is not a real religious person he is very spiritual. He also feels we need to learn how to incorporate honesty with technique.
David said, "To me the power of song is the ability to communicate emotion between strangers. And a rare break in the fence since so much of our anguish comes from feeling like strangers. The song's ability to slip past boundaries is all the more precious and that's why I believe it needs to be handled with responsibility."
"I grew up in radio exile," he continued, "because when I looked to the radio for some clue as to what to do with this longing, it was hard to find. So the music that I played was always an alternative. I didn't write songs until it started to become harder to find other people's songs that moved me as much as the stuff that was my own personal messages."
David has a single out now called "Eye of the Hurricane" from his A&M album How Did You find Me Here. His first album is called Night Shift Watchman. I hope we can introduce Louisville to this unique singer/songwriter soon.
Saturday: None of us wanted it to end. The week had been so special; did it have to come to an end?
Billy Edd had a full day planned for everyone. Classes on "The Business Of Music," "Women In Music," "Pros and Cons Of Collaboration" and further critiques. Those people who wanted to play on the showcase that night had sound checks and there were goodbyes and thank you's to be said.
The last session of class brought all of us together in the Kittridge Recital Hall for final critiques and questions. We thought this would be the perfect time to say our thank you's with little gifts for which we had taken took up a collection.
I don't think we could have had a more moving ceremony if we had planned it Debbie Hupp had just asked if anyone had any further comments – my opening.
"Yes, I feel all of you have talked enough and it's time for us to say something to all of you."
For starters, what better way to say thank you to songwriters than with song. Daryle Ryce had written a new song called "I'll Be Back." It was received tearfully by all.
I called on David Wilcox next to sing a song he had done the night before called "Give Yourself to Love." It described our class and the magic we had all experienced.
One by one we said a tearful goodbye and a thank you to our leaders for caring and sharing of their time and talents so that we might all become better songwriters.
All that was left was the concert – "Sharing the Catches" – in Kitteridge Theatre. And what a concert it was. Eighteen people in all shared their music.
Special guest John D. Loudermilk performed his songs while ballet dancers interpreted them. Beautiful!
Ray Sish, Tim Lake and David Wilcox each gave a special 15-20-minute set, with all the other students doing one or two songs.
David was given an encore and Billy Edd called him back to do, as he called it, "The Love Song." David called all of the students onstage to share the moment. It was nothing short of magic! It was also emotionally draining.
But did we let it end there? No!
Wayne Atkins, a student from Asheville, was playing at a club in town so a big group of us went to dance the evening away. It was so much fun we didn't want the night to end. We had a great jam session until 5 or 6 a.m. – until we couldn't take anymore.
That last jam was captured on tape. Larry Bowman sent me a copy of the tape a couple of weeks ago and I got to relive the fun.
Does an experience like this really end? No! The memories are there and I keep getting mail or calls from the many friends I made that magical week at Billy Edd Wheeler's Great Smokies Songchase.
I caught some great butterflies, found a wonderful co-writing partner (hopefully for life), wrote a GREAT song (which Debbie Hupp is interested in having her Debbie Hupp Music publish) made some unforgettable friends and learned a lot about writing and about myself. I came home flying on one of those Smoky clouds and won't let anything bring me down.