Van Zandt Drops In On September Songwriter Showcase
The audience at the season-opening Louisville Area Songwriters' Cooperative September Showcase got an extra treat with the unscheduled appearance of legendary songwriter Townes Van Zandt.
Van Zandt, who was in Louisville to perform at the Bluegrass! American Musicfest on the Belvedere, was smuggled into the back of the room by longtime fan Bill Ede. He sat there, mostly unnoticed, and observed some of the songwriter showcase before performing himself.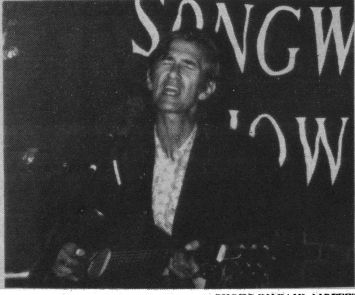 Townes Van Zandt. Photo by Paul Moffett
The show was opened by Tom Van Meter and Paula Pierson, songwriters who had never made an appearance on the show. They demonstrated that lack of stage time did not adversely affect their songwriting, reeling off songs with such pure country titles as "Cheatin' On Me," "Third Degree Heartburn" and "I Feel Like I'm Waiting On A Heartbreak." Pierson's daughter joined her for a sentimental, if squeaky, duet.
Scott Furlong followed with a solid array of tunes, not of the country mold. Such tunes as "Another Side Of You" and "Moonlight Dances In Her Window" evoke the style of such West Coast writers as Danny O'Keefe, Tim Weisberg and "Run For The Roses" author Dan Fogelberg, plus the occasional reflection of Jim Croce.
Becky Bennett, Kelly Wilkinson and Ken Lucchese opened the second set with a string of down-the-road country tunes such as Patty Loveless' "Timber, I'm Fallin' In Love" and the Joann Hatcher tune "Say Hello To Your Last Good-Bye Kiss." Becky and Kelly had just placed third in the Central City Contest at the Everly Brothers Homecoming event and were in excellent voice. Having done little songwriting, the two singers, backed by Serpent Wisdom guitarist Lucchese, focused on performing tunes by other members of the Co-op, plus their own favorite cover tunes.
Bill Ede closed out the set with energized versions of his many tunes. Bill's reaction song "Not Gonna Rock the Boat ('Till My Ship Comes In)" with the attention-getting first line "Take this job and love it, that's what the bossman said to me" was warmly received by the audience. He then did the exquisite "First Time I've Played In A While," followed by "If This Is A Party" and the folk ballad "Pretty Penny," first recorded on the L.A.S.C.'s premiere tape, First Time Out.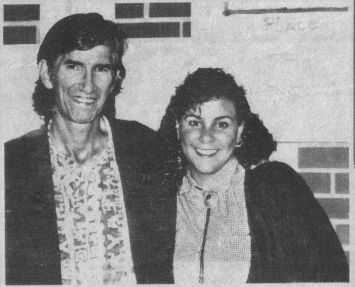 Townes Van Zandt and Beck Bennet following the September 2 L.A.S.C. Songwriter Showcase on which they both appeared. Photo by Tom Metcalfe
Ede closed the set with the humorous "Deep Down I'm Just An Extrovert," wherein the singer asserts that "Deep down I'm just an extrovert, I guess I oughta let somebody know." Some of the regulars at the Monday night open stage will recount the night Bill played that song for fifteen minutes, dancing around on stage, leaving the room by the back door at one point for a quick trip to the men's room, then returning and finishing the song, all the while the crowd was screaming with laughter and no one left.
Van Zandt's brief set included "Pancho and Lefty," the tune that was such a hit for Willie Nelson and Merle Haggard a few years back. He then dedicated a new tune called "Marie" to Marie Augustine, which delighted Augustine no end. As if to show that a songwriter can never rest on his hits, Van Zandt played several new songs he had been working on. The original-music-conscious audience listened in silence and applauded enthusiastically for each new tune.
During the brief intermission, there was a flurry of activity as well-wishers crowded around Van Zandt for pictures and a chance to shake his hand. Marie Augustine got an extra charge when Van Zandt said "I'll see you down the road, kid." He then left as abruptly as he had appeared and the audience returned for the final reprise set, satisfied that they had most assuredly gotten their money's worth for this Songwriter Showcase.