Brave Combo at Uncle Pleasant's
Purple Haze Polka?!
By Dallas Embry
Brave Combo is more than a musical group. As the following statement from Musicmakers magazine indicates, they have a unique musical philosophy which makes a great deal of sense if you consider the ideas presented.
"If Brave combo can do one thing, we'd like to destroy people's ideas about what it's cool to like in music. Music is vital to our life on earth and we ignore that vitality when we let music fall into some kind of a fashion statement. It would be nice if people could listen to a cha-cha, or African music, or a Polish dance band and say "Hey, that has a cool beat, it's played well, and these guys are into something."
"That's why I think polka has the potential to bring about world peace. The accordion is played in every square inch of the world. American Indians play polkas, Mexicans play polkas, black South Africans play polkas, Columbians play polkas. Except for the guitar parts, even ska has that basic polka rhythm. Once you hear the common thread, you can jump from one style to another and come up with something that has a universal beat. If the people of the world can start dancing together, they can learn to respect each other's cultures too. And that kind of understanding will give us all a better chance to survive."
So says Carl Finch, who in addition to being vocalist and musical director of Brave Combo, plays accordion, guitar, and electric piano with the group.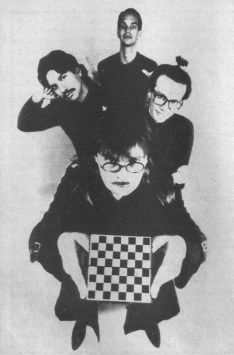 Brave Combo
Other members include Mitch Marine, drums, Jeffrey Barnes, sax, clarinet, penny whistle, electric guitar, percussion, and vocals, and Bubba Hernandez, bass, tuba, and vocals.
It was an SRO night when these boys from Denton, Texas - home of former Kentucky First Lady Phyllis George Brown - appeared at Uncle Pleasant's Saturday, August 5th and entertained for three hours plus.
"A dance band from Texas" doesn't even scratch the surface when describing this group. Covering virtually every known dance style, they cha-chaed, waltzed, sambaed, tangoed, played salsa, polkas, and schottisches, which is a round dance in 2/4 time.
They performed Tennessee Ernie Ford's "Sixteen Tons" as a cumbia, "O Holy Night" as a cha-cha, and Rodgers and Hammerstein's "Oh, What A Beautiful Morning" as a wall shaking rock 'n roll number. They sent up "The Green Acres Theme" and rendered "Inna-Gadda-DaVida" as a polka.
Someone asked me during the evening, "Is there anything they don't play?" I can't imagine what it might be, as they did a straight-ahead Wayne Newton version of "Danke Schoen," which went over very well with the crowd.
Because of the taping of the Lonesome Pine Series, Janie Bob of The Bobs was in the crowd and joined BC for "Fever." Although nervous about singing with a band, she gave a stunning performance which had the audience whistling, cheering, clapping, stomping and generally yelling for more.
"I never sing to accompaniment," she commented later. "Everything we do is acapella, so I don't know about instrumental breaks and things like that."
Later, the Combo had all the women leave the dance floor for a free-form, no-partner, no-touching men-only number. They then proceeded to play "Stardust." The sight of very masculine figures gliding, striding and pirouetting around the dance floor was a humorous first for Uncle P's.
Michael Oldfield's "Tubular Bells" was combined with "Little Brown Jug" in an inspired selection which left the audience muttering "I remember that from Rosemary's Baby - wait a minute, I've heard that before, too. but together?!"
The only rough spot of the night occurred when an audience member hollered for "Freebird," a request dreaded by many a musician. Brave Combo attempted a parody of it, as well they should have, but then made a feeble attempt to get into a ZZ Top riff, which fell apart, ending the set prematurely.
Aside from this goof, Brave Combo was very tight vocally and instrumentally, not to mention being a heck of a lot of fun no matter what they did. A return date is being scheduled.