GRAND PLANS
Grand Convention Center in New Albany Promises Las Vegas Style Entertainment
By Jean Metcalfe
With The Market Street Dancers, a house band called The Grand Band and a colorful host/ impressionist-comedian, the new owners of the old Grand theater in New Albany (Ind.) hope to make it "a place for some grand memories."
Friday, September 1, marks the beginning of the variety shows at the facility at 138 East Market. The doors will open at 7:00 p.m. and the shows will start at 8:00 p.m.
With the exception of a few nights that are already booked for special events, the $2-per-person "Las Vegas-style entertainment" will take place every Tuesday through Saturday at the renovated structure. Refreshments include such concession-stand items as hot dogs, popcorn and candy bars, and a full bar of alcoholic beverages will be available.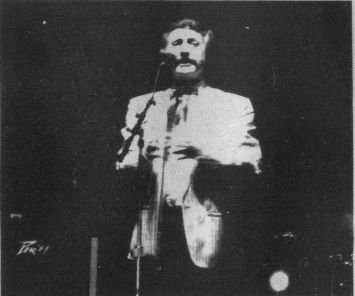 Grand Convention Center emcee Claude Wayne. Photo by Paul Moffett
Dance routines will be choreographed by Michael Mullins, who boasts an impressive list of credentials which includes training at the Joffrey Ballet. Mullins has performed in the road companies of "A Chorus Line" and "West Side Story," and played the role of Peter in the NBC-TV production of "Peter and the Wolf."
The good-sized dance floor will be turned over to the patrons at 9:00 each evening for dancing to the sounds of the house band under the direction of Bobby Lynn Hudson. From country to rockabilly to pop, the Grand Band promises to play tunes that will entice every dancer onto the floor.
Host Claude Wayne, perhaps best known for his impressions -- he has a repertoire of over 350 -- is a ventriloquist as well. His Minnie Pearl puppet, "Mini-Minnie," will act as "co-host" periodically throughout each evening. A former disc jockey, Wayne has been featured in countless radio and television commercials which have aired from Maine to California. Additionally, he has had bit parts in three movies and the television show "It's A Living," and has performed on Loretta Lynn's road show on 10 occasions.
It is planned that as the "Grand Connection" becomes more popular, superb local talents will be booked, and nationally known performers will appear from time to time.
Executive Producer Bill "Moon" Mullins says that he has attempted to surround himself with the most professional people he could find to fill each position at the Grand. "All of us are excited about this," he says. "We know it's going to be a success. We're dedicated to making it a success, not just for ourselves but because we know people in this area are going to love having such a grand place to go for an evening of good old-fashioned fun ... a place where people will be able to converse without having to yell above a loud sound system ... a place where you can laugh, have fun or fall in love."