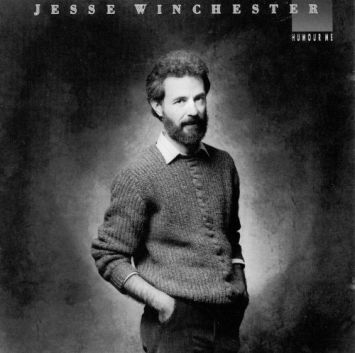 Jesse Winchester
Humour Me
Sugar Hill Records
Format: cassette, LP
By Paul Moffett
As long as Jesse Winchester continues to turn out the sort of perfectly crafted tunes that appear on this album, everyone should be more than willing to humour him. This album has become the tape of choice at the LMN office. This album is a fine example of what every mature singer / songwriter ought to be capable of writing. All those folks who bemoan the lack of crisp, intelligent songwriting should scurry right out and buy it.
Side A opens with the very gentle and curious love song, "If I Were Free," in which the singer asserts that he "... would never leave this room if I were free." The guitar work of Russ Barenberg and Sam Bush's mandolin provide a perfectly spare counterpoint to the lyric.
"Thanks To You" will remind longtime Winchester fans of the early Canadian albums, only much smoother. Ditto "They Just Can't Help Themselves," the tune which was an early favorite, in part because of the clever twist in the lyric, as well as because of the shift to double time in the chorus. Phil Gazell's harmonica work is a reminder that the harp as an instrument doesn't have to play the blues.
In "Too Weak To Say Goodbye," Winchester's melancholy arrangement and the blue saxophone solo of Jim Horn evokes every plea any soon-to-be-cast-off-and-nearly-resigned-to-it lover ever made in a quiet, smoky bar.
Being in constant demand for session work allows the New Grass Revival boys to have a line on some of the best tunes being cut in Nashville and this time they picked the requisite Winchester Southern gospel tune "Let's Make A Baby King," to cover after working the session. An uptempo piece, it has some very tasty solo work by Jerry Douglas on dobro and Bruce Dees on electric, as well as more Horn horns.
Side B begins with a wonderful send-up of every shoop-shoop, doo-wah tune ever recorded, "Well-A-Wiggy." Right from the crisp opening bass line, this tune just finger-snaps and hand-claps with the kind of late Fifties arrangements that led John Lennon to write "I Am the Walrus." Winchester even manages to get away with "Everything is peachy, see, everything is jelly, Wiggy, everything is pie." Too sweet for words.
"I Don't Think You Love Me Anymore" is another song for adults -- "You don't play footsie with me, we don't sleep like spoons, gee, I don't think you love me anymore." Winchester has mastered the technique of writing in various styles and yet crafts tunes that are unequivocally his and this tune is one of those -- it feels like a piano bar torch tune from a Forties movie.
"Willow" is defined by a wheezy organ / accordion-like opening that quickly slides into a groove that any Nashville writer would love to be able to duplicate. Douglas adds more colorful dobro work and the guitar break is what a guitar line should be.
The title tune is a stroll down Winchester's memory lane, with a couple of lines that are instantly accessible to any man: "I remember loving Susan Parker, that's not the kind of thing that you forget. It's funny, you know sometimes I imagine I'm cuddlin' sweet old Susan Parker yet."
The album ends with what has become a favorite tune, "I Want To Mean Something To You," a gentle-sounding love song that turns just urgent enough on the chorus to reveal that the singer means what he says. Every woman should have a guy feel this way.
The credits include all the standard Strength In Numbers crew, from Bush to Fleck to Douglas to O'Connor, as well as the cream of Nashville session players. Winchester produced the album, with the help of Bil Vorn Dick, engineer, at Nashville Sound Connection. It just goes to show that Nashville recordings don't all have to sound like formula radio. The album is available locally at Four Seasons Records.