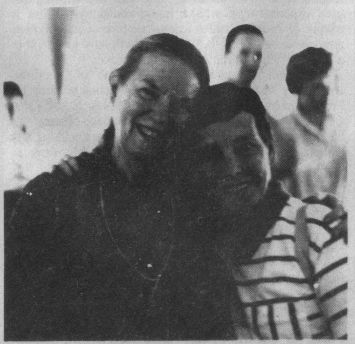 Jean Ritchie warmly greeted new-found fourth cousin Flo Ritchie at Iroquois Amphitheater following the Sunday morning gospel sing on July 30. Photo by Jean Metcalfe
KENTUCKY MUSIC WEEKEND
By Jean Metcalfe
Kentucky Music Weekend was wonderful! There were so many talented musicians performing at the three-day event that it is not possible to single out just one or two highlights.
Jean Ritchie was there, both as performer and instructor. On Saturday evening, July 29, after a lovely performance, she chose to lead the SRO audience in the singing of "Amazing Grace" for her encore number. Next morning she led a gospel sing, and despite the rainy weather the shelter house was filled.
But back to the beginning. The first performance of the weekend that I caught was that of Fred Meyer on Friday evening, July 28, in the Iroquois Amphitheater. Sorry I missed early performers Dick Albin and Anne McFie; I'm certain they were very entertaining.
Meyer played dulcimer with about 40 bales of hay "backing him up." He was subsequently joined onstage by David Schnaufer, who played a dulcimer that had been made in 1911. Saying, "You take off and I'll be with you," Schnaufer did just that as the duo performed such endearing and enduring tunes as "Wildwood Flower" and "Old Joe Clark."
Schnaufer told the story behind his 1911 vintage dulcimer. Seems it was made by a young man for a young woman he wanted to marry. She didn't marry him, and the dulcimer found its way into the hands of Schnaufer, who wrote a story about the girl, "Sara," a 16-year-old lass from West Virginia.
Schnaufer, who admitted to being "in the Appalachia mode lately," said he was driving in a rainstorm on his way to the festival and thought of the song "I Wonder As I Wander" ("one of the few songs from Appalachia that Barbra Streisand has recorded," he said). He followed his performance of it with "a couple of my old favorites from Texas," Ferlin Husky's "Wings Of A Dove," and western swing pioneer Bob Wills' "San Antonio Rose."
J. P. and Annadeene Fraley were truly charming as they made up their song list on the spot. The couple teased one another, and, claiming that her husband played a lot of songs about girls (he plays fiddle), Ms. Fraley (guitar and vocals) said she would do one about a boy. She chose "Sonny"s Dream," which she warned "was not a very happy song," adding, "I don't know any happy songs." I especially enjoyed their nostalgic and charming version of "Now and Then There's A Fool Such As I." I couldn't help but sing along, but not loudly enough to ruin the number for the folk around me, mind you.
Well-known LHP veteran was on hand to introduce Indiana native and "virtuoso guitarist" John McCormick, a fine performer who came onstage with a slick shopping bag which he said was his contribution to "Dare to Care." McCormick admonished the audience, "If you bring your 'can' out here, bring your canned goods." (The weekend activities were free, but donations of non-perishables were welcomed.) Sticking almost entirely to his promise to play only music composed by Johns, he sang "July, You're A Woman," which he dedicated to "anyone who has a birthday in July." I didn't catch the name of the song he himself co-wrote with a guy named Michael, but he was quite successful in his attempt to "test my falsetto under duress of humidity" on the number. Following several very entertaining selections, including some fancy picking on "My Sweet Potato," McCormick concluded with "a long traditional ballad," which he promised to sing a fast version of since he only had two minutes remaining in his set.
Cathy Barton and Dave Para, from Missouri (and KMW first-timers), allowed as how they like to play music they learned in their home state. Para played guitar and Ms. Barton switched back and forth between banjo and hammer dulcimer.
They were plenty entertaining with "Take Your Time Miss Lucy," "Cotton Blossom" and "If We Never Meet Again This Side Of Heaven," and I wrote in my notebook, "Good Job! Great Crowd Response!" "We never had that kind of reaction from 'Still On the Hill' before," Para said after they had finished the number and were basking in the applause.
Barton and Para's "Didn't I Dance In My Day" was lovely; Ms. Barton's vocal harmony on it was sweet to the ear. The song told the story of three generations of women and the role that dancing played in their lives.
The duo did an entertaining combination of two songs, "Reynard the Fox" (which had evolved into "The Bold Reindeer") and Gail Davies' "Grandma's Song."
Barton and Para came back for a well-deserved encore (first one of the evening while I was present) and sang a lovely number that concluded with the line, "Forever's a gift you're forever giving away." Ms. Barton played guitar on this number as the efficient stage crew had already removed her dulcimer. I predict this duo will be invited back for KMW's 15th anniversary next year.
Saying that they were as "intricate as a 2,000-piece puzzle," Ms. Barker brought on the Buzzard Rock String Band. The sextet of talented musicians of the male gender treated the outdoor listeners to a fine set of old-time tunes. (They play music "mostly from the '30s," they said.) I recognized one as a favorite of my mother's, and it brought back special memories.
The personnel of BRSB all excel at playing their respective instruments; Bruce Krohmer is superb on clarinet and sax, and the audience let him know they knew and appreciated it. (It seemed a little strange to have clarinet and sax in a string band, but I like it.)
A harmonica player joined the group for Bob Wills' "Brain Cloudy Blues, and his stage antics were quite humorous.
"Cake Walkin' Jake" gave BRSB an opportunity to plug their album I've Got the Blues for My Kentucky Home on the June Appal label, and they followed it with the well-known western swing tune "That's What I Like About the South." Krohmer was rewarded with enthusiastic applause for his clarinet spot. They concluded with "Elzic's Farewell," from their album.
Talented Jan Marra opened her set with a nice but lengthy Spanish ballad before moving on to a touching song she wrote about her neighbors in Minneapolis -- "it used to be my home town" -- entitled "Della & Rose."
Ms. Marra called out Bruce Krohmer and his clarinet to help out on "Oh Baby I Love You So," which she wrote for and presented to a gentleman friend. (According to Ms. Marra, he wasn't impressed; he should have been.)
Humor plays a part in a number of Ms. Marra's original songs, but frequently there is a message that comes through loud and clear as well. She performed an outstanding example of same with "Big and Strong," which "has a shout-along chorus for you to do." "Let's give plastic war toys to the Pentagon boys," she sang, and then advised them what they could do with them: "They can take their plastic Tommys and shoot down cardboard Commies."
Ms. Marra's guitar case is plastered with bumper stickers. (Can you call them bumper stickers when they're not on a bumper?) One of them says "Kill Your Television." Ms. Marra, singing with a blank stare, explained the expression as she poured out a sad-but-all-too-often-true portrait of many of today's youth:
My parents named me Deborah Lee,
I like the name Crystal Marie,
I don't know what I want to be,
I comb my hair and I watch TV.
A very clever original entitled "That Was My Evil Twin," was about the vehicle Ms. Marra used to explain her somewhat unorthodox actions when she first moved to Nashville and sorta let her hair down at parties, making a number of blunders. (I wonder if I was the only one to think of a certain comic strip and it's frequent past references to a certain "evil twin"?)
Following the tender "Mama, Is the Whole World Like This?," Ms. Marra responded to the audience's insistence on an encore by doing an a cappella version of what she said was the only song that she has had any commercial success with. And she asked everyone to sing along on that song -- "Banana Slug."
Our son's need for a ride home from work caused us to have to leave during the brief intermission before Garnet Rogers was to finish out the evening. The schedule had called for an 11:00 p.m. finish, but good music and the concomitant request for encores sometimes causes concerts to run long. That was the case on that lovely Friday evening outdoors at the Iroquois Amphitheater.
KMW originator / coordinator and emcee for the evening Nancy Barker was very gracious in her expressions of appreciation to the many persons and organizations that helped ensure the success of the weekend -- Brown & Williamson, the Iroquois Amphitheater Association, the Louisville Musicians Union and Jefferson Discovery. She also thanked the Louisville Dulcimer Society, Louisville Country Dancers, Louisville Homefront Performances, Louisville Area Songwriters' Association and Four Seasons Records for their participation.
On the sweltering Saturday afternoon of the weekend, I arrived during the lull between the day's and the evening's activities. I found a few musicians jamming with their fellow players, many of whom they had just met.
Members of the Lost Echo String Band (Kendra Ward, dulcimer; Michael Allen, fiddle; Bob Bence, guitar) were doing a few tunes under their tent near the parking lot when I arrived. A small group of listeners had gathered and we were treated to a nice Irish harp tune, "Sheebeg Sheemore."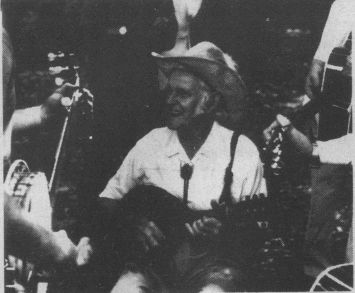 Cecil Bingham from Hodgenville played mandolin with some new friends at Kentucky Music Weekend. Photo by Jean Metcalfe
I especially enjoyed a lively group sitting and playing under the Iroquois Park trees, despite the several pesky insects that wanted a piece of the action. Although the gentlemen had just met one another, they did an admirable job with a rousing version of "Uncle Pen." The group was comprised of mandolin player Cecil Bingham, who, as it turned out, just happened to be the uncle of my first cousin's husband, Dell Shirley, lead guitar player for the Lincoln Jamboree. Small world. (Bingham is a very colorful and friendly gentleman, with a great smile, and I enjoyed chatting with him.) Joe Layman was playing fiddle, Mark Payne and Roy Davis played banjos, Ralph Doak played the guitar, and Bob King of Huntington, W. Va. plunked and tweaked what he called a gut bucket. (Thanks for the story of its origin, Mr. King.) I wanted to see more of the activities but found it impossible to leave before the pick-up group of players had finished "I Wonder Where You Are Tonight." I forgot about the heat while they were playing, although the music was plenty hot.
On my way over to buy a hot dog and cola, I spotted Tight Squeeze members tuning up for the "old time street dance" that was about to begin. Despite the heat, approximately 30 couples followed the caller's instructions and were having a great time. I vowed to take part, perhaps the next day. (I am a master procrastinator when it comes to participating in something at which I am not skilled.) I spotted several local musicians among the dancers -- Bob Rosenthal was having a marvelous time, as apparently were Jon Newmark and Dean Bolton. Members of Tight Squeeze providing the dance music were Nancy Harris, Henry Austin, Pete Komsiski and Beverly Buchanan.
I ran into Nancy Barker as she was taking a stroll through the area (probably a rare treat for her during KMW), and she was kind enough to pose for a couple of photographs beside a fetching trio of "sweeper covers." The handmade rag dolls looked for all the world like three-fourths of a ladies barbershop quartet, just looking for the missing member. Ms. Barker stood with the "ladies" for my camera, making things seem right, at least temporarily, for this former barbershop bass.
A brief look at the many crafts that were on display turned up the familiar faces of poet Umar Aki Williams and his hand-painted shirts and vests (I still haven't made up my mind which one to purchase), and talented Jim Griley, who had his lovely pottery on display.
Strolling under the trees I spotted members of the Celtic group Ten Penny Bit and some friends doing a little noodling on their respective instruments. Those I met were Louisvillians Mark Cannon and Aviv Naamani, and Hillary and Tim Schaiper and John Giver from Cincinnati.
In the midst of trying to make too many arrangements, meet up with too many people, and locate a public telephone, I missed most of Linda Thompson's set on the Saturday evening concert in the amphitheater. I had looked forward to hearing her.
Award-winning fiddler Jenny Armstrong entertained on Scottish pipes before switching to fiddle. After performing "Pretty Little Indian" she spoke to the audience about how difficult it is to play the fiddle -- "especially for the family!" She amused the full "house" with her account of how Jack (of beanstalk fame) learned to play the fiddle. As the story goes, Jack learned one note and played it over and over and over until he finally drove his wife to distraction. When the missus could hold her tongue no longer and gently mentioned that other people who play the fiddle move all their fingers, Jack countered, "Well, that's because they're all looking for this note."
Picking up her banjo, Ms. Armstrong invited her two young daughters to join her onstage for an audience-participation song called "Sweet Potatoes," and the seven- and nine-year-old young ladies helped the assemblage with their part.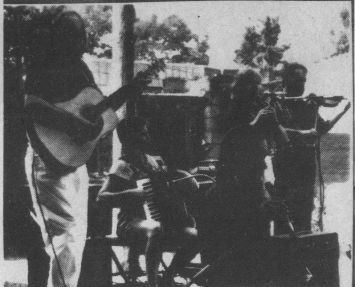 The Irish band Tight Squeeze provided the music for the 'old time street dance' on July 29 at Kentucky Music Weekend. Photo by Jean Metcalfe
Ms. Armstrong finished her set with a touching Indian song, for which her daughters and the audience provided sign language. "Now I walk in beauty," they sang and signed, and it was a touching ending.
Maddie MacNeil has a sweet, lovely, clear voice. She also plays hammer and lap dulcimer quite well. Ms. MacNeil, editor of Dulcimer Players News, provided a very listenable set of tunes, among them "Try to Remember," "Nonesuch" and "Autumn Leaves." A very pleasant set, indeed.
Acoustic guitar player Duck Baker dazzled the Saturday evening audience with his fine playing. He introduced his second number by saying that he was going to try to sing and play guitar at the same time. He mentioned that as of midnight he would turn 40. Just when you get your mind together, your body falls apart," he lamented. The song? "Don't Be Ashamed Of Your Age." At song's end he offered up a toast to his family: "May you live forever and grow to an enormous size." (Thanks, Duck, we needed to be reminded of age and girth! But, we'll forgive you since you are such a good performer.)
Baker's songs were all extremely well done. Other numbers on his song list included "The Drunken Ragman," "Maybelline" and a lovely instrumental version of "Flowers Of Belfast." He concluded his performance with an original song. "My daddy was a preacher," Baker said. "My solution to preaching like my daddy is to write gospel songs," be continued. Then he played one of his "sermons" -- "Blood Of the Lamb."
"Hello Central, Get Me Dr. Jazz" was Baker's dazzling encore number. WOW!
Jefferson County Judge/Executive Harvey Sloane came onstage just prior to the intermission to congratulate Nancy Barker on 14 successful Kentucky Music Weekends.
The Iroquois Amphitheater stage had a nice scrim that was changed from time to reflect the changing sky. Jean Ritchie made her appearance just as it starting to get dark and the scrim made the transition. Ms. Ritchie exuded such a sense of peace and serenity and validated it by opening her set with an a cappella version of "Now Is the Cool Of the Day." The audience sang along on the chorus. Accompanying herself on lap dulcimer, Ms. Barker's second number was "March Down to Old Tennessee,"a play-party song she learned from her family." "It's a kissing game," she confided.
With guitar accompaniment by Mark Englert, Ms. Ritchie sang "Edward," which came from Scotland and was preserved by her family. Next came the familiar opening lines "As I was out walking one morning for pleasure ... " followed by the many verses of the old favorite.
It seemed that a little bit of a tuning problem plagued the mining song "Blue Diamond Mine," as Ms. Ritchie played guitar and Englert played mandolin. They stuck it out without stopping to tune. Probably the weather.
Speaking of days gone by, Ms. Ritchie said that dancing was about to take place when someone shouted "Hey, come on, let's have a little sugar on the floor." Now, "sugar" wasn't always sugar in this instance. It was but one substance (others were sand and meal) scattered on the floor to provide a proper surface on which the dancers could glide. Having provided a proper introduction, Ms. Ritchie sang "Sugar On the Floor."
Two request numbers followed: "With Kitty I'll Go for A Ramble" -- from the first record (she has recorded nearly 40 albums) she did for Warner Brothers -- came first, and she performed it a cappella.
"I don't know if I can get through it," Ms. Ritchie said of "Abigail," the second requested number, which she wrote to honor her mother. Ms. Ritchie spoke lovingly of her mother, a woman who "raised 13 of 14 children." Ms. Ritchie recalled that her mother would look up at the early-morning or late-afternoon sky and say, "It's plumb just like a robin's egg." Ms. Ritchie left the stage after she had finished singing the touching tribute to her mother.
Rousing applause and whistles brought the "matriarch of mountain music" back for one more song. "I know about 500 songs -- I don't know which one of them to pick," Ms. Ritchie said. She picked "Amazing Grace," and it was sheer joy to sing along with her and my friends Marie Augustine and Wally Stewart who sat on either side of me, and all the other folk in the beautiful outdoor theater on a beautiful evening.
It's not easy to follow a legend, but the talented New Coon Creek Girls had been chosen to do just that. They did it well. The attractive, vivacious young ladies immediately took charge of the stage, and never let up. They wore brightly colored costumes, but the costumes paled in comparison to their talent.
The ladies let us know right up front that they possessed considerable musical talent by kicking off with a sizzling introductory ditty, and then going into the up-beat "Banjo Pickin' Girls," followed by "I'm Going Round the World Baby Mine."
The talented foursome spoke of how the original Coon Creek Girls started at Renfro Valley forty years ago and that they themselves had started at Renfro Valley ten years ago. Lillie Mae Ledford, a member of the original Coon Creek Girls, had taught them a couple of songs from Renfro Valley days and the ladies shared the songs with their audience. I suspect I wasn't the only one there who had fond childhood memories of "How Many Biscuits Can You Eat?" ("forty-nine and a ham of meat") and "Flower Blooming In the Wildwood," the latter being the original group's theme song. Wanda Barnett from New Albany, Ind. was featured on the number and was playing an old Gibson guitar that Ms. Ledford used to play at the Renfro Valley Barn Dance.
I was blown away by the fiddling of Deanie Richardson, the youngest member of the female foursome, and didn't doubt for one moment the group's claim that the petite redhead from Kingston Springs, Tenn. was the reigning state fiddle champion of Tennessee as well as the reigning state banjo player of Kentucky.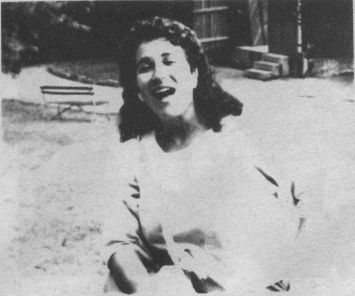 Jan Marra 'took five' after a full schedule of activities at Kentucky Music Weekend. Photo by Jean Metcalfe
Vicki Simmons and Annie Kaser comprised the other half of the New Coon Creek Girls, and they, too, were excellent musicians.
Other tunes the Girls' favored the KMN audience with included "I Know What It Means to Be Lonely," "Blue-Eyed Boy," "Charlie" (an original about a gentleman who had been an inspiration to the group), and a fantastic twin-fiddles number on which the 17-year-old's father came onstage to accompany with guitar.
In an interesting change of pace, the four ladies teamed up on "Silver Bells" which they reminded the audience was a favorite on the old "Lawrence Welk Show." They finished up with "Up Jumped the Devil," before being called back for a marvelous encore number, "Night Train to Memphis." They had no trouble at all getting the appreciative audience to shout out the hallelujahs in the song. Whatta performance!
Making his first appearance on the KMW concert stage, Louisville native Alan Rhody, led off with "the weirdest song I have ever written -- I don't know what else to follow them with." The talented performer and hit songwriter ("I'll Be True to You," "Train Wreck of Emotion" and "Wild-Eyed Dream.") sang "But He's A Good Boy," about a dog who is an "'atomizer, fertilizer, when he sits on an upwardly mobile lawn."
Rhody covered a Jimmie Rodgers tune for his second number before switching to "Somebody to Care," a Rhody original that was recorded by Tanya Tucker a few years ago. Next up was Rhody's "I'll Be True to You," which the Oak Ridge Boys took to No. 1 on the charts several years ago, and which will very soon reach the million-play mark!
Rhody also included on his set "From A Real Good Home" which he co-wrote with excellent songwriter/performer Don Henry, who recently signed with CBS Records. "It's about priorities," he said, and he no doubt stepped on a few toes with his reference to pocketing the change from the error of a waitress' miscalculations in adding up his check.
Following the melancholy "White Roofs," from his Border Crossings album, Rhody leaped into "Train Wreck Of Emotion," hit song (and video) for Grand Old Opry member Lorrie Morgan.
"Grandpa's Boots," a poignant memory from Rhody's childhood ("Grandpa, Grandpa, you're a fine old ghost, falling asleep in front of the Philco.") came next, followed by a tune "for you guys who haven't been able to get that girl's attention that you have been working on." "Change Your Mind" is a clever tune that includes just about every tentative phrase known to man ... maybe.
Rhody chose Dylan's "Restless Farewell" to close his set. He was at his best that evening. A lot of emotion came across that chasm that separates the audience from the performers at the Iroquois Amphitheater. I hope his first appearance on the KMW stage will not be his last. (Alan, that pregnant pause before the tag on "Restless Farewell" caused the tag be be just a tad post-mature, but I don't believe many of us noticed, especially when you flashed that wide smile.)
Golden Bough, the final act of the evening, had just returned from a European tour and they were in fine form. The trio has been performing at KMW for several years, and they are a talented group. Playing an assortment of instruments (accordion, guitar, fiddle, harp, et al.) they presented a nice selection of originals, including "Stand In the Light Of the Morning," "Farewell to Whiskey," and a gypsy number which prompted one member of the group to remark that in his youth he had wanted to run away with the gypsies. "But they never came to the suburbs," he said.
"The Brisk Young Butcher," a clever story about a woman getting even with a man who had taken advantage of her, was the last number I heard before having to depart.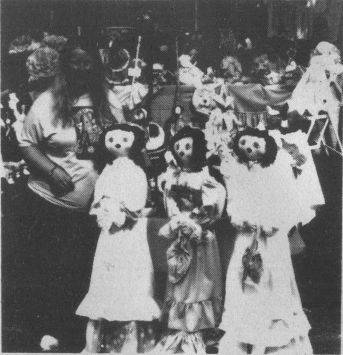 Nancy Barker, originator / coordinator of Kentucky Music Weekend, took time out from her duties to pose with crafts that were displayed during the event. Photo by Jean Metcalfe
On my way home I wondered if a person could listen to too much music in too short a period of time, but pushed the thought aside with plans to return for the next morning's gospel sing with Jean Ritchie.
It was a wet Sunday morning. The rains came and so did the folk who wanted to be a part of the Sunday Gospel Sing led by Ms. Ritchie. Maddie MacNeil, Cathy Barton and Dave Para also took turns singing some of their favorite gospel tunes. It was a moving experience to join voices and hearts for the Sunday-morning "worship service."
I stuck around for the Songwriter's Workshop & Showcase, hosted by Jan Marra and Alan Rhody. Anne McFie and Fred Schnaufer also participated on the panel. Each spoke briefly about songwriting and performed a couple of their own originals.
Following the workshop, several members of the Louisville Area Songwriters' Cooperative showed off two originals apiece. The performers were Marie Augustine, Dan Colon and Fred Otto, Bill Ede, Ed Jackson, Paul Moffett and The Rays (Becky Bennett and Kelly Wilkinson). Time overruns made it necessary to cut the showcase short so that Jack Twombley could perform his scheduled "Close-Up" Concert. The remaining songwriters performed on the open stage that Twombley hosted following his concert. A lot of good original tunes were heard, and a non-L.A.S.C. member -- Rob Lusk -- did really nice instrumental versions of several airs, reels and jigs, one of which was "Pretty Girl Milking A Cow."
Ken Lucchese joined Becky and Kelly for one more tune to close out the open-stage portion of the weekend.
Things were beginning to slow down and I headed over to watch Tight Squeeze and the Sunday version of the Old Time Street Dance that had looked like such fun on Saturday. But things were different on Sunday. The earlier rains had forced the dance indoors, and I didn't see the kind soul who had volunteered to be my partner should I decide to give their style of dance a try. The muggy weather and a lack of nourishment perhaps made me a bit myopic. I had done my part to drum up a few dancers from among the ranks of the L.A.S.C. but without success. Even Bill Ede, who had also stopped by, took flight when I gave him a wave from across the dance floor. He no doubt feared that I would ask him to dance. (I forgive you, Bill; I suspect you're about as flashy a dancer as I am!)
After a last look around the Iroquois Amphitheater area and a brief chat with Duck Baker, Jan Marra, Jack Twombley and Rocky Adcock, I headed for home. It had indeed been a full and rewarding weekend.
We're looking forward to next year when KMW celebrates its 15th anniversary. Nancy Barker has told us to expect great things.