Little Feat and Jeff Healy at Louisville Gardens
By Mark Sickles
At the end of the 70's, music fans were bewildered by the death of Lowell George and robbed of a phenomenal band when Little Feat subsequently disbanded. Sunday night at Louisville Gardens, they were witness to the rebirth tour of the Feat, with Craig Fuller filling in for the late George.
On the heels of a highly successful new album, Let It Roll, the band rolled into the Gardens and delighted the crowd with classic, nearly perfect rock and rhythm and blues sounds. The band is currently composed of original members Paul Barrere, Billy Payne, Richie Hayward, Kenny Gradney, and Sam Clayton, plus longtime friend and musical collaborator Fred Tackett, and the former lead singer for Pure Prairie League, Craig Fuller.
The two-hour set they performed on Sunday was a dream for old and new fans alike. Reprising such tunes as "Fat Man in the Bathtub," "Down On the Farm," "Rock 'N Roll Doctor," and "Rocket In My Pocket," Little Feat sounded as if they had never laid down their instruments. Craig Fuller's vocals did credit to the George tunes as well as shining on the newer tunes from the current record. Barrere and Tackett were crisp and precise during their leads, alternately trading solos. Payne's keyboard solos on the classic "Atlanta" and the title tune, "Let It Roll" were truly inspiring.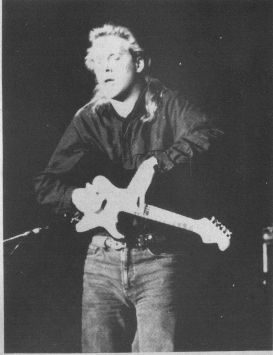 Toronto guitarist Jeff Healy.PHOTO BY MARK SICKLES
Hayward was in excellent form, laying down the thundering back beat with such ease and grace that it was as though he was a human version of the Muppets' drummer 'Animal." With the steady conga and percussive drive supplied by Sam Clayton, the band rolled through the evening like runaway freight train, yet still in control of the show and the crowd.
The group played the tunes from the current album, was well such old Feat tunes as "All That You Dream," "Waiting For Columbus," "Dixie Chicken," and "Feats, Don't Fail Me Now." Tackett's mandolin solo on the new tune "Cajun Girl" was fantastic, as were many of the guitar breaks. The band left the crowd screaming for more after the obligatory encore, with the tunes "Apolitical Blues" and the best-known George tune, "Willin'."
Blind Toronto guitarist Jeff Healy and his two-piece band opened the show, performing tunes from the current album, See The Light, as well as guitar standards like "Bluejean Blues" and the Doors' "Roadhouse Blues." Healy sports a double neck guitar, which he played while doing his current single, "Angel Eyes." Healy is worth watching for in the future.