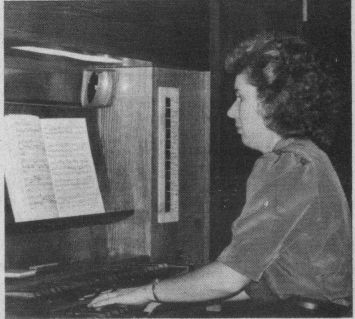 Marsha Carrell plays the organ at Cathedral of the Assumption as part of their free "Lenten Middays" concerts. Photo by Jean Metcalfe
Cathedral Of The Assumption Hosts Free Concerts
By Jean Metcalfe
Glorious sounds coming from the magnificent pipe organ completely filled the sanctuary of the Cathedral of the Assumption midday on March 14.
Talented organist Marsha Carrell seemed to literally pull out all the stops as she played Josef Rheinberger's "Sonata No. 7 in f minor" for the audience of approximately 40 people, most of whom had remained after the mass for the concert.
Ms. Carrell, a music major at the University of Louisville, is the organist for Calvary Lutheran Church in Louisville. She and Cathedral of the Assumption's regular organist David Lang kindly gave me an up-close look at the made-in-Louisville Steiner-Reck organ that had been installed in 1983.
The performance was one of the "Lenten Middays" concerts sponsored by the Cathedral Heritage Foundation at the beautiful old church at 433 South Fifth Street in Louisville. Concerts are ongoing during the months of October through May.
Recent concerts at the Cathedral have included performances by the Berea College Choir, the Kentucky Cello Club, Kentucky Opera (Operalogue: "Magic Flute"), the Louisville Youth Choir, the Jewish Community Orchestra and organists Tony Thurman, Chin Kai Lim and Mack Fogle.
Concerts in April will feature the Black Diamond Choir (April 1 at 6:45 p.m.) and The Whitney Trio (April 19 at 7:30 p.m.). The midday concerts will continue each Wednesday at 12:40 p.m. following the Noon Mass. Performers include organists Gottfried Heim (April 4) and Stephen Black (April ll), Kentucky Opera (Operalogue: "The Embarrassed Tutor") on April 18 and the Baroque Chamber Players (April 25).
All concerts are free and open to the public. Further information may be had by calling the Cathedral Heritage Foundation at (502) 583-3100.