Desert Rose Band At Flaherty's III
By Jean Metcalfe
"The tour is going fine," Desert Rose Band's Herb Pedersen told me by telephone a few hours before their March 5 appearance at Flaherty's III.
He sounded great and seemed to be looking forward to the evening's concert. They were only a few days into the l5-day schedule, he said, having just spent a week at the County Music Association's Country Radio Music Seminar in Nashville, Tenn.
Desert Rose Band does a few club dates "here and there," Pedersen said when I asked about their appearance in the intimate setting of Flaherty's III, but mostly they do auditorium-size (5,000 seats) concerts.
Would there be any new stuff – any surprises – at the Flaherty's concert, I asked. Pedersen replied that basically they'd be doing material from their first and second albums, The Desert Rose Band and Running, and from the recently released third album Pages of Life, all on the MCA label.
After their current tour ends, Pedersen will be going to Branson, Mo. to produce an album for the Dillards, the bluegrass group that he was with in 1967-68. His long-range plans include pursuing a career in the production end of the business, but he'll stay with the band as long as the Desert Rose is still blooming. He doesn't want to "get off the train," he said, but plans to "ride it" for as long as it's moving on.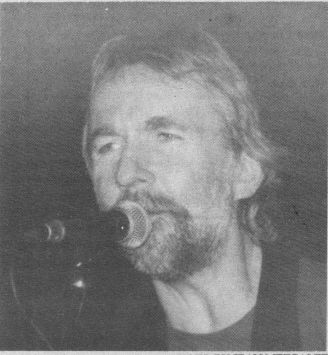 Herb Pederson. Photo by Jean Metcalfe
When I asked Pedersen how he would describe Desert Rose Band, he said they are a "new traditional type band." They have a lot of respect for what they "came up with" – West Coast music – influenced by such greats as Buck Owens and Bill Monroe, et al.
Pedersen mentioned that DRB's Chris Hillman (a founding member of both The Byrds and the flying Burrito Brothers) had played mandolin with Vern Gosdin in the '60s in a bluegrass band called The Golden State Boys, "kind of a West Coast Louvin Brothers." (Hillman handles lead vocals and acoustic guitar for DRB.) Pedersen was playing five-string banjo with a bluegrass group – The Pine Valley Boys – at about that same time.
I was looking forward to hearing the group that evening. I knew that Hillman and Roger McGuinn had received an Emmy nomination for their version of Dylan's popular "You Ain't Going Nowhere," a cut on Nitty Gritty Dirt Band's Will the Circle Be Unbroken, Volume Two album.
Pedersen came over and sat with my husband and me as we were waiting for dinner at Flaherty's and we talked a bit more about Desert Rose Band. He said that they'd be in concert at Birchmere, a bluegrass club in the Washington, D.C. area the following evening. Hope they sleep well on a bus.
Pedersen, who at one time played with Tom Wopat of "The Dukes of Hazzard" fame, is especially proud that he worked on the Trio album made by his friends Linda Ronstadt, Dolly Patton and Emmylou Harris, arranging all the songs for them.
Other career highlights for Pedersen include working with Lester Flatt, James Taylor and John Denver.
The concert at 10 p.m. did not disappoint! Lots of energy and talent – both individually and as a group. The California-based DRB writes most of their own material and it's quality stuff.
WAMZ's Coyote Calhoun introduced the six-piece band as "the Academy of Country Music's Band of the year – my favorite band of any year – MCA recording artists, the Desert Rose Band!"
They spoke not a word but went straight to their work. They plunged right into "Summer Wind" and never let up. The audience was theirs from the opening moments and at evening's end they stood on their feet for a good while before accepting the fact that DRB was already safely aboard their leased 45-foot tour bus.
Their second number was "Love Reunited." "This is for you Coyote," they said to Calhoun who was enjoying the concert from the catbird seat – front and center. "He's a good friend of ours," they said of the Emmy award-winning deejay.
"You know," Jorgenson said, "they call all these groups, us included, country rock. I'm so tired. It's Desert Rose Band music. Here's a good example," he said of the upcoming song. And it was a good example – "Start All Over Again," written by Hillman and Steve Hill.
They did "Everybody's Hero and "In Another Lifetime" from Pages of Life, the latter being their current single.
"This is going to be our next single," they said of "Story of Love," from their Pages of Life album. (I was confused by my notebook jottings that they had introduced the song as the "title cut" from the album. The song's first line is "The pages of life have never been turned ..," so I suppose that explains it.) The listener is encouraged to "Be a believer in the story of love." Good, positive song.
Each of the six members of the DRB are outstanding musicians. Lead guitarist Jorgenson played mandolin on a tune or two and took a great audience-pleasing instrumental break. Pedersen, who does all the vocal arranging for the group, switched from acoustic guitar to banjo and from harmony to lead vocals on "Fooled Again." Great! My enjoyment of this number was doubled by the fact that Pedersen had been so gracious both on the phone and in person earlier in the day.
"Darkness On the Playground," an anti-drug song, came next and it was very poignant.
To change the mood, Hillman enthusiastically introduced the members of the band. (Besides Hillman, Pedersen and Jorgenson, there was Bill Bryson on background vocals and bass, Jay Dee Maness on pedal steel guitar and Steve Duncan, drums and percussion.) What a talented bunch!
"You can do everything you want within the confines of western morality," Hillman said, after inviting the members of the audience to dance. The words were hardly out of his mouth before the dance floor was filled with enthusiastic couples and the room was filled with the No. 1 hit sounds of "He's Back and I'm Blue," followed by their No. 2 hit "One Step Forward and Two Steps Back."
The great entertainment seemed to get even better as the evening flew by. There was the touching "Our Baby's Gone," a Pedersen-penned account of watching his little daughter growing up:
I looked at her once, Then I looked at her twice.
Her little legs are longer and I'm runnin' out of time.
The boys are gonna chase her, I'll be standing in line.
Our baby's gone …
And there was "God's Plan," about finding hope through adversity:
"Who are we when we fail to cope.
In the bad times is where we find our hope.
In an abrupt change of pace, DRB tore into "Hello Trouble" and "I Still Believe In You Now," ending with "The Price I Paid for Loving You." They clowned around and had a lot of fun. It was contagious.
A genuine standing ovation brought DRB back for one encore number – "I finally Stopped Running." The fans continued to stand and insist on more.
But when Garland Flaherty stepped down from the spotlight platform, I knew the guys had "left the building."
Later, after I had spoken with Jorgenson and was standing out by the tour bus, I was greeted by Flaherty, who seemed quite pleased with the evening's events. I stuck around while the roadies loaded the equipment in the bus. Even Joe, the bus driver, was a good will ambassador for DRB. He shook our hands and spoke about the overnight trip to D.C. We exchanged admonitions to "drive carefully." It was fun, like being at the bus station saying a fond farewell to friends off on an exciting trip.
Explaining why he chooses to operate the lights himself, Flaherty said: "There are two reasons. Number one, I work cheap. Number two, I like to be called 'light boy."'
It was a great evening. Indeed.
-