Guitars for Stars (and guitars for regular folks, too)
By Paul Moffett
The last time Bob Dylan was in town, Jimmy Brown, owner of the Guitar Emporium, got a call from Saturday Night Live! musical director and Dylan sideman G. E. Smith. Would Jimmy close the store if Bob wanted to look at some guitars, Smith wanted to know.
"Of course, I said, of course." Brown chuckled. "By all means. We'll lock the door if he wants to come in."
Time constraints kept Dylan from coming over, but Smith did spend a couple of days in the store, looking at and playing guitars. When the Desert Rose Band was in town recently to play a show at flaherty's, Chris Hillman and Herb Pedersen spent a good part of the afternoon in the store at 1019 Bardstown Road looking over instruments and equipment.
Such drop-in visits from traveling superstars did not happen by accident. It was the result of steady efforts on Jimmy Brown's part to build his business, efforts that have resulted in an international reputation for honest dealing in quality instruments.
Brown's involvement with guitars started out as a teen-age attraction to "cool guitars and playing rock 'n' roll." He spent every Saturday morning at Durlauf's music store, looking at guitars. He got hooked into the business when a local professional musician offered to buy a guitar he owned. The sum offered resulted in a "sizeable" profit, enabling Brown to buy an amplifier he had been coveting.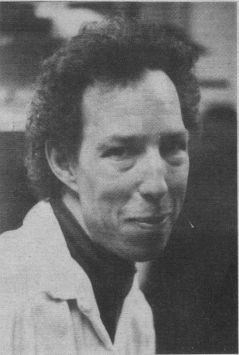 Jimmy Brown. Photo by Jimmy Brown
From that point on, Brown was in the guitar business. In 1970, he began operating out of his parents' home, buying guitars out of the Bargain Mart, fixing them up and reselling them. Matters soon progressed from one guitar in the living room to lots of guitars in the living room, until it became necessary in 1975 to open a store.
His realization that the business could have a national scale came when he very nearly sold an instrument to Neil Young. Nothing came of that particular deal, but it encouraged Brown to begin to branch out into the national scene.
He started making regular face-to-face contacts with rock stars who came to town. The Guitar Emporium became the place for touring groups to get their instruments repaired, as well as a place to find a desired vintage guitar. first visits often resulted in mail order business later. Jeff DeMarco, Brown's partner early in the business, handled serious repairs, while Brown did minor repairs and sold instruments.
When the Rolling Stones were in town in 1981, Brown was hired to be the Stones' chauffeur. As a result, he "got to hang around with them," watched them rehearse one night for a movie and established a solid relationship with the group. Now he sells guitars and equipment to them and takes care of occasional odd requests, such as sending a bottle of Rebel Yell to their New York offices.
Brown's policy is to treat stars like regular people, albeit rich regular people. He usually gets a call from some band's guitar technician, asking him to bring over instruments or equipment for them to look over and, possibly, buy.
Keith Richards bought a Guild Bluebird guitar just like the one he played when the Stones appeared on the Ed Sullivan Show. He also bought a Gibson ES 350 like the one Chuck Berry used to invent all of rock's niftiest riffs. Eric Clapton was also looking for that same guitar.
The business was not always so successful or glamorous. In the beginning, DeMarco and Brown were partners. When the store came close to failing, DeMarco sold his share to Brown. Brown kept the store going, often playing jobs to make the money to cover the business' expenses. He was so broke that he moved in with his brother and lived on peanut-butter sandwiches. Despite the struggle, Brown notes that in the fifteen years the store has been in business, he has never failed to make his payroll.
He spends hours each day on the phone, giving advice, quoting prices and talking about guitars. The store has become a source for dealers in other parts of the country and some of them call daily for information.
If he were a stockbroker or lawyer, says Brown, they'd get a bill, but all he can hope for is that the telephone time will result in sales down the line.
Repairs have become a larger part of the business, in part because of the skills of the store personnel. The Guitar Emporium was recently designated an authorized Gibson and Ovation warranty repair store. The store handles guitars made by Gibson's custom shop.
The repair shop takes work from other stores. Because he wants to stay on good terms with those stores, Brown avoids direct competition with them. The new instruments he sells are only high-end specialty guitars such as Rickenbacker and Paul Reed Smith, which are not normally handled by retail music stores.
Even though he sells some new guitars, old guitars are what excite Jimmy Brown. He has driven as far as a thousand miles to look at an instrument and he'll still go traveling, if someone calls him with an instrument he is interested in. Lately, he says, that's about every week.
The guitars he would most like to find are cutaway D'Angelicos, "just like the one Mel Bay is playing on the cover of all those books." Unfortunately, because D'Angelico made each guitar on order and kept very good records of who bought them, the location of nearly all the existing D'Angelico guitars is known. The chance of stumbling across one is very low, although it is still possible to order a guitar made by D'Angelico's assistant. These guitars also appreciate rapidly in value.
Martin, Gibson and Fender Stratocasters are high on the list as well, as are Lloyd Loar mandolins.
The guitars made by Kentucky luthier Hascal Haile are not well known outside this region and so don't sell as well because of the lack of name recognition. Brown doesn't handle new handmade guitars at all because their name recognition is so low that they can't get a good price, even if the guitar is of excellent quality.
Vintage guitars have proven themselves, Brown states, by holding their value as an investment and by being proven as an instrument working on stage and on record. While prices do go up and down, they generally increase.
He recently sold a 1954 Fender Stratocaster, a first-year production model, for a price that set a store record for that kind of guitar. The value of Stratocasters has been depressed because of the over-supply of the instruments. The one Brown sold was in excellent condition and was a first-year model. The buyer evidently decided that he was not going to find another in such good shape for such a price, Brown noted and so paid top dollar for it.
Brown noted somewhat ruefully that another person called the very next day and offered five hundred dollars more for the instrument. – The beauty of vintage guitars is like that of vintage cars – not only are they good investments, but they also can be used and enjoyed. Brown commented that he keeps an old herringbone Martin guitar around his house to lay.
For the future, Brown would like to develop the local end of the business a bit more. He asserts that no store in Kentucky or in the region has the variety and selection of vintage guitars that can be found on any given day at the Guitar Emporium. Not all the guitars in his shop cost ten thousand dollars, either, he says and someone just getting started can come in, ask questions, look at some of the instruments that helped shape American music and still find a guitar that suits for a reasonable price.
"Guitars for the stars, guitars for regular guys," Jimmy Brown says and he means it.
Brown can be reached by calling (502) 459-4153 or by writing to: The Guitar Emporium, 1019 Bardstown Rd., Louisville, KY 40204.