The KYANA Blues News
The KYANA Blues Society and the Minority Programming Committee of the University of Louisville will co-sponsor a Spring Blues Fest at the Red Barn on Saturday, April 21, 8 p.m. The Red Barn is located on University of Louisville Belknap Campus.
Scheduled artists are Blacktop Recording artists Ronnie Earl and the Broadcasters; from Chicago, the explosive West Side Heat; NRBQ founding member Steve Ferguson and the Humanitarians; Foree Wells and the Walnut Street Blues Band (Wells formerly played with B. B. King and Bobby "Blue" Bland); and the 1989 Sylvester Weaver Award winner Henry Woodruff and the Noisemakers.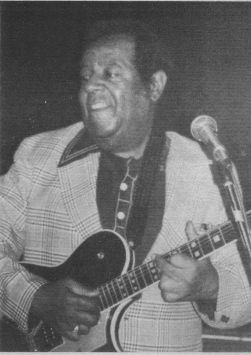 Foree Wells. Photo by Jean Metcalfe
Tickets are $11 at the door, $9 for KBS members. Advance tickets can be purchased at Ear X-tacy, 2431 Bardstown Rd. After April 1, Ear X-tacy will be at 1140 Bardstown, Louisville 40204.
The two-day Blues Benefit at the Cherokee Blues Club was a success, netting over $800 for the Blues Society. Foree Wells and the Walnut Street Blues Band led off the Wednesday portion of the show. Other performers included da Mudcats, Mark Stein and the Steamrollers, Doug Wright and the Nomads, the Sonny Love Band, Lamont Gillespie and the Homewreckers and Curtis and the Kicks.