Louisville Homefront Performances Celebrates Sixth Anniversary Alan Rhody and Stealin Horses Perform
By Jean Metcalfe
Congratulations to Louisville Homefront Performances for providing quality musical entertainment in an excellent listening environment for the past six years!
Alan Rhody, who has appeared on all but one of the anniversary concerts, returned to lend his considerable talent to the March 10 show. And he brought along talented guitarist Eugene Moles to accompany him on the stage of the Stuart Robinson Auditorium, Sixth and Magnolia. A Louisvillian now living in Nashville, Tenn., singer-songwriter Rhody was one of the Homefront pioneers.
Rounding out the entertainment was the Lexington, Ky.-based group Stealin Horses. The four-piece band was comprised this evening of only Kiya Heartwood and Kelly Richey. "You're seeing the acoustic version of Stealin Horses," Heartwood said, adding "We usually make a lot more noise."
Heartwood, lead singer and principal songwriter for the group, sings full tilt in the style of Janis Joplin and plays acoustic guitar. Richey plays a get-down electric guitar and backs up Heartwood's vocals.
Warm-up emcee Dave Self welcomed the better-than-half-full house to the anniversary show and elicited a laugh from them when he allowed as how the New Kids on the Block, appearing at Freedom Hall that evening, probably "cut into our audience."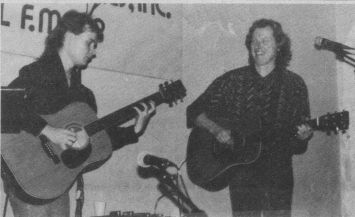 Eugene Moles, left, and ALan Rhody. Photo by Jean Metcalfe
The taping of two shows for later broadcast on Louisville's radio station WFPL-FM was done during the evening. The second was by far the better of the two. The auditorium was a bit on the warm side and the performers seemed to be experiencing a little discomfort during the first taping. Nonetheless it was a good show. The second portion really took hold and the audience showed their appreciation.
Homefront founding father and emcee for the evening John Gage welcomed the audience and spoke of the first LHP concert (featuring Tom Lee, Vikki True, New Horizon and himself). "We've added a lot," Gage said. "I've added about twenty pounds," he quipped.
During their several stints on stage, Stealin Horses sang of such subjects as "being stuck in a small town." (It was, Heartwood said, written about a town in Kentucky, but could have been about other towns.) The Arista recording artists, whose music has been described as "acid bluegrass,"also sang about "standing up for yourself" in their original "This House." "It's about our band. We're kinda weird," Heartwood said. The chorus:
This house is made of oak and stone.
Here I '11 make my stand,
If you want to know me,
You'll have to take me as I am.
Other songs that evening included "Tangled," which they described as a good example of their "weird bluegrass sound." "Actually it's a nice bluegrass song about lust," they elaborated.
The two performers didn't seem too weird to this writer. Both ladies wore no-nonsense jeans. Heartwood had on sneakers and there was a large feather attached to the neck of her guitar; Richey's footwear was boots with metal-tipped pointed toes that gleamed when she stepped on the volume pedal of her guitar. Nothing glitzy here. Their name is another matter. "Stealin Horses."Now that's weird.
They also sang "Walk Away," a touching original song about a woman trying to hold on to her farm. It's a cut on their first album Stealin Horses. (They have a second album coming out soon.) Abolitionist leader Harriet Tubman was the subject of a song of the same name which Heartwood was inspired to write following an occasion on which she had used the lady's name to defend the South and its people. Nice instrumental break on this one.
In "Somewhere Between West Virginia and Tennessee," Heartwood allowed as how "My guitar used to be the only friend I had," but went on to boast that things had changed and that "I ain't no angel but I've got the wings to fly," and "If you want me I'll be somewhere between West Virginia and Tennessee."
Heartwood gave out an address for Stealin Horses (P.O. Box 22177, Nashville, TN 37202) and coyly promised that "If you want to write us, we'll send you post cards and tell you our favorite colors."
Heartwood hit hard with "I Believe We Can Make A Difference," a song she wrote when "I got kinda disgusted with my yuppie attitude." She certainly didn't shy from controversy with the line that challenged "Please explain where in history buying guns helps anyone."
Stealin Horses ended the taping of the first show with "The Ballad of the Pralltown Cafe," about "a shotgun house with a jukebox" where young people used to hang out, but which was shut down because the patrons were "too black and too loud." She tagged it with "I wish we were rocking in the cafe tonight," after which she asked the audience to clap their hands and join in on the a cappella repeat of the chorus, which they did. LHP audiences are cooperative that way.
Gage introduced Rhody as an example of "the best of folk and country," and mentioned several of the hit songs Rhody has written and/or co-written ("Wild-Eyed Dream," "Train Wreck of Emotion," "I'll Be True to You," Somebody to Care," et al.) Rhody plunged into a song that wasn't familiar to this fan, wherein "You've got me walking in circles, shaking my head, waking up at midnight in a cold fright, wondering what in the world I did. You've got my heart on hold, you've got my love in limbo." Missed the title of the song.
His second number was the unusual "Merci Beaucoup," written as a thank you to the great French impressionist painters. I'd heard it before and I like it, even though I think it's unusual to hear a song about famous painters. There's certainly nothing wrong with unusual, however. I actually once heard the word chateaubriand used in a song. Don't think it made the charts, though.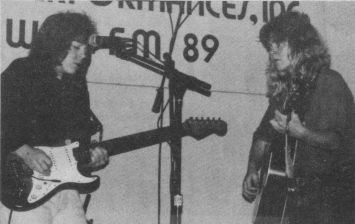 Kelly Richey, left, and Kiya Heartwood. Photo by Jean Metcalfe
There was a song about abuse ("What Are You Crying About, Maria'?") and a song about hope ("And A Rainbow"). Both were very nice and Rhody sang them in the more palatable order. The latter number was an example of Rhody's excellent mood-setting ability reminiscent of his "White Roofs" which he performed in his later set.
Gage sang a song on each of the two taped performances. Both were Hoyt Axton tunes, "Boney Fingers" ("Work your fingers to the bone, whaddya get? Bony fingers") and "When the Moming Comes":
When the morning comes and you gotta get up,
How you gonna find your shoes?
In an empty bed with an aching head.
You know it's gotta give you the blues.
Rhody got the audience's attention immediately when he opened the second half of the evening (prior to the taping of the second show) with "Wild-Eyed Dream," a hit song for Ricky Van Shelton a couple of years ago. Guitarist Moles, a talented young man from Bakersfield, Calif. who once played with Merle Haggard, was prominently featured on instrumental breaks and he was good.
I was very touched by a song that Rhody had co-written with Curtis Green titled "The Face of the Earth." Rhody had hoped to perform it on this year's Farm Aid concert, but it was looking unlikely that he would be able to do so. Too bad. All the lyrics were good. This is the refrain:
If we could only see we were meant to be in a world without hurt,
We could wipe away the tears from the face of the earth.
When the taping of the second show began, Rhody launched into "Change Your Mind," a clever testimony to a person's ability to cling to the slightest possibility that things maybe, just might, could possibly turn out the way they'd like for them to turn out.
"From A Real Good Home" deals with the little white dishonesties that are all too prevalent in our society. It surely must have made many wince when he sang about how one person dealt with an incident in which a waitress gave him back too much money when he paid his check. "I didn't feel a thing as I pocketed my change, but I come from a real good home."
He concluded with the spell-binding "White Roofs," a cut on his Border Crossings album.
Stealin Horses came back and offered up a love song called "It's Not Magic," and followed up with "One Real Song," which Heartwood said represented "As accurately as I can describe what it feels like to play music for a living." The opening line, "Another day in another hotel room…," gave the impression that it's not all applause and acceptance "out there."
"I try real hard not to write depressing songs," Heartwood related. "This is a song to sorta cheer myself up," she said, introducing "Turnaround."
As an aspiring songwriter, I especially enjoyed the telling of how they happened to write a particular song. "A Heartbreak Town." Heartwood explained that it was inspired by an evening of hanging out down in the area of Nashville where the old Grand Ole Opry house is located. A woman was "singing Hank Williams Sr. songs with makeup running down her face." Someone in Heartwood's party said, "Man, this must be a heartbreak town." Viola! (Songwriters, are you listening?)
Rhody came back with his Tanya Tucker hit song, "Somebody to Care," followed by the personal original "Grandpa's Boots," which he included on both his cassette albums, Border Crossings and Stop the Rain. (A new digitally remastered and remixed version of the latter was on sale that evening and is available by mail. The address: Alan Rhody, P.O. Box 121231, Nashville, TN 37212. Price is $19 which includes postage.)
Rhody also presented a brand new song that he had just written, "Care What It Means." A sample of the chorus lyrics:
Cause the creatures of the air can't fly through the crud,
The creatures of the sea can 't swim through the sludge, e can't feed our beef on rain forest trees,
Pardon me, Mr. Corporation, Don't you care what it means?
The tag:
I believe we can do it,
If we just care what it means.
Next came "Train Wreck of Emotion," a hit song as recorded by Lorrie Morgan which Rhody co-wrote with Jon Vezner – "Mr. Mattea, as we call him down in Nashville," Rhody chuckled. (Vezner is married to Kathy Mattea.)
Rhody wrapped up the evening with "Pony Rider," about the men who delivered the mail in the days of the pony express. The qualifications required to be a pony rider were included in the song. Example: "Orphans preferred."
A lot of teamwork and competent workers were required to make the evening run smoothly. Taping two radio shows while putting on an entertaining concert isn't easy. The LHP folk were, however, equal to the task.
At evening's end the 1989 officers of LHP were recognized and thanked and the officers for 1990 were presented.
Homefront's April 14 concert will feature Jan Marra, contemporary folk singer-songwriter; and Yer Girlfriend, an all-woman band from Louisville who play folk rock, blues, jazz, ballads and originals.
On Friday, May 11, popular singer and player of many musical instruments John McCutcheon will be featured, along with Tim Norris, who will be playing acoustic blues music.
On Saturday, April 21, Rhody is scheduled to perform on the steps of the capitol in Frankfort, Ky. in a celebration of Earth Day.
(Alan Rhody's song lyrics used by permission of Headless Horseman Music and Tree International.)