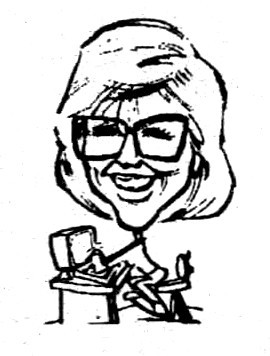 Newsical Notes
Our good friend Berk Bryant was kind enough to play Donna Beck Michael's song "Between the Lines" on his radio show on February 25. The song was the runner-up in the Folk/Bluegrass category of L.A.S.C.'s Songwriting Competition '89. Susan Tomes did the vocals and New Horizon did the rest.
Berk played the song again on a later program, along with the winning song, "The Limestone Church," which was written by Andrew J. Roberts. New Horizon performed that song as well.
Thanks for the airplay, Berk. And I also appreciate your plugging that newspaper that I'm associated with.
Now a plug for you: Berk Bryant hosts a fine show called "Sunday Bluegrass" on Sunday evenings at 8 p.m. on WFPL-FM 89.3. Tune in and enjoy and support bluegrass music.)
Enjoyed the nice article about Berk in the March 15 edition of Inside the Turret, a Ft. Knox newspaper. With a color photograph of "The Country Gentleman," yet!
Received a note from Hedy Hilburn with as nice compliment on how Louisville Music News has improved since a 1987 issue of the L.A.S.C. Letter she happened' to run across. (Thanks, Hedy!)
While attending a conference in Black Lake, Ml recently, Hedy met the Chenille Sisters and later sent them a Ronnie Dee/Hedy Hilburn demo tape. Hedy received a post card from the Sisters saying that they are hoping to teach "I've Been Stood Up More Than I've Been Laid Down" at the Madison, Wisconsin folk festival at a sing-along workshop. "Imagine a whole crowd of adults singing the chorus!" she added on the post card.
Good luck, Hedy. I don't blame you for being excited.
Ronnie Dee recently had a stubborn illness that put him in the hospital for about eight days during the latter part of February. He's back at work now and is easing back into his regular schedule. It was good to see him at the L.A.S.C.'s fourth birthday party and we hope he stays well.
A phone call from Kelly Wilkinson brought word that "North Of Nashville, "an alternative country" group composed of her, Becky Bennett, Kenny White and Hickory Vaught, would be playing at the Powder Keg in Charlestown, Ind. on April 20-21 and 27-28.
Claude Wayne is still lining up gigs for his new mobile deejay service. With his ability to do imitations, he's sure to be a big hit when he introduces the records. And, of course, he's had a lot of experience in the deejay field.
Congratulations to Ed and Evy Jackson on the birth of a son, Royce Edward Ian Jackson. The Jackson tyke made his appearance in the wee hours of March 2, weighing in at nine pounds, four ounces.
New daddy Ed hasn't been seen around the Rud recently. The late-night scene is not conducive to the hours of a school teacher. Ed has been doing some substitute teaching lately, in addition to playing a Tuesday-Friday gig downstairs at Charley's.
Steven May has been playing violin with the Southern Baptist Theological Seminary Orchestra of late. The orchestra is made up of musicians from the community as well as seminary students. They do a couple of major concerts a year, according to Steve.