Curtis Marlatt & Company Cop Second at Hoosier Blues Contest
By Jeffrey Crowder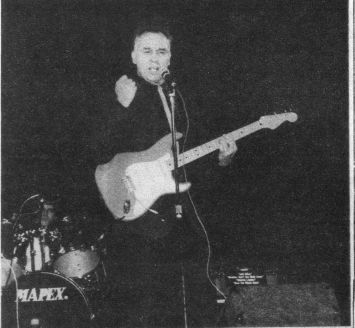 Curtis Marlatt at the Blues Society of Indiana talent contest. Photo by Jeffrey Crowder
The third annual Blues Society of Indiana talent contest was held July 15 at the Vogue in Indianapolis, providing a forum of competition for eight finalists. Among the finalists competing for the expenses-paid trip to the nationals in Memphis were Louisville's fast-rising Curtis and the Kicks.
The band selected two cuts off of their upcoming EP Something's Wrong to fill their allotted ten minutes. They opened the set with the moody title cut, locking in on originality and blues content while at the same time telling a story (a true one at that) of life in Vietnam through the sheer energy and dynamics of their music. The second song was a more upbeat blues tune named "I'm the One," which helped Curtis and the Kicks take the audience from the edge of their chairs to the aisles, ready to dance.
This ability to take the mood of an entire houseful of people and change it with ease is a form that's found only in the most successful bands. The bands that finished first and second were the two groups of musicians that took that control.
Second place went to Curtis and the Kicks. Gathering first prize was an eight-piece horn band from Bloomington, The Dynamics. The Dynamics were much more akin to the soul sounds of James Brown than the traditional blues sound.
Louisville should be proud that we have great musicians such as Curtis and the Kicks, among many others, upholding the oldest of blues traditions.
The reward for the second-place finish is an invitation to the nationals in Memphis on Labor Day weekend. All local supporters are urged to attend the three-day event. Groups of fans interested in organizing travel parties should contact this writer at (502) 429-5171 no later than August 21.