Jay-Bolotin-Has-Been-"The-Hidden-Boy"
(At Least Where Louisville Is Concerned)
By Bill Ede
Who would have known when he breezed through town in the mid-'70s what kind of grand notions danced through the mind of Jay Bolotin? How could we? We were busy being overwhelmed by his wonderful songs, his dynamic singing, and his skillful, out-of-this-world way around a guitar. That is, those of us who were lucky enough to have caught him back then. Who would have thought there could be so much more up that sleeve?
It must have been around 1976 when singer-songwriter Jay Bolotin first left his mark on Louisville. I remember hearing him perform at the U of L Derby City Arts and Crafts Fair that year as a guest of local TV personality Robin Logsdon, as well as doing short sets at clubs around town like the New Philosophy on Bardstown Road. It was like nothing I'd ever witnessed before. In a desperate attempt to describe him to a friend, I called him a combination of Leonard Cohen, Richie Havens, and Chet Atkins (the whole being, as they say, greater than the sum of its parts -- if that's conceivable). I mainly chose Chet Atkins because I couldn't think of a better analogy at the time.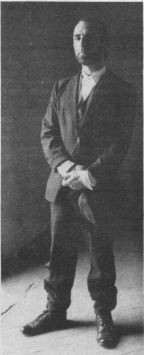 Jay Bolotin.photo by by Michael wilson
If I had to pick someone now, I'm still not sure who I'd choose, but it would be a little bit more on target -- maybe someone like Alirio Diaz. Nonetheless, my qualified description still but scratches the surface of what this man is about. I, sufficiently mindboggled by his mastery over the "big three" (songwriting, singing and picking), would remain in the dark for some time as to his background in the visual arts, including woodcuts, sculpture and, later, painting.
Jay's last performance in Louisville was in July 1979. He did a few nights at Phoenix Hill Tavern in the Taproom, where one could hear a pin drop -- no small feat. Since then he has played some clubs in New York and Nashville, but for the most part has been spending time in Cincinnati with his wife and two children, conspicuously, it would seem, keeping his distance from its sister city downstream.
Ah, but that is about to change. The Philip Morris Companies, in conjunction with Artswatch, Inc., the Louisville Visual Arts Association, and the Kentucky Center for the Arts, has chosen to present Jay's "The Hidden Boy: Incidents from a Stressed Memory" at the Center's Bomhard Theater on August 24 and 25 at 8:00 p.m., as part of its New Directions Series. And a more fitting term than "new directions" for this ambitious project couldn't be coined, as it attempts to combine the woodcuts, sculpture and self-performed songs of Bolotin with the choreography and dance of Bebe Miller, who has been described as "one of the hottest and hippest post-modern choreographers in the country," all to tell the story of one William Boudine, a fact-based fictional character from Eastern Kentucky.
The "music drama" traces the life of "Willy" from childhood in Harlan, through his coming of age and disillusionment, underlined further when he reaches the big city, where he settles into "a kind of love," later to return to his much-changed mountain roots. The work's theme is courage, and has been described by Jay as "truth told through metaphor."
U of L professor Leon Driskell, a long-time Bolotin supporter, in an essay written before the 1988 incarnation of this piece in Cincinnati (before Miller and dance had become central to its format), professed, "I think this is going to be the most important art event of the year, and I don't just mean in the region, I mean in this country." One wonders what Driskell, one not generally thought prone to the use of hyperbole, might say with the addition of dance taking this evolving work one step further in its development. (The performances will also feature African drummer Hern Gadbois, guitarist Bond Bergland, and Chris Dahlgren on electric and acoustic bass, to serve as Jay's backup band.)
Jay Bolotin hails from Lexington, Ky., having graduated in 1968 from Henry Clay High School. Two years at the Rhode Island School of Design in Providence, followed by an apprenticeship to sculptor Robert Lamb (one of the first artists to use resins), from whom he learned Fiberglas-casting techniques, all helped prepare a young Jay for the visual side of his art. (He had worked with woodcuts earlier as a boy in Lexington.)
Jay's musical side began to manifest itself with the release of the album Jay Bolotin (Commonwealth United Records 6002) in 1969, Jay's only commercial recording to date. By Fall 1971, he had moved to Nashville, and begin building a following as a singer-songwriter in the burgeoning alternative-music community centered around Elliston Place and the Exit/Inn. He was touted by the likes of Mickey Newbury, Kris Kristofferson and Merle Haggard (who lent Jay his band and studio, and paid for some of his recording sessions), and was predictably passed on by the "hit-makers" who didn't quite know what to do with his "fully-realized" songs. (Jay's songs make use of the four basic elements of fiction: plot, setting, characters and theme.)
After a few years in Nashville, Bolotin retreated to a log cabin on the Licking River near Cynthiana, Ky., to work on songs and concentrate more on his sculpting. In 1975, he was awarded a fellowship at the prestigious MacDowell arts colony in Peterborough, New Hampshire, where he met novelist Hannah Green and the late poet Isabella Gardner, who gave early support to Jay's idea of a "music drama," and to whom "The Hidden Boy" is dedicated. Jay later moved to Winchester, Ky., for a couple of years, and finally in 1980 to Cincinnati, where his visual art is exhibited from time to time at the Carl Solway gallery.
Jay's performing over the years has taken him to New York's Folk City, Kenny's Castaways and the Other End, and both the Bluebird and Douglas' Corner cafes in Nashville. Besides Solway's, his varied works have been exhibited in Cincinnati's Contemporary Art Center, Castelli Graphics "New Talent" in New York, and the Louisville Water Tower Gallery (along with Mario Muller's "In Defense of Love") in early 1989. The New York Museum of Modern Art recently acquired a series of 38 woodcuts by Bolotin, under the title "The Hidden Boy."
Recording artists who have recorded his songs include David Allan Coe ("Canteen of Water" and "Maria Is A Mystery" from Tattoo, and "The Fiery Death of Willy Boudine" from Unchained), Dan Fogelberg ("Outlaw of A Low Class Kind" and "Go Down Easy," both from High Country Snows, the latter of which was also a top-selling single, spending sixteen weeks on the Country Charts in 1985, and Porter Wagoner, whose version of "The Fiery Death of Willy Bodine" has yet to make vinyl, but has been spotted (and snatched up pronto, I understand) on an "unofficial" cassette in a Nashville establishment. (Porter's spontaneous 1979 duet with Bolotin on that song at Nashville's Exit/Inn still gets talked about from time to time. It'll be interesting to see if that episode gets some ink in the up-and-coming Steve Eng biography of Porter Wagoner. It certainly seems worthy of some.)
Anyway, it'll be great to have you back, Jay. Meanwhile, to borrow your own words, "May the Wind Blow Gently Now Behind You."