Mozart Country
By Patricia E. Finger
When Marsha Carrell and I left Louisville, Kentucky, for Salzburg, Austria, on the afternoon of June 5, we had great expectations for our three-week musical journey into the land of Mozart, Haydn, Schubert and Mahler. Visits to some museums and churches and attending some chamber concerts were high on our list of things to do. What actually occurred seems now to have been a fantasy, and only the fact that we were both there has given our memories credibility.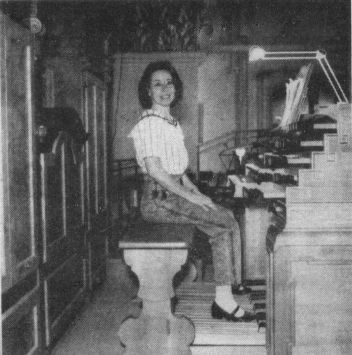 Marsha Carrell.Photo by Dwight Pounds
Immediately upon our arrival at our small hotel on the Monchsberg mountain, it became apparent to us that this was going to be no ordinary vacation. English spoken in Kentucky accents soon met our ears, and, to our surprise, we found students and their professors, Dwight Pounds and Gayle Sheard, of the Kentucky Institute for European Studies.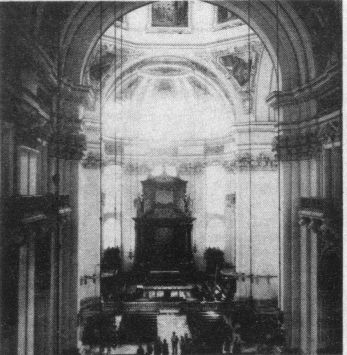 Dom Interior. Photo by Dwight Pounds

(KIES is a contingency of several Kentucky universities, and, although there are not yet any Louisville universities represented, the program is open to anyone interested in participating. One need not be currently enrolled in a college or university but have an interest in learning more about other cultures and their artistic contributions. More information can be received by writing: KIES, c/o Dr. Milton Grimes, Murray State University, Murray, KY 42071.)

Marsha, currently pursuing a master's degree in organ performance from the University of Louisville, had asked her organ professor, Melvin Dickinson, what music she should take with her to Europe in the event she have an opportunity to play any of the old church instruments there. Because she had not made any specific arrangements for playing at any particular church (usually the playing time is limited to a few minutes even when arrangements have been made) and because carrying music around can be very cumbersome, he advised her to take only parts of organ works. Considering that Salzburg is the city of Mozart's birth and famous for the greatest music festival in the world, finding opportunities to play these instruments can be difficult.

Marsha, however, proved how far a little courage and a lot of determination can go. After a day of rest from jet lag, Marsha and I contacted by phone some key church officials at the office of the Archbishop, and, with great luck, we were able to make appointments for her to play the organs in several old and important churches in the Salzburg area. Mozart and both Haydns were organists for (or had played the organs) in almost every church Marsha played in, including St. Erhard, Universitat-kirche (also known as Kollegian-kirche), Franziskanerkirche, Kapuziner-kirche and Kajetanerkirche.

By far, the highlight of the trip was a two-hour performance by Marsha in the Dom (main cathedral) of Salzburg. After locating the Church Music Office of the Archdiocese of Salzburg, she was able to borrow any organ music she desired. Armed with new music and a key to the Dom itself, she had control of the entire organ and choir loft. For the hundreds of people coming in and out of the Salzburg Cathedral on the morning of June 22, it was a stunningly beautiful performance which included works by Bach, Widor, Pachelbel, Stanley, and Reger. And finally, perhaps only a few Americans among the many nationalities of people present recognized her beautiful improvisations of the Shaker Hymn "Simple Gifts."

Considered by some people to be the most perfect Renaissance building in the Germanic countries, the present cathedral of Salzburg was begun by Santino Solari around 1614 and houses one of the most renowned organs in the world. It is essentially based on the organ with 24 registers built by the court organ builder Joseph Christoph Egedacher in 1702/03 and has been altered and enlarged many times since; the most important alteration, giving the organ 101 registers and four manuals, was carried out by Matthaus Mauracher in 1914. During the cathedral's reconstruction, the Salzburg organ building firm Dreher & Reinisch undertook a complete renovation of the organ; the mechanism was fully converted to electricity, and the number of registers was increased to 120 with around 10,000 pipes, which was achieved through the installation of a choir organ with a double-manual keyboard behind the High Alter. In June of 1988, a dedication of the completion of restoration of the organ was celebrated when the mechanical, or tracker, action was restored. The organ was rebuilt so that several styles (romantic, classical, Baroque, etc.) of music could be played. At the present time, 11 million Austrian schillings are being spent to restore the choir division to its original state in time for the upcoming festivities marking the 200th anniversary of the death of Wolfgang Amadeus Mozart on December 6, 1791.

Our contacts made through the Church led to an invitation to sing with the Cathedral Choir and Orchestra under Hungarian conductor Janos Czifra. After attending several rehearsals, we sang for two special services, the most important one being for the High Holy Day mass for Corpus Christi. This was especially beautiful, with a procession of priests, Cardinals, and the Archbishop of Salzburg around the Dom and throughout the church.

As members of the Louisville Bach Society, we were especially happy to be able to sing in such a glorious environment. It was also very special that we were able to attend two Salzburg Bach Society concerts -- to go as spectators and to compare our groups. Unlike the Louisville Bach Society, the Salzburg group performs only on original instruments. Considered by many critics to be one of the best choral groups in Europe, the Salzburg Bach Society has a clear, pure sound, and the singers sing with no vibrato.

Another former member of the Louisville Bach Society, Gottfried Heim of Herrenberg, West Germany, met with us in Salzburg to hear our performance in the Dom. When he left to go back to his home in Kupingen, he invited Marsha to return with him to meet his family. While there, Marsha was able to play several excellent South German organs. She was beginning to think she had died and gone to "church organists' heaven"!

Kentucky made another unexpected appearance in our itinerary when upon attending an ASPEKTE festival concert for new female composers, the music of the 1990 University of Louisville Grawemeyer Award winner, Joan Tower, was presented. She is the first woman to ever receive the $150,000 prize.

We attended another very exciting concert of works by Mozart and Bruckner by the Gewandhaus Orchester of Leipzig, East Germany, conducted by Kurt Masur. Two years ago, Masur conducted the Israel Philharmonic in the Kentucky Center for the Arts in Louisville. Seeing him again in the great Festival Hall of Salzburg conducting this famous orchestra was quite wonderful.

On the day before our departure home, the priest and director of the Pallotiner Kloster, which owned the guesthouse where we stayed, invited us into the monastery for a visit to the tower for a full panoramic view of the city of Salzburg and the surrounding Alps. Speaking almost no English, Pater Schwarzfischer smiled at us, waved his arms around in a sweeping gesture to indicate the view, and said, "Especially for you!" In these simple words, he provided an expression of the feelings of magic we had felt throughout our trip.

>