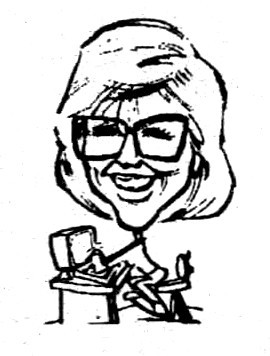 Newsical Notes
Claude Wayne will be opening for his favorite country star (and inspiration) Loretta Lynn on August 18 at the Little Opry in Nashville, Ind. I'm sure Claude would like to see a few familiar faces in the audience, and I'm also sure they will have a great time.
Ron Gambrell says there's a good chance that "Candlelight Wine," a song he co-wrote with Bobby Lanz, will soon be getting airplay. So ... turn your radio on.
Ocilla Lawson's cassette tape of chldren's songs, Grandma Lawson Presents Imagine With Me, is getting attention in her hometown, Whitesburg, Ky. Appalshop's radio station in that city is playing her songs and "telling folks where my tape may be purchased," Ocilla said, adding that Jim Webb, a cousin, works at the station.
A story is being written about Ocilla for the town's newspaper, Mountain Eagle, which was founded by her uncle Nehemiah Webb in 1909.
Ocilla's tapes have gone to many states -- North, South, East and West -- as well as to British Columbia and Hong Kong.
Several day care centers have bought copies of the tape, and a second-grade friend of Ocilla's took one to school for "Show and Tell."
Copies of Grandma Lawson Presents Imagine With Me can be purchased locally at Hawley-Cooke Booksellers, Inc., Oak Drug Co., Homespun Crafts, Beauty Nook Salon, Wellspring Christian Book Center, and Wicklow's, or by calling Ocilla at (502) 239-9044.
Scott Furlong has been in the studio recently working on a six-song tape of his original music. Called Moonlight Dances, the collection will be ready for release in August.