Partners: Out Of a Job at Karem's
After a gig that lasted longer that many musicians would have dreamed possible, Partners Tom Jacks and Bob Gray are once again looking for playing jobs.
The duo had worked at W. C. Karem's in the Oxmoor Mall until it closed on June 30, done in by an expiring lease. Jacks had played the job for over ten years and Gray joined him seven years ago. The last night at Kareem's found a full house, with many of the regulars in the room to listen to the pair, eat their favorites, drink and socialize.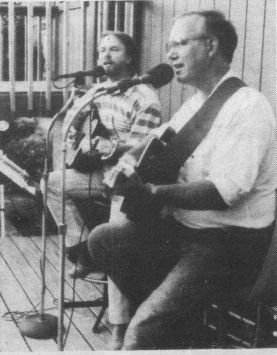 Partners Bob Gray,left, and Tom Jacks perform on the patio at Hudson's
A month later, when they played their next job at Hudson's, the loyal following turned out again to hear the partners play a lengthy list of requests of folk-rock and mid-Sixties tunes. They kept the crowd happy, the drinks flowing and the waitresses hopping.
They also have quietly found other musical work, including writing a tribute to New York quarterback Phil Simms, a Louisville native; a tape of Irish songs for Bushmills Irish Whiskey, which was distributed nationally by Brown-Forman; and they have played for the last three years at the Kentucky Chapter of the Special Olympics.
The hardest thing about working in a new place?
"Carrying equipment," said Jacks. Gray seconded that comment and broke into "Amy."